What The Tangled Voice Cast Is Doing Now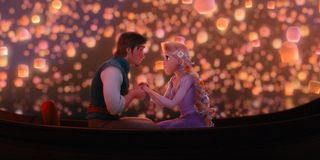 It's (almost) been a decade since Tangled came to theaters. Can you believe it? I'm having trouble wrapping my head around it. The long-in-the-works Rapunzel movie was an expensive, lavish accomplishment, serving as Disney's first entirely CG princess movie. The resulting film was a lovely mix of old and new sensibilities, as it brought a sense of buoyancy and exuberance to its old-fashioned tale that wasn't seen in Disney's prior CG features.
As a result, Tangled paved the way for the likes of Frozen and other Disney hits that fostered the company's rejuvenated creative period throughout the 2010s. With its splendidly vivid visuals, catchy songs, charming characters, and heartfelt storytelling, Tangled was one of Disney's finest and most undervalued modern smashes following Frozen's cultural dominance. Now that 10 years have passed since Tangled swung into theaters, let's find out what the talented voice cast of Disney's Tangled is doing now.
Mandy Moore (Rapunzel)
In the lead role of Rapunzel, Mandy Moore brought a new Disney princess to life in Tangled. The musician-turned-actress started her acting career in 2001 with Dr. Dolittle 2 and The Princess Diaries. Thereafter, she starred in A Walk To Remember, Chasing Liberty, Saved!, Because I Said So, and License to Wed before she took on the lead role in this Disney movie.
In addition to reprising her role as Rapunzel in Tangled: Before Ever After and Tangled: The Series, both of which aired on Disney Channel, Moore starred in 47 Meters Down, The Darkest Minds, and, most recently, Midway — though her most acclaimed work is found in NBC's This Is Us, for which Moore received Golden Globe and Emmy nominations. Outside of acting, Moore unveiled her latest studio album, Silver Landings, earlier this March. It's her first album in 11 years, following 2009's Amanda Leigh.
Zachary Levi (Flynn Rider)
As Flynn Rider, a swashbuckler with a quick wit and a good bit of charm, Zachary Levi made a charming heartthrob in this Disney animated hit. Once best known for playing the title role in NBC's action-comedy series, Chuck, Zachary Levi has found great success in 2019's DC's superhero comedy, Shazam!, particularly with the actor endearing audiences to this Big-esque comic book adaptation.
In addition to these two roles, Levi is recognized for his role as Fandral in Thor: The Dark World and Thor: Ragnarok. He also had a reoccurring role in Amazon's The Marvelous Mrs. Maisel and prominent roles in Netflix's miniseries, Alias Grace, NBC's Heroes: Reborn, and Telenova. Up next, Levi will star in Kevin Macdonald's Prisoner 760 and he has a role in Richard Linklater's newest animated Netflix movie, Apollo 10 1/2. Additionally, Levi will soon be heard in Star Wars: Detours.
Additionally, outside of his screen work, Zachary Levi has also been seen on the stage, notably with Broadway's 2016 revival of She Loves Me, for which the actor received a Tony nomination. He also appeared in a Broadway production of First Date from 2013 through 2014.
Donna Murphy (Gothel)
As Mother Gothel, the villainous matriarch figure who retains her youth for hundreds of years through the healing properties of a magic flower, Donna Murphy provides an outstanding antagonistic role in Tangled. As a two-time Tony-winning actress for her performances in Passion and The King and I, there's no denying that Murphy is a stage legend. She also received Tony nominations for Wonderful Town, LoveMusik, and The People in the Picture, and she won an Emmy for her role in Lifestories: Families in Crisis.
Murphy is also known for her roles in Star Trek: Insurrection, Center Stage, The Fountain, The Nanny Diaries, and Spider-Man 2. After Tangled, Murphy starred in The Bourne Legacy, Dark Horse, and Higher Ground, as well as episodes of The Good Wife, Mercy Street, The Blacklist, and Power. She also served as an alternate to Bette Middler during 2017-2018's production of Hello, Dolly!
Brad Garrett (Hook Hand)
As Hook Hand, the feared leader of the Pub Thugs with aspirations of becoming a concert pianist (despite his, well, hooked hand), Brad Garrett's character might seem mean and imposing on the outside, but it becomes apparent that this lug has a softer side hidden underneath his hardened exterior. Best known for his supporting turn on CBS' long-running sitcom, Everybody Loves Raymond, the Emmy-winning TV actor has amassed a substantial career in voice acting, notably with roles in Casper, A Bug's Life, Ratatouille, Finding Nemo, Garfield: The Movie, Up, Christopher Robin, and more.
On television, Garrett garnered awards consideration for playing Jackie Gleason in Gleason, while he also had starring roles in 'Til Death and How To Live With Your Parents (For The Rest Of Your Life). He also appeared in multiple episodes of FX's Fargo, CBS' The Crazy Ones, and Showtime's I'm Dying Up Here.
Most recently, Brad Garrett was seen in Gloria Bell and heard in Ralph Breaks the Internet. He's currently starring in the ABC sitcom, Single Parents, and provides a supporting role in Showtime's Penny Dreadful: City of Angels. In addition to his acting career, Brad Garrett owns a comedy club in Las Vegas. He is also a professional poker player. Additionally, the actor published a memoir, When the Balls Drop: How I Learned to Get Real and Embrace Life's Second Half, in 2015.
Ron Perlman (Sideburns)
As one half of the menacing thieves known as The Stabbington Brothers, Ron Perlman lent his deep voice to this antagonistic role. As the sibling who does most of the talking, Perlman was given a lot of lines, which explains why Disney ultimately went with a high-profile voice actor for this secondary villain character.
The Golden Globe-winning actor has nearly 300 acting credits to his name, though he's best known for his work in the Hellboy movies, Sons of Anarchy, The City of Lost Children, Drive, Alien: Resurrection, and the TV series, Beauty and the Beast. He was most recently seen in the drama, The Big Ugly, which came late last month. He also played a leading role in Amazon's Hand of God. Up next, Perlman will appear in Monster Hunter, The Jesuit, This Game's Called Murder, How I Got There, and The Last Victim.
Additionally, Ron Perlman is expected to reunite with Hellboy director Guillermo Del Toro for his newest live-action film, Nightmare Alley. He's also lending his voice to Del Toro's upcoming Netflix animated film, Pinocchio. Outside of acting, Perlman wrote his first book, Easy Street (the Hard Way): A Memoir, alongside co-author Michael Largo, in 2014.
Jeffrey Tambor (Big Nose Thug)
As Big Nose, the romantic thug looking for someone to recognize his inner beauty, Jeffrey Tambor played an idealistic supporting character in Tangled. A veteran actor with a great deal of experience in film and television, Tambor is best known for his work in The Larry Sanders Show, Mr. Mom, Arrested Development, the Hellboy movies, There's Something About Mary, and How the Grinch Stole Christmas, to name a few.
As a voice actor, Tambor is also known for his prominent role in The SpongeBob SquarePants Movie. Following his performance in Tangled, Tambor has notably been seen in Mr. Popper's Penguins, The Accountant, The Good Wife, Psych, Raising Hope, and The Death of Stalin, as well as heard in Trolls, WordGirl, Archer, China, IL, and Tangled: The Series, though it was through his Emmy-winning performance in Amazon's Transparent that he garnered some of his greatest acclaim.
In 2017, Jeffrey Tambor was accused of sexual misconduct by Van Barnes, his former assistant. He also received accusations from his Transparent co-star, Trace Lysette, and make-up artist Tamara Delbridge, whom he worked with in 2001's Never Again. Following these accusations, Tambor left the Amazon drama series. He was also accused of verbal harassment by Jessica Walter, his Arrested Development co-star, in an interview. Since then, Tambor has only appeared the fifth and final season of Arrested Development. He'll soon be seen in Disney+'s Magic Camp on August 14th. He also plays the voice of God in the animated movie, The Adventures of Drunky.
Richard Kiel (Vlad)
As Vlad, the strongest and most menacing of the Pub Thugs, Richard Kiel voiced a standout role in Tangled. Best known for playing Jaws in the Bond franchise, including The Spy Who Loved Me and Moonraker, the seven-foot-tall actor was always a memorable addition to any movie he starred in, which also included Happy Gilmore, Silver Streak, Cannonball Run II, The Longest Yard, Pale Rider, and Inspector Gadget, in which he lampooned his 007 character. In addition to his acting work, Kiel served as an executive producer and co-writer for 1990's family film, The Giant of Thunder Mountain.
Sadly, on September 10th, 2014, Kiel passed away from a heart attack. The actor was three days shy of his 75th birthday. He's most certainly missed.
M.C. Gainey (Captain of the Guard)
As the gruff, no-nonsense Captain of the Guard, M.C. Gainey played an ultra-protective character throughout the course of Tangled. A character actor with over 40 years of experience, Gainey has given his talents to a variety of movies and shows throughout the decades, including Time After Time, Happy Days, The A-Team, The Dukes of Hazzard, Starman, Knight Rider, Cheers, The Fresh Prince of Bel-Air, Con Air, Meet the Deedles, The X-Files, Walker, Texas Ranger, Terminator 3: Rise of the Machines, Wild Hogs, Club Dread, Sideways, Breakdown, Maron, and Beerfest, though he's likely best known for his character work in Lost.
After Tangled, Gainey made noteworthy appearances in Django Unchained, Kingdom, The Mentalist, Bosch, and Justified. He was also recently in the comedy-horror film, Bit. He'll soon be seen in Emperor and The Cleaner, and he's expected to star in A24's space-based series, Moonbase 8.
Paul F. Tompkins (Shorty)
As Shorty, the oldest and arguably kookiest member of the Pub Thugs, Paul F. Tompkins received an appropriately small role in Disney's Tangled, but he made the most of his time in this family film. As a comedian, actor, writer, and podcaster, Tompkins is quite prolific in the comedy world. He's known for Mr. Show with Bob and David, Best Week Ever with Paul F. Tompkins, There Will Be Blood, Magnolia, Tenacious D in the Pick of Destiny, and The Informant!
He was most recently seen in Netflix's Between Two Ferns: The Movie, as well as episodes of Brockmire, Criminal Minds, and CBS All Access' The Twilight Zone. Additionally, as a voice actor, Tompkins is heard in Bob's Burgers, Adventure Time, and Netflix's BoJack Horseman. As a podcaster, Tompkins is known for his 200-plus appearances on Comedy Bang Bang, as well as his other Earwolf projects.
What's your favorite Tangled performance? Please feel free to share in the comments!
Will is an entertainment writer based in Pittsburgh, PA. His writing can also be found in The Playlist, Cut Print Film, We Got This Covered, The Young Folks, Slate and other outlets. He also co-hosts the weekly film/TV podcast Cinemaholics with Jon Negroni and he likes to think he's a professional Garfield enthusiast.
Your Daily Blend of Entertainment News
Thank you for signing up to CinemaBlend. You will receive a verification email shortly.
There was a problem. Please refresh the page and try again.