Why BoJack Horseman Season 6 Felt Like A Fitting Ending To The Netflix Show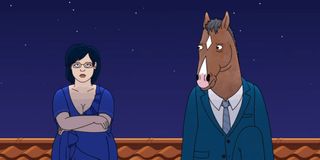 In January, BoJack Horseman released its final episodes on Netflix. Throughout the years, as the animated dramedy series progressed, it went from a lighthearted romp to one of the streaming giant's most acclaimed, beloved programs. For good reason, too. Created by Raphael Bob-Waksberg and featuring the voice talents of Will Arnett, Aaron Paul, Alison Brie, Amy Sedaris, and many others, BoJack was not only one of the smartest, funniest shows out there, but also one of the most honest, devastating reflections of addiction, trauma, and mental illness in any medium. That's certainly impressive for an animated sitcom about a talking alcoholic horse. Now, with Season 6 fully available to stream, it sadly reached its bittersweet end.
Admittedly, BoJack Horseman's final scenes weren't what some anticipated. For some, the subdued, somber finale was seen as too slight and anti-climatic, leaving the streaming series on an oddly minor note. While no finale will match every fan's expectations, BoJack's final half-hour struck some as unexpectedly low-key — even for a show that prided itself on subverting expectations. That might not play to everyone's favor, but for me, it served as a lovely, authentic, moving, and fitting finale for one of the best shows on TV. I don't expect everyone to agree, but I believe BoJack Horseman's ending gave a great end to an exceptional series. Naturally, expect major spoilers.
It Gave BoJack Horseman A Chance To Grow And Mature In A Vital Way
As BoJack Horseman continued his path of self-destructive behavior, it was clear that he needed to find some sort of redemption. No matter how funny and well-written the dramedy would be, if the show didn't find BoJack getting serious help for his substance abuse problems, BoJack Horseman would turn into a depressing, sorely repetitive look at an addict constantly failing to better himself as he struggles through middle age. The fifth season ended with BoJack checking into rehab, with the hopes of making constructive steps to better his dire life outlook and move away from his dependencies. It was an emotional finale that gave the mild hope that he'd finally get clean.
In BoJack Horseman's two-part final season, we find our title character has surprisingly adapted to life in rehab — following initial resistance, of course. In fact, as the opening of the season shows, BoJack gets too comfortable with rehab, in your typical display of stunted growth. He's accepting clean living, but he's resistant to return to the world, where he's messed up more than his fair share of times. Horseman both lives in the past and remains haunted by it. But he exits rehab and tries to move forward. BoJack connects with Hollyhock, his half-sister, and discovers an unexpected interest in teaching. Specifically, in the theater program at Hollyhock's university. Once he gets the job, things look up for Ole' BoJack.
Nevertheless, unbeknownst to BoJack Horseman, there is a scandalous piece in the works that reveals the former Horsin' Around sitcom star was more directly involved with the death of his former child co-star, Sarah Lynn, than initially believed. Furthermore, in New York City, Hollyhock learns about BoJack's involvement in the disastrous New Mexico prom party, where (among other things) he got a teenager nearly fatally drunk.
It casts a shadow on BoJack and Hollyhock's relationship, even though Hollyhock never directly tells BoJack, which dampens what's easily some of BoJack's more productive years. As it turns out, being a professor suits BoJack well, and he develops a fertile teaching environment with his dedicated (if not always talented) students. Nevertheless, BoJack eventually gets wind of this brewing tidal wave of a story that's about to wreck his life. He tries to figure out a plan to fix it, but he decides to take responsibility instead.
As we watch BoJack's life spiral once more, he doesn't opt to avoid his problems. Instead, he takes provocative steps to continue bettering himself, even as his world crumbles apart. While he still makes mistakes and suffers the consequences, BoJack's delayed maturity is seen vividly in this final season, leading up to the melancholy, yet emotionally-satisfying, finale that doesn't promise you that BoJack's life will be fine, but it shows he has grown properly and he'll hopefully continue to do better in the future.
BoJack Horseman Continued To Bring The Laughs And Emotional Punches In Equal Measures This Final Season
Above all else, BoJack Horseman is a comedy. Though it might not always seem it, the jokes always take precedence in the proceedings. Sure enough, while this final season definitely got heavy, in typical BoJack Horseman fashion, there were also lots of laugh-out-loud scenes. In addition to the laughs provided by Mr. Peanutbutter, Todd, and other lovable characters, we were introduced to a few new faces this season, notably Paige Sinclair (Paget Brewster) and Maximillian Banks (Max Greenfield) as old-fashioned reporters.
It Gave Proper Send-Offs To The Supporting Characters As Well
Outside of its title character, BoJack Horseman's appeal comes from its supporting ensemble, namely Mr. Peanutbutter, Todd, Diane, and Princess Carolyn. They all bring something special, and nearly all of them got fine farewells. While Mr. Peanutbutter's ending was arguably lackluster, the final season provided nice arcs for Todd, Diane, and Princess Carolyn to find the peace they've been searching for. Especially for Diane, with an episode focused on depression and anxiety struggles serving as a season highlight. Likewise, Princess Carolyn's need to companionship amid work and motherhood came to a lovely conclusion, while Todd's self-journey was lacking in comparison but filled with many delightfully Todd-esque moments.
Then, with the series finale, BoJack Horseman allowed its anthropomorphic lead to have a moment with each of them, eventually providing an emotional wallop with his reunion with Diane. In a scene that's confrontational-yet-emotionally honest, and filled with great wit and insight into their dynamic, it provided a proper circle to Season 1 and gave their relationship a definitive yet open-ended conclusion. The future will be filled with various journeys, but their time together has ended. While their final scene suggests things might not ever be good between them, it shows they've both found their happiness elsewhere or are on the path to healing.
It's not grandiose, but it's a tender, character-focused finale, allowing everyone to reflect on their journeys and find their paths to self-redemption, self-discovery, self-improvement, or self-fulfillment on their own tracks — all away from the company they've shared. Unlike the sitcoms it emulates, BoJack Horseman doesn't go for the sappy conclusion, but it echoes how those characters learn (or re-discover) that their time together is vital to who they are, and how they've grown. It's a keenly-realized way to end this series, as BoJack has always had a great sense of who these characters should be — in relation to both their place in the narrative and their individual/collective relationships to one another.
BoJack Horseman Never Lost Its Sense Of Self
In that same vein, where so many sitcoms — animated dramedies or otherwise — lose what makes them special, or become shells of themselves, BoJack Horseman only continued to be more confident, daring, and willing to be true to itself. It was a remarkable series, particularly as it grew to be more stylistic and narratively dense in its bold, thematic choices — while never losing what made it so captivating, even from its rocky beginning. Particularly as the shows it emulates lost their speed over time, BoJack never became "too much, man."
Instead, it continued to achieve excellence — even in its final season. Specifically, BoJack Horseman allowed itself to question the morality of its lead, and whether or not he deserves to find the happiness he seeks, which put the show's focus entirely on its head. But somehow, it never lost its stride.
One of the great joys in watching BoJack Horseman was discovering all the ways it continued to reinvent itself while never straying too far from its intentions. Even when BoJack's life choice were repetitively self-destructive, the show's individual flourishes — as well as its willing attitude to try different character beats and dynamic new perspectives — offered a fresh, lively series that constantly excelled. That stayed true until its subversively somber finale, which sacrificed the show's flair for bombastic, pun-friendly hijinks for something more emotionally searching and intensely gratifying in its own unexpected way. For a series centered around a drunk horseman, these final moments were oddly, movingly human, and it showed even more sides of these well-developed characters than we saw before.
Admittedly, I don't think BoJack Horseman Season 6 was flawless. The conclusion felt rushed; you sense that they wanted another season to properly bring closure. I also think the season's first half isn't as strong as its second, notably with the focus diverted between all the characters living disconnected lives. But thanks to its terrific final episodes, BoJack ends with a finale that's poignant, touching, grounded, reflective, and most of all, fitting of the series it now leaves behind. It's a shame to see it go. But thanks to this exceptional last season, at least it ends in a good, proper way.
Your Daily Blend of Entertainment News
Will is an entertainment writer based in Pittsburgh, PA. His writing can also be found in The Playlist, Cut Print Film, We Got This Covered, The Young Folks, Slate and other outlets. He also co-hosts the weekly film/TV podcast Cinemaholics with Jon Negroni and he likes to think he's a professional Garfield enthusiast.