How Tenet's John David Washington Feels About The Movie's Delay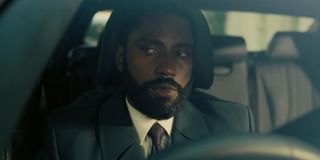 Christopher Nolan's Tenet can't catch a break. Originally scheduled to release on July 17, 2020, the mind-bending spy thriller has seen delay after delay due to current events. As far as the public goes, the internet has been dealing with it in its own way. And now it seems like John David Washington has been having all the feels about the movie's delay as well.
John David Washington recently sat down with Mr Porter (opens in new tab) to discuss his career, what he's been doing during the pandemic, and (of course) Tenet. Considering Tenet was expected to be this summer's massive blockbuster, and John David Washington is its leading man, it could be frustrating to see all of that hard work and potential suddenly derail. Here's what he said about the movie's delay,
John David Washington and fans eager to see Christopher Nolan's next cerebral thriller couldn't have gotten a worse shake out of this deal. We're all eager to see Tenet once it releases. That said, I'm sure everyone wants to feel safe doing it, so "waiting out a semester" (as John David Washington put it) is the plan moving forward.
That said, not everyone seems to agree, notably director Christopher Nolan. The acclaimed director is a staunch advocate for theaters and wanted Tenet to be the first movie to release once theaters open again. He reportedly wants to stand with theaters during this difficult time, and doesn't care if Tenet sees losses at the box office.
Reportedly, that position put him at odds with Warner Bros., who wants to wait it out until Tenet can get the best possible release. As such, Warner Bros. has consistently delayed the movie until they strike what they view as a good release date. The situation continues to unfold.
Warner Bros. recently announced they will be releasing Tenet internationally first before they release it in US theaters, an unprecedented change from tradition. Tenet will release in countries around the world on August 26 and then hit theaters in the US on September 3. Of course, all of this sits on sand, so don't be surprised if something changes.
When it does finally release on the big screen, fans are likely to be greeted with a fantastic movie. That is, at least, the early responses that have reportedly surfaced from early private screenings of the film. This isn't much of a surprise though, is it? Christopher Nolan has always geared his films to be a big event, worthy of the silver screen. For more movie news, be sure to stay tuned to Cinema Blend.
Your Daily Blend of Entertainment News
Your Daily Blend of Entertainment News
Thank you for signing up to CinemaBlend. You will receive a verification email shortly.
There was a problem. Please refresh the page and try again.