Every Kevin Smith Movie, Ranked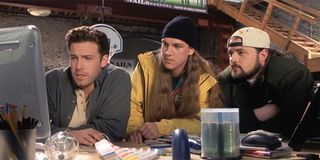 Though his output isn't consistent, Kevin Smith has come a long way. He went from a small-town New Jersey clerk to one of the most well-known cult filmmakers of the past 30 years. That's not an easy feat, but Smith stayed true to his brand and appealed to his loyal fanbase. He's a sharp wit, if not a refined one, and he puts his big heart into everything, no matter the quality.
Kevin Smith makes the movies he wants to make, and he rarely loses his passion. His filmography is imperfect, but it does include some fun, enjoyable films. Certainly, you don't make it this far in this business without proving yourself once or twice. With that said, let's rank Kevin Smith's movies.
13. Yoga Hosers (2016)
The best thing you can say about 2016's dreadful Yoga Hosers is that it didn't have the worst intentions. Centered around Tusk's jaded teen clerks, played by Harley Quinn Smith and Lily-Rose Depp, this hearty spin-off provided ample father-daughter bonding time for both the Smiths and the Depps, with Johnny Depp also reprising his Tusk role.
Alas, this indulgent, grating project represented a new low for Smith with its lazy writing, listless filmmaking, and overly self-satisfied storyline providing a tedious, overlong home video of a feature film, one that pauses itself for extended sing-a-longs or foul Bratzi characters (played by Mr. Smith) who amuse the director more than anyone. It's a terrible comedy with few redeeming factors, producing a chore to sit through.
12. Cop Out (2010)
Cop Out isn't beloved. Even Kevin Smith will vent his frustrations with the lackluster R-rated studio comedy, notably its troubled shoot and his difficult history with an exceptionally unmotivated Bruce Willis. But even if Willis had been cooperative, it's hard to imagine this sluggish comedy ever being successful.
A hackneyed callback to '80s buddy cop comedies, Cop Out is a witless, structureless shrug of a movie, suffering greatly from cliched story beats, poor pacing, unremarkable action sequences, and a dearth of laughs, despite Tracy Morgan's admirable efforts otherwise. Though its Black List screenplay was well-regarded, this aimless director-for-hire vehicle (the only film Smith directed but didn't write) is even missing the emotional sincerity of Smith's better productions. This altogether underwhelming effort (to be charitable with that word) lives up to its name.
11. Jersey Girl (2004)
It's hard to fault Jersey Girl's intentions. After a decade-plus inside the View Askewniverse, following the debauched, sex-craved characters found therein, Kevin Smith wanted to branch out and make something more traditional and formal, particularly with its PG-13 rating. (His only PG-13 film besides Yoga Hosers.) Smith's goals are undeniably sweet and pleasant: to make a likable, approachable crowd-pleaser for a broader audience. Alas, Jersey Girl ironically became one of Smith's more passed-over efforts.
This underperforming melodrama is undeniably earnest, but it's ultimately too conventional and mawkish for its own good. Smith's writing lacks his characteristic punchiness and the storytelling is too beholden to hokey sappiness. Nevertheless, it's not without virtues. Notably, George Carlin's excellent supporting turn.
10. Jay And Silent Bob Strike Back (2001)
Following Chasing Amy and Dogma's success, Kevin Smith grew an ego. While never losing his outsider charm, even at his career's height, his self-reverence for his movies/characters came to a boiling point with the narcissistic, self-infatuated Jay and Silent Bob Strike Back, a misguided attempt to throw his lovable side characters into the limelight.
While not without its charm, notably from Jason Mewes' unlikely leading turn, and inspired sequences, including one involving Good Will Hunting's action-packed, cash-grab sequel, this once-final View Askewniverse installment is juvenile, boarish, and aimless, favoring unoriginal sex gags and Smith's unfortunate history of gay panic jokes over the more dynamic aspects of his last two films. Not very snoochie boochies. But Silent Bob's monkey sidekick sure is cute.
9. Jay And Silent Bob Reboot (2019)
For better or worse, Jay and Silent Bob Reboot was made for the fans. For viewers who nostalgically rewatch and/or reverently quote View Askew movies, this unabashedly self-referential reboot was a wistful, self-loving tribute to Smith's own work, allowing the cult-favorite writer/director to once again share the screen with Jason Mewes and provide a reflective, emotional (possible) send-off to these long-standing pop culture figures. Is it masturbatory? Absolutely. But Smith doesn't care.
Reuniting with past collaborators (including Ben Affleck) and other famous faces to redo Strike Back almost beat-for-beat, it's cloying and self-indulgent, but it's also heartwarming with touching performances from Mewes and Harley Quinn Smith.
8. Mallrats (1995)
Following Clerks' triumphant success, Kevin Smith was living the dream. He was the little filmmaker that could. His small-scale movie became a true Sundance phenomenon, turning him from wannabe filmmaker into a major-league hotshot. The world was his oyster. He could do whatever he wanted.
Nevertheless, Smith made Mallrats, a bloated, excessive, mean-spirited follow-up to his celebrated indie darling that lost all the individual wit and personality that made his debut such an appealing, unlikely triumph. Once again focused on two wayward twenty-somethings who love sex, comic books, and other forms of pop culture, Jeremy Strong and Jason Lee don't share the same workingman slacker chemistry as Brian O'Halloran and Jeff Anderson, though Lee's talents remain apparent.
7. Tusk (2014)
Tusk is a fascinating oddity, particularly (and especially) in Kevin Smith's filmography. A deranged body horror-comedy derived from his SModcast, Tusk sees an arrogant podcaster (Justin Long) interview a mysterious Canadian recluse (Michael Parks) only to be held captive and later transformed into a human-walrus hybrid. Notably following Smith's intriguing horror-thriller, Red State, Tusk takes cues from Misery and Human Centipede rather than his other conversational comedies/dramedies, resulting in another odd, disturbing detour from Smith's affable brand. Thus, Tusk is an intriguing, polarizing mixed bag, guided by refreshing ambition from a director once threatening retirement but little in the way of restraint.
Featuring some of Smith's best directing, notably with Long and especially Parks providing strong performances and unwavering commitment to this bizarre premise, this A24 horror-comedy also showcases Smith's intriguing willingness to push himself out of his comfort zone, despite his critics suggesting otherwise. It's also elevated by James Laxton's (Moonlight) sharp cinematography and its Great White North scenery.
Alas, despite its promising first half, it falls apart — notably with needless subplots, including Johnny Depp's ultra-grating Guy Lapointe, a grotesque creation indulging Smith's worst instincts. It's a shame because Tusk showcases oddball promise from Smith as a genre filmmaker— if he could help himself.
6. Zack And Miri Make A Porno (2008)
Notoriously greenlit on its title alone, Zack and Miri Make a Porno promises something climatic. But, in the end, Zack and Miri isn't especially memorable. Despite its bold title and cheeky marketing, it's not particularly shocking, despite its graphic sexual content, generally opting to follow a conventional buddy/rom-com format. It's not without its unsuspecting charms but rarely is it truly risque.
For as lewd and crude as it can be, Smith's raunchy movie is gentle and grounded in its approach. This over-sentimentality comes to its benefit and detriment; it prevents this nearly-NC-17 studio comedy from overindulging in its gross-out antics but it also plays out in a rigidly predictable fashion. Still, Seth Rogen and Elizabeth Banks share appealingly casual chemistry, producing an altogether decent, warm-hearted comedy that comes together well enough.
5. Red State (2011)
Following a string of commercial movies, Kevin Smith returned to his indie roots with Red State, a surprisingly straight-laced horror-drama inspired by notorious pastor Fred Phelps and the Waco siege. With its moody tone, dour subject matter, and intense characters, it's a notable departure from Smith's lighthearted brand, showcasing an unexpected willingness to wrestle with dark concepts and characters.
Though not an entirely smooth transition, Red State is well-assured, providing a vicious vision unlike anything in the View Askewniverse. With its gritty photography, unwavering dedication to its brooding material (particularly compared to the more flippant Tusk), and strong performances from Michael Parks, Melissa Leo, and John Goodman, Red State shows an exciting new side to the inconsistent filmmaker.
4. Chasing Amy (1997)
When Chasing Amy came out (no pun intended), it was hailed as a great triumph for the once-indie filmmaker, showcasing Smith's previously-unseen dramatic range and his growing, promising maturity as a screenwriter— particularly with more emotionally-weighted dialogue and more nuanced, well-rounded characters. While this remains largely true, Chasing Amy is also unfortunately hindered by outdated sex and gender politics, making Smith's thoughtful dramedy a product of its time rather than the progressive, intellectual social commentary it aims to be. But it's admirable to watch Smith expand himself, even if it doesn't entirely hold up. Particularly through a modern lens.
It's clumsy and schmaltzy, but it's also a sensitive, introspective effort that's bolstered by Joey Lauren Adams and Jason Lee's lively performances.
3. Clerks II (2006)
While it lacks its predecessor's DIY microbudget charm, Clerks II is a surprisingly satisfying return-to-form for Kevin Smith, reuniting him with past collaborators with the added benefit of Rosario Dawson's lively inclusion. While it's disappointingly shot-in-color, it's easy to see where Smith grew more confident as a director and how he continues developing as a screenwriter.
The plotting is more robust, the characters are more fleshed-out, and the dramatic moments are impressively effective. In some respects, it's a sharper, more mature, and more soul-searching film than the first. But it's also hindered by undeniably being a product of mid-'00s comedy. Several attempts at shock humor ring sour as blatant, bland attempts at edginess. One of the more outrageous set-pieces becomes the most tedious.
These excessive attempts at raunchy humor distract from Smith's thoughtful, unexpectedly poignant reflections on aging, accepting your failures, and how to move forward, even when you're hindered by your past. The narrative's thrust might've been influenced by Jason Mewes' drug addiction and Smith's desire to help his troubled friend.
Inspired by Richard Linklater's Slacker throughout his career, Clerks 1-2 are as close as Smith has gotten to his own Before trilogy. Hopefully, he'll finally make his third, presumably final installment someday. It's one of the most contemplative films to feature an extended, unfortunate donkey show sequence.
2. Dogma (1999)
Despite its overlong runtime, sharp tonal shifts, and poor pacing, Dogma remains one of Kevin Smith's smartest, boldest, most inspired films, particularly following its Catholic church controversy. With its all-star ensemble, including Ben Affleck, Matt Damon, Chris Rock, Alan Rickman, and Selma Hayek, and its ultimately more-devout-than-not look at religion (despite its constant irreverence otherwise), Dogma blends Smith's lowbrow comedy with his clever, unsuspecting intellectualism to produce an entertaining, involving portrait of faith in a corrupt world.
If you weren't already on board with the View Askewniverse, this isn't the place to start. But it's one of Smith's most impressive, commendable works, finding ways to balance heady conversations about one's place in the universe with an extended fight sequence involving a poop monster. Plus, Alanis Morissette plays God herself. What more could anyone want?
1. Clerks (1994)
It's the ultimate overnight success story. Once, Kevin Smith was a fledgling filmmaker growing up in New Jersey, working a dead-end job. He lacked life experiences or unique surroundings, but he had perspective. He knew what it was like to be in your 20s, going nowhere, complaining about the world, and filling endlessly long hours shooting the shit with friends (or anybody who wandered into your store).
That point of view informed Clerks, a funny, charmingly minor work with a major following. Aided by winning performances from unprofessional actors, notably Brian O'Halloran and Jeff Anderson, Smith's quick-wit writing, and his casual filmmaking approach, Clerks isn't without shortcomings, but it's well-worth celebrating. Smith was once a young filmmaker trying to prove himself. He did so with Clerks.
What's your favorite (or least favorite) Kevin Smith movie? Let us know. Snoogans!
Your Daily Blend of Entertainment News
Will is an entertainment writer based in Pittsburgh, PA. His writing can also be found in The Playlist, Cut Print Film, We Got This Covered, The Young Folks, Slate and other outlets. He also co-hosts the weekly film/TV podcast Cinemaholics with Jon Negroni and he likes to think he's a professional Garfield enthusiast.