Dave Franco And 8 Other Actors With Promising Directing Careers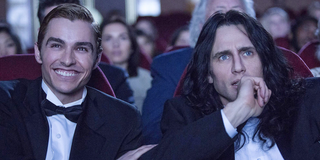 When you spend your days working on set, collaborating with various filmmakers (both of renown and otherwise), and honing your craft, there's a good chance you're gonna pick up a few lessons along the way. Indeed, having the opportunity to work with many different filmmakers and various people in the industry allows many actors to not only get better at their given profession but also explore themselves behind-the-camera as well.
In the process, these actors expand their talents (hopefully) and showcase their prowess. We've seen several famous actors prove themselves as directors in the past. Dave Franco is just the latest. His feature directorial debut, The Rental, is a surprisingly solid genre piece, showcasing his strong potential as a filmmaker. Whether or not Franco lives up to that promise is undetermined, but he's not alone. Here are just a few actors who've recently proven themselves to be promising new filmmakers.
Dave Franco
Who would've thought that Dave Franco would be one of the more promising horror directors of the new decade? Or, at least, that he would prove himself surprisingly confident in this genre, producing a commendably slow-burning chamber thriller with The Rental, featuring strong performances from Alison Brie (his wife), Sheila Vand, Jeremy Allen White, and Toby Huss.
Having previously worked in the comedy field with the occasional drama or action movie in the process, The Rental wasn't the direction that his fans likely expected him to go, but Franco proved himself adept at handling the atmosphere and dread of his premise, while also exploring themes on privacy, surveillance, and people's fears of others. It's not without its flaws, but he showcases some serious talent behind-the-camera, and if he wanted to direct more in the future, he could have a bright future. He's apparently working on a rom-com next.
Jonah Hill
Having previously collaborated with some of the finest filmmakers working today, including (but not limited to) Martin Scorsese, Bennett Miller, Quentin Tarantino, Gus Van Sant, and more, it was only a matter of time before Jonah Hill jumped behind the camera. Sure enough, in 2018, Hill finally jumped into the director's chair with Mid90s, a semi-autobiographical coming-of-age drama featuring a fantastic sense of time and place, fine attention to detail, and some well-crafted performances.
Though the movie itself doesn't lean too far away from the tropes you expect this genre, resulting in a screenplay that's earnest but ultimately not especially unique, Hill's direction allows his vision to flourish, establishing a key sense of this time period without the nostalgia or wistfulness that is often seen in other movies of this variety. The results are a bold, clear-eyed, Harmony Korine-inspired reflection with honest performances and finely-crafted emotional resonance. Hill learned well.
Bo Burnham
Though technically more of an internet personality and stand-up than an actor prior to his outstanding directorial debut, 2018's Eighth Grade, it's clear that Bo Burnham spent years honing his craft, his style, his voice, and his point of view before he decided to finally make his directorial debut. What's most impressive about this movie, however, is that Burnham's approach is oddly reflective.
It's not showcasing his noticeable voice but rather making an authentic and believable reflection of what it is like to be socially awkward and emotionally insincere in our social media age, where your presence is always demanded in some fashion or another and you always feel pressured to be "true to yourself," even if you don't exactly know who you are yet. It's an exceptionally accomplished directorial debut, allowing Burnham to paint a startlingly relatable and uncomfortable reflection of adolescence with an excellent lead performance from Elsie Fisher.
Olivia Wilde
While it didn't take the box office by storm as much as people hoped it would, Booksmart became one of the most acclaimed, celebrated directorial debuts in recent memory, earned nearly unanimous praise from critics and general moviegoers alike and finding a wide, adoring audience worldwide. It's safe to say that most directorial debuts don't capture that same fervent appeal, but that's a great credit to Wilde's early talents as a director.
While she has established herself as an actress for roughly 15 or so years now, it's clear that Wilde has an energetic, passionate desire to push herself as a filmmaker and showcase complex, outspoken women who are both funny and dynamic, producing an entertaining but also engaging new take on the always-expanding high school comedy genre. While it got easy comparisons to Superbad, Wilde's debut allows the new filmmaker to take her own path.
Paul Dano
One of the best directorial debuts of the past few years came from Paul Dano's intimate, involving coming-of-age period drama, Wildlife. This evocative Sundance tale, based on the novel of the same name by Richard Ford, features outstanding performances from Jake Gyllenhaal, Ed Oxenbould, and especially Carey Mulligan, who continues to remain an undervalued talent.
Dano's directorial presence is gentle but commanding, showcasing fine attention to character and time but also allowing him to explore the darker recesses and impulses of people unchecked and caught fighting against the restrictions of their conservative time period. Having worked with some truly remarkable filmmakers throughout his career, not the least of which includes Paul Thomas Anderson, Steve McQueen, Denis Villeneuve, Bong Joon-ho, Rian Johnson, and more, it wasn't shocking to see Dano prove so adept as a director, but it was still very encouraging. Here's hoping he makes another movie soon.
Regina King
An accomplished, Oscar-winning actress with several noteworthy film/TV titles to her name, Regina King has been an outstanding acting talent for decades, and she finally got her well-deserved due with her award-winning turn in If Beale Street Could Talk. But in addition to King's acting highlights, the three-time Emmy-winning Watchmen actress has steadily built a solid career behind the camera, notably helming episodes of Scandal, Southland, This Is Us, Shameless, The Good Doctor, Insecure, and more.
Now, King makes her feature directorial debut with One Night in Miami, based on the play by Kemp Powers, which follows Malcolm X, Sam Cooke, Jim Brown, and Cassius Clay who meet up to change history in the South. It'll premiere at TIFF and it was recently acquired by Amazon Studios. Though we haven't seen the film yet for ourselves, we're hopeful that King demonstrates her talents once more with this exciting new project.
Karen Gillan
Though she remains a bright, appealing screen presence, Karen Gillan's recent directing turns showcase a young filmmaker with intriguingly dark and mournful ambitions, exploring the darkness of the human psyche and women with complicated histories and mentalities. This was shown with striking interest in both her horror-drama short film, Conventional, and her feature directorial debut, The Party's Just Beginning, both of which she starred in in addition to writing and directing.
As a filmmaker and actress simultaneously, Gillan isn't afraid to be vulnerable and unsettling, showcasing how many movies haven't fully explored the recesses of her talents, while also exploring complicated themes and concepts with probing intellect and insight and a splash of dark comedy to boot. Her directorial output is uniquely different than what we've seen from her as an actress thus far. It's fascinating to wonder what she'll do as a director as she moves forward.
Chiwetel Ejiofor
While Chiwetel Ejiofor has continued to receive some major roles in high-budget blockbusters, including Doctor Strange, The Lion King (2019), and, most recently, Netflix's The Old Guard, in recent years following his excellent Oscar-nominated performance in 12 Years A Slave, his directorial debut, The Boy Who Harnessed the Wind, didn't gain much notice when it appeared on Netflix earlier this year. That's a shame because, while it's a small film by design, it was praised as a compelling film that showed promise for Ejiofor as a director.
While the story itself as considered predictable when it comes to plotting, Ejiofor's vision and the fine performances he brought out of his actors showed audiences that he had the chops to be a strong dramatic director if given the chance. This isn't surprising, but it's disappointing that the movie hasn't gotten much notice on the streaming service since its premiere.
Amy Seimetz
At the end of July, Amy Seimetz's latest film, She Dies Tomorrow, finally released. Though she has more indie credits to her name than mainstream titles, audiences might know her from her work in Stranger Things, Alien: Covenant, The Killing, Get Shorty, and Pet Sematary (2020). As a director, Seimetz made the indie Sun Don't Shine and she directed several acclaimed episodes of television for The Girlfriend Experience and Atlanta. Based on the early reviews for her newest film, a horror film that is getting David Lynch-esque comparisons, it's not one you want to miss.
Which actors-turned-directors have impressed you lately? Please let us know in the comments!
Your Daily Blend of Entertainment News
Will is an entertainment writer based in Pittsburgh, PA. His writing can also be found in The Playlist, Cut Print Film, We Got This Covered, The Young Folks, Slate and other outlets. He also co-hosts the weekly film/TV podcast Cinemaholics with Jon Negroni and he likes to think he's a professional Garfield enthusiast.