Which Project Is Ben Affleck Actually Directing Next?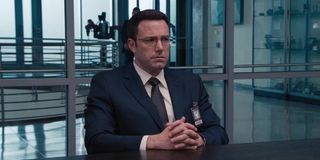 With his time as Batman over, Ben Affleck is finding other ways to maintain a regular presence in the cinematic realm. This year he starred in Netflix's Triple Frontier and reprised Holden McNeil in Jay and Silent Bob Reboot, and he can be seen next year in The Way Back and Deep Water. But Ben Affleck has also cemented himself as a talented filmmaker, and as such has several directorial projects lined up. The problem is, it's unclear which one he'll tackle first.
Let's start with the most recently-announced movie Ben Affleck is attached to direct. Deadline reports that Affleck is helming and producing King Leopold's Ghost, which will chronicle the plundering of the Congo spearheaded by Belgium's King Leopold II in the late 1800s. Farad Safinia is writing the script, which is based off the book King Leopold's Ghost: A Story of Greed, Terror and Heroism in Colonial Africa by Adam Hochschild.
King Leopold II carried out a ruthless campaign to gain control of the Congo Free State and obtain its supply of rubber and ivory, and any natives who refused to serve were punished. According to Adam Hochschild's book, approximately 8 million people were killed as a result. King Leopold's Ghost will follow those who fought back against King Leopold II's forces, leading to a black American missionary, an English investigative journalist and an Irish spy working together to publicize the ruler's atrocities.
This sounds like it could be an insightful and powerful movie, and according to Deadline's report, Ben Affleck directing King Leopold's Ghost (a project he's worked several years on already) is "borne out of his personal passion for the region," which also led to him starting the Eastern Congo Initiative advocacy group. This is all well and good, but the fact that Affleck has two other movies he's lined up to direct means it's hard to say right now when King Leopold's Ghost will arrive.
First off, it was announced last year that Ben Affleck and Matt Damon are teaming up to tackle a true crime story about a rigged McDonald's Monopoly game. For those unfamiliar, this project is based off a Daily Beast article that chronicled how from 1995-2001, an ex-cop named Jerome Jacobson, who had been hired to oversee security for the McDonald's Monopoly sweepstakes, fraudulently claimed game pieces and exchanged them for up to $24 million in cash and prizes, some of which gave away to friends and family.
Then, back in April, it was reported that Ben Affleck is directing, writing and starring in Ghost Army. Also based on a true story, Ghost Army will follow a squadron in World War II that's been tasked with fooling the Axis forces into thinking the Allied forces are stronger than they actually were.
So that's three movies to direct on Ben Affleck's plate, and it remains to be seen which will be prioritized. Given his passion for the Congo and having already spent years working on it, maybe Affleck will decide that King Leopold's Ghost is worth his time and attention now. Still, Ghost Army has also been in development for a long time, and a new Affleck/Damon collaboration is nothing to lightly push to the side, so feel free to guess what you think will come out first in the comments below.
Whatever Ben Affleck decides to direct next, it'll be his first directorial effort since 2016's Live By Night, which failed to impress critically and commercially. Affleck has also helmed Gone Baby Gone and The Town, but his biggest directorial effort thus far has been Argo, which walked away with numerous accolades, including winning Best Picture, Best Adapted Screenplay and Best Film Editing Oscars.
Keep checking back with CinemaBlend for updates on what Ben Affleck will direct next and other aspects of his career. For now, you can plan your trips to the theater accordingly with our 2019 release schedule and 2020 release schedule.
Connoisseur of Marvel, DC, Star Wars, John Wick, MonsterVerse and Doctor Who lore. He's aware he looks like Harry Potter and Clark Kent.
Your Daily Blend of Entertainment News
Thank you for signing up to CinemaBlend. You will receive a verification email shortly.
There was a problem. Please refresh the page and try again.