Cameron Diaz Opens Up About What It's Like Being A New Mom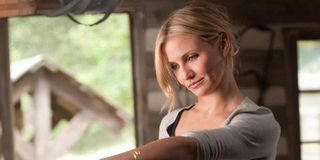 Cameron Diaz made a name for herself as one of the most sought-after actresses of the late '90s and early 2000s. These days, she's taken on an entirely different role -- being a mom to her newborn child. That has meant some big life changes, obviously, and she's opening up about what it feels like to manage her new normal everyday.
If it feels like it's been awhile since you saw or heard from Cameron Diaz, you're not imagining things. It's been more than five years since the Charlie's Angels star took on a new acting role. Though that doesn't mean she's been resting on her laurels -- the actress has been busy in her private life, especially since she and her husband Benji Madden welcomed their daughter Raddix in January.
Despite all the chaos that comes from taking care of her first child, Cameron Diaz wasn't too busy to sit down for a quick chat on The Tonight Show Starring Jimmy Fallon. When he asked her what being a new mom has been like, she had an effusive response:
Cameron Diaz also spoke to something that's pretty relatable to all parents -- how surprised she's been by how quickly her child is growing and changing:
Cameron Diaz has already opened up a bit about the unique challenges of caring for a newborn during the COVID-19 pandemic. So it's good to hear that her family is taking everything in stride and finding a way to cherish these once-in-a-lifetime kind of moments.
The actress has also recently been open about her decision to step away from her acting career -- which she did following the release of 2014's Annie. While some fans obviously wonder if she'll ever come out of her self-proclaimed retirement, it seems as though Cameron Diaz is currently very much at peace with the direction her life has taken. Besides, she's still in the public eye to some extent -- she's had several candid conversations with her peers in the past few weeks, which has once again put her back in the spotlight, albeit in a different context.
Whatever is in store next for Cameron Diaz, it's pretty clear she'll meet it with the same enthusiasm she has with everything else, from acting to parenting.
Your Daily Blend of Entertainment News
Thank you for signing up to CinemaBlend. You will receive a verification email shortly.
There was a problem. Please refresh the page and try again.