Bond Girl Eva Green's Lawsuit Drama Has Taken Another Turn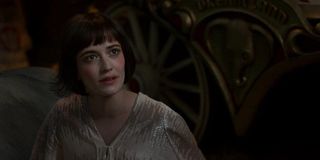 Eva Green, known for playing Bond girl Vesper Lynd opposite Daniel Craig in Casino Royale, is currently embroiled in a legal dispute with the producers of a project titled A Patriot, a movie she was set to star in with Helen Hunt and Charles Dance. As reported back in June, Green sued the producers for roughly $1 million plus legal fees because the project canceled. Now it looks like the lawsuit has taken another turn.
According to Variety, Eva Green has reportedly been accused by the production company White Lantern of walking away from the $5 million science-fiction movie A Patriot. It claims this was the reason for production to inevitably shut down, and that this makes Green ineligible for the fee that she claims she's owed. In addition, White Lantern believes Eva Green owes it roughly $1.3 million, and that it should also be compensated for lost profits.
In response, Eva Green released a statement denying the allegations, calling them erroneous and saying that she was ready and able to perform her contract. Her lawyers are planning to respond to White Lantern's allegations in the court papers at London's High Court.
Sherborne Media Finance took over White Lantern back in February and allegedly gave notice of termination of the artist agreement, saying Eva Green breached the agreement. The actress reportedly says the company never gave her information about the breach.
A Patriot was written by Dan Pringle, and he would have also taken on directorial duties if the project had continued. The movie was about Eva Green's character, Kate Jones, being a Captain in the Border Corps of a futuristic authoritarian state. Eventually, she starts to question her allegiance to the state. Originally, Tim Robbins and Kathy Bates were set to start in the movie before dropping out for unknown reasons.
Initially, the science fiction thriller was set to start shooting in August 2019 for a seven-week stretch in Dublin, Ireland. However, production was delayed twice and then moved to Black Hangar Studios in England before the project was cancelled altogether.
It's unknown if A Patriot will restart production during or after this lawsuit. Clearly, because of current events, trying to get any movie production back into gear would be difficult. While this project could find new life in the future, it's hard to say if that's likely or not.
Eva Green, of course, has had a long career in Hollywood. While she's known for playing Bond girl Vesper Lynd, she's more recently been in the TV show Penny Dreadful and the live-action Disney remake of Dumbo. It's unclear if Eva Green has anything lined up for her next project, but hopefully she'll find something once this legal drama is said and done.
Your Daily Blend of Entertainment News
Your Daily Blend of Entertainment News
Thank you for signing up to CinemaBlend. You will receive a verification email shortly.
There was a problem. Please refresh the page and try again.