The Man From U.N.C.L.E. And 9 Other Spy Sequels I'd Rather Get Than My Spy 2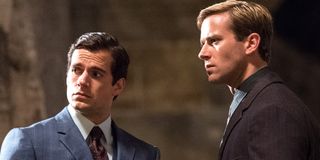 Somehow, My Spy has returned. With the oft-delayed movie landing a cozy streaming release on Amazon's Prime Video earlier this year, it looks like that partnership was a rather successful one. At least, that's what it would look like on the surface, as My Spy 2 is apparently a project that's being discussed between the streaming retailer and the film's production company, STX Entertainment.
Which is fine and all, as if the public really wants another My Spy, they should get it. But there are 10 other spy franchises that should easily get sequels if we're really getting serious. We submit, for your eyes only, the spy sequels we'd rather get than My Spy 2:
The Man From U.N.C.L.E.
It's been five years since Guy Ritchie's uber-slick adaptation of The Man From U.N.C.L.E. reinvented the swinging '60s TV caper into a smooth and adventurous adventure for today. And yet, despite being well-regarded by fans far and wide, the lack of blockbuster success for Henry Cavill, Armie Hammer,and Alicia Vikander's Cold War romp is probably the big reason why a sequel hasn't happened yet. It's about time that changes if My Spy 2 is really what we're looking at here.
Tinker Tailor Soldier Spy
While part of the reason Tinker Tailor Soldier Spy was made was probably because Focus Features knew it had an Oscar caliber spy film on its hands, you might be surprised to know that the movie actually hauled in a decent take at the box office. One would think that with two more books in author John Le Carre's Karla Trilogy waiting to be adapted, and Gary Oldman raring to go, keeping this saga going would have been easy. Yet almost a decade has passed, and no movement has taken place; which is a shame in the light of this beautiful, but stone cold sober look at the world of spying.
Atomic Blonde
One of the most teased sequel prospects on the scene today has to be Charlize Theron's potential return to the Atomic Blonde herself, Lorraine Broughton. There's even been talk of a similar move to that of My Spy 2, with some folks theorizing that Netflix could bring Broughton back in for another destructively entertaining sequel. As The Old Guard has put up some solid numbers, and Netflix is making some exciting moves to compete with its streaming rivals, it feels like Atomic Blonde 2 should have already been a done deal. So if you have that magic idea that crosses John Wick over with this franchise, speak up now or forever hold your explosions!
Spy
It's not an easy feat to spoof the James Bond franchise, or the spy genre on the whole, very effectively. Paul Feig's action-comedy Spy is a prime example of just why, when done right, a send-up that also acts as an effective entry in the canon makes sense. Another smash hit under Feig's career belt, with frequent collaborator Melissa McCarthy by his side, we haven't seen Susan Cooper back in the field for five years now. It's time to reactivate her, with or without her charmingly goofy sidekick Ford (Jason Statham), and let the explosive laughs fall where they may.
True Lies
A long time ago, writer/director James Cameron said that the world wouldn't be interested in a counterterrorism comedy like True Lies, squelching any chances for a potential sequel. With Arnold Schwarzenegger and Jamie Lee Curtis enjoying an active career returning to franchises like The Terminator and True Lies, and the public still obviously having an interest in spy games, it feels like the only thing that'd stop True Lies 2 from happening is the Avatar series. In which case, what's to say Mr. Cameron couldn't hand this property off to eager, trustworthy hands if the public was still sweet on the idea. This bridge isn't out yet, Jim!
Spy Game
In losing legendary director Tony Scott, we lost a unique voice that few have been able to capture since his passing. But director Joseph Kosinski seems to be doing a really good job so far living up to his high flying skills, based on what we've seen come out of Top Gun: Maverick. If he were up to it, it'd kind of be killer to see the Tron Legacy director also try his hand at showing us the adventures of Brad Pitt's Tom Bishop, years after being rescued in the first Spy Game. If Kosinski has proven one thing to the world, it's that he can make a sequel well after the fact, and bring fresh life to a long-held vision.
Get Smart
Here's a fun fact to consider: My Spy director Peter Segal has previously dipped his toes in the world of comedic espionage with the Steve Carell/Anne Hathaway film adaptation of the classic TV show Get Smart. But somehow, despite that film doing exceedingly well at the box office, it failed to garner a sequel, even though there was enough confidence to launch a parallel spin-off movie. There was definitely movement on a follow-up to Maxwell Smart and Agent 99's adventures for some time, and even if Segal himself thinks the time has come and gone, it couldn't hurt to let someone else pick up the allegedly killer sequel draft from the pen of Carell himself, and put it into the world.
Spies Like Us
What do Spies Like Us and Ghostbusters have in common? The correct answer, besides Dan Aykroyd, is that they're both '80s comedies that have a pretty healthy fandom. While Spies Like Us is a bit of a more obscure title, it could still be a pleasant surprise to see Aykroyd and co-star Chevy Chase heading into today's world of international espionage. They may not have been the best spies in the service back in the day, but surely they've learned new and exciting ways to get into trouble in the off season.
Agent Cody Banks
If the world really wants super spy kid action, then our last two options definitely have the juice to get the job done. The first of which would be a long overdue sequel to the Agent Cody Banks series. Surely by now, Frankie Muniz's cool operative is settled into somewhat of a family life, though he's still probably in the business of saving the world. If True Lies 2 is never going to happen, then why not bring back Cody Banks in a story where he has to hide his spying from his family, only to potentially have them find out anyway?
Spy Kids
During a panel for this year's ComicCon@Home festivities, Alita: Battle Angel director Robert Rodriguez revealed an interesting fact: Spy Kids is absolutely killing it on Netflix. With this particular statistic in play, and Rodriguez already working with the streamer/studio on his superhero film We Can Be Heroes, it feels like the time and conditions are right to bring the Spy Kids brand back to life in the world of streaming. Netflix is uber competitive like that, and with Prime Video doing so well with My Spy that it wants to pursue a sequel, it feels like the best move to keep the market satisfied, and to stoke the fires of gamesmanship between the two rivals.
There is still an outside chance that the work put into My Spy 2 will be an improvement over that first film. But even putting those feelings aside, if My Spy can get a sequel, there are a lot of other spy movies that should find their licenses to thrill renewed, and soon. Even if you're a fan of Prime Video's family romp starring Dave Bautista and Chloe Coleman, the discussion at hand could be a prompt for other studios to get back into spy games of their own. Whatever the case, if you're interested in seeing My Spy for yourself, or if you want to revisit the film you can't get enough of, it's available now on Prime Video (opens in new tab) for viewing.
CinemaBlend's James Bond (expert). Also versed in Large Scale Aggressors, time travel, and Guillermo del Toro. He fights for The User.
Your Daily Blend of Entertainment News
Thank you for signing up to CinemaBlend. You will receive a verification email shortly.
There was a problem. Please refresh the page and try again.