The Suicide Squad Trailer And 7 Other Things We Hope Are Revealed At DC FanDome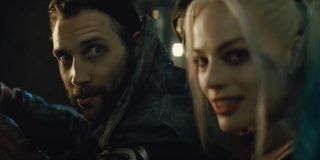 Comic-Con has come and gone, but there's another convention to look forward to before this summer concludes. On August 22, DC and Warner Bros are holding the DC FanDome, a 24-hour free, digital fan event spotlighting all things DC, including movies. For instance, it's already expected that the first trailer for Zack Snyder's Justice League, a.k.a. the Snyder Cut, will be released during the event.
That's an adequate appetizer, but that's surely not the only film-related goodie we can expect from DC FanDome. Below is a wishlist of other things we're hoping to see at the event later this month, including The Suicide Squad trailer. Speaking of which…
The First Trailer For The Suicide Squad
James Gunn's The Suicide Squad, the standalone sequel to 2016's Suicide Squad, filmed from September 2019 to the end of February 2020. So while there's still a ways to go until the movie is completed, ideally there's enough footage available to at lease piece together a teaser trailer or sizzle reel. Granted, there's still a year to go until The Suicide Squad's release, but considering that Warner Bros ended up dropping its first look at Suicide Squad a year ahead of that movie's release, it's not impossible the studio could do the same with Task Force X's cinematic return. Fortunately, Gunn has promised that we'll get a look at the movie in some form.
A New Wonder Woman 1984 Trailer
The first Wonder Woman 1984 trailer dropped last December, back when the movie was still set for release on June 5. Had Warner Bros stuck to that date, we probably would have gotten a second trailer during the spring. Now though, the sequel is scheduled to arrive on October 2, so we're due for another trailer. Even if Wonder Woman 1984 ends up being pushed back again, it'd be nice to have more official footage, especially if that includes our first glimpse of Kristen Wiig's Barbara Ann Minerva in her Cheetah form.
The First Footage For The Batman
The Batman kicked off filming at the beginning of the year, but the current health crisis resulted in production being paused for several months. As a result, not only will principal photography stretch longer than expected, but The Batman is now coming out in October of 2021 rather than June. So it'll be a long time until we get an official trailer for the Caped Crusader's next movie, but since Robert Pattinson is attending DC FanDome, maybe he's bringing some early footage for fans to take in. If that's not in the cards, can we at least get that look of Zoe Kravitz as Catwoman that was likely on the way before the pandemic hit?
The First Look At Dwayne Johnson As Black Adam
As if his name being included in the main DC FanDome preview wasn't enough, Dwayne Johnson posted his own special teaser promising that the Man in Black, a.k.a. Black Adam, is coming to the event. While Black Adam's principal photography isn't expected to begin until early next year, that teaser does seemingly indicate that something special has been filmed to promote the movie. If that ends up not being the case, maybe we can at least get a picture of Johnson wearing the Black Adam costume and/or some plot information.
The Flash Announcing New Characters
Ironically, The Flash has been moving rather slowly through the development process, with various writers and directors having come and gone from the Scarlet Speedster's solo movie. Right now, it seems like The Flash is on firm footing again, with IT's Andy Muschietti coming aboard to write and direct an adaptation of the Flashpoint storyline. However, this will be much a much different Flashpoint than the one that unfolded in the comics, as evidenced by Michael Keaton's Batman being lined up to return rather than Thomas Wayne being the Dark Knight in this reality.
It'd be nice to learn some of the other characters who will appear in The Flash to get a better idea of what to expect from this story, be it longtime Flash mainstays like Iris West and Reverse-Flash, or some other outside-the-box picks.
Shazam! 2 Story Details
While we still don't know when Shazam and Black Adam will clash in the DCEU, the foundation for Shazam! 2 has already been laid out. In Shazam!'s mid-credits scene, Dr. Sivana was visited in prison by the super-intelligent caterpillar known as Mister Mind, who proposed that the two of them join forces to conquer the Seven Realms. That was a good tease of what's to come, but hopefully we can learn more at DC FanDome about what Shazam! 2 plans to offer, including mentioning any new characters who will debut and revealing whether the Seven Realms will closely resemble how they're depicted in the comics, or if the sequel plans to do something much different with these lands.
Aquaman 2 Story Details
With Aquaman 2 primed for a December 2022 release, it'll be a long time before we learn what the sequel has in store beyond Black Manta teaming up with Dr. Stephen Shin, as teased in the Aquaman mid-credits scene. That said, Jason Momoa said in May 2019 that the story is "locked," so perhaps a few plot-related Aquaman 2 tidbits will be revealed at DC FanDome. If we're really lucky, maybe we'll get some concept art of new underwater regions that will be explored, like one of the other Atlantean kingdoms.
Updates On Long-Dormant DC Movies
As you can see, we're not lacking for DC movies in the near future, but there are plenty of other projects in this franchise that have been in development for a long time. Naturally not all of them will see the light of day, but it would be nice to get a status report on some of the higher profile projects. Is Green Lantern Corps still happening now that HBO Max is making a Green Lantern series? Will Cyborg be given renewed focus? Could Gotham City Sirens move forward as an indirect Birds of Prey sequel? These are just some of the potential questions I'm hoping are answered.
Let us know what you'd like to see revealed at DC FanDome, and keep checking back with CinemaBlend for all the latest and greatest in DC movie news.
Your Daily Blend of Entertainment News
Connoisseur of Marvel, DC, Star Wars, John Wick, MonsterVerse and Doctor Who lore. He's aware he looks like Harry Potter and Clark Kent.
Your Daily Blend of Entertainment News
Thank you for signing up to CinemaBlend. You will receive a verification email shortly.
There was a problem. Please refresh the page and try again.