Is Wrestling Real Or Fake? David Arquette Gives His Answer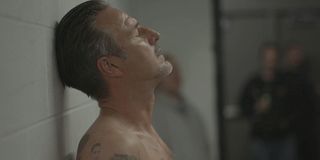 In the world of professional wrestling, questions tend to crop up time and again, like who's the best wrestler, when was wrestling most exciting and, perhaps the most prevalent, is wrestling real or fake? Plenty have given their answer to the latter, and now actor/professional wrestler David Arquette is hopping into the ring to provide his take on the topic.
Recently, David Arquette spoke with CinemaBlend's own Jeff McComb to discuss his latest documentary You Cannot Kill David Arquette, his return to Scream 5 and his family legacy in the entertainment business. When talking about wrestling, David Arquette answered whether or not wrestling is real or fake with the following:
That's a pretty honest answer from the Ready to Rumble actor. In his career, David Arquette did a bit of a flip on what traditionally happens. Usually, professional wrestlers make the switch to becoming Hollywood actors, Dwayne "The Rock" Johnson being one of the most successful wrestlers to do it and credited for opening the door to other wrestlers.
But David Arquette, the actor arguably known for his role in the Scream franchise, decided to switch from actor to professional wrestler. This career change, his winning the WCW World Heavyweight Championship in 2000 and his journey back to the ring is covered in the documentary You Cannot Kill David Arquette.
The actor-turned-wrestler has been branded "the most hated man in wrestling" after the WCW championship. The actor claimed that You Cannot Kill David Arquette and his attempt to return to professional wrestling is a way for him to stand up for himself, to rewrite his ending and finish in a place where he could be proud of himself.
David Arquette's wrestling documentary adds to a list of new wrestling movies in recent years with what seems to be considerable new interest in the world of professional wrestling. Last year, for instance, Viceland released Dark Side of the Ring, revealing the troubling things that go behind-the-scenes in the wrestling industry.
Although he's been focused on wrestling, that doesn't mean David Arquette has given up his acting career entirely. Most notably, he'll be returning to the Scream franchise in Scream 5, directed by Ready or Not's Matt Bettinelli-Olpin and Tyler Gillett. For more movie news, be sure to stay tuned to CinemaBlend.
Your Daily Blend of Entertainment News
Your Daily Blend of Entertainment News
Thank you for signing up to CinemaBlend. You will receive a verification email shortly.
There was a problem. Please refresh the page and try again.