Shang-Chi Actor Simu Liu Responds To Burn About Staying In Shape For Marvel Through Shutdown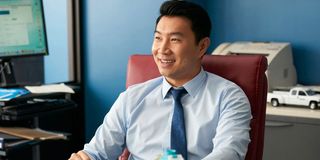 Being a Marvel superhero can be rough sometimes. Marvel's Shang-Chi and the Legend of the Ten Rings is currently underway, with Kim's Convenience actor Simu Liu in the starring role. However, because of the production shutdown, Simu Liu may or may not be staying in shape for Marvel. Now, he's responded to a burn about just that.
Simu Liu is fairly active on his Twitter account. So when comic book artist and writer Annie Wu called out action stars for only staying in shape for the time period of their Marvel superhero movies, Simu Liu responded accordingly. Take a look:
"Oof" is right. Simu Liu seems a bit lost for words to Annie Wu's comment, and rightly so. On the flip side, she seemed taken aback herself that Simu Liu would even read her tweet. Check it out:
Just like everyone else during quarantine, Simu Liu was in lockdown due to Shang-Chi being put on hold. While some Marvel stars thrived on the quarantine workout, it's hard to say if the same can be said for Simu Liu.
Back in April, he posted a video of himself looking like he was about to do an at-home workout, but in a hilarious twist, he picked up a video game controller instead. Obviously Simu Liu is just joking around, as the actor has been in good shape for a while and has likely been keeping that going throughout quarantine.
Superhero workouts are not easy by any means. Actors undergo strict diets and log in several hours of gym time to look absolutely shredded. Of course, the workouts may be easier for some actors than others.
Kumail Nanjiani, for instance, has joined the MCU as well for the franchise's upcoming The Eternals, becoming jacked for the role. But it didn't sound easy for the comedian-turned-superhero actor, as he said the workout becomes enjoyable, but the diet was the hardest part for him.
Though it had been delayed for a time, Shang-Chi reportedly returned to filming earlier this month. So it's likely Simu Liu is back to pumping iron if he ever truly stopped. Considering the character Shang-Chi is supposed to be "the master of kung fu" it makes sense that Simu Liu would need to be in tip-top shape to portray the character.
Shang-Chi and the Legend of the Ten Rings is expected to come out on May 7, 2021, with the movie having previously been slated for a February 2021 release. Hopefully it can continue with its schedule and not be delayed any further. Otherwise, Simu Liu might have to respond more burns about staying in shape. For movie news, be sure to stay tuned to CinemaBlend.
Your Daily Blend of Entertainment News