Why Batman Returns' Danny DeVito Thinks Colin Farrell Will Be 'Great' As The Penguin In The Batman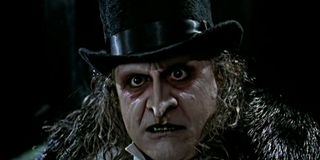 Matt Reeves' The Batman is bringing fans a new Dark Knight in the form of Robert Pattinson, who will play a younger iteration of the iconic hero. And along with him will come updated versions of classic villains like Catwoman and The Riddler. One of the antagonists fans are most eager to lay their eyes on is Colin Farrell's Penguin. Like his co-stars, Farrell has some big shoes to fill, as the last person to play Oswald Cobblepot on the big screen was Danny DeVito, who famously portrayed the character in Tim Burton's Batman Returns. But what does DeVito think about his Dumbo co-star taking on the iconic role?
Danny DeVito recently revealed that he hasn't spoken to Colin Farrell about his role in The Batman yet, but he's just as excited as the rest of us to see what his Penguin looks like. And there's one reason he has no doubts Farrell can pull of a great performance:
You have to love Danny DeVito's supportive comments to Collider. Just as Burgess Meredith was The Penguin for a generation of fans, DeVito defined the character for another. So him passing off the baton so willingly is great to see.
At this point, not much is known regarding what Matt Reeves and Colin Farrell have planned for their interpretation of Cobblepot. But with Reeves seemingly going with a more grounded take on Batman lore, this Penguin may not be the deformed, ex-circus performer that Burton's was.
It does appear, however, that Farrell will be performing the role with the use of prosthetics. This was confirmed by Mrs. Doubtfire actor Rob McClure, who actually saw the prosthetics being constructed. Aside from his physical appearance, Farrell has teased some very "tasty" scenes for Penguin, and he's also had nothing but praise for Matt Reeves' script.
The Penguin is a difficult character to pull off, especially given that the villain can come off as campy or corny if handled a certain way. But based on what we've heard so far, it sounds like Reeves and his collaborators know how to make the character believable.
The first reveal of Colin Farrell's Penguin can't come soon enough, and it'll be interesting to see how he turns out. We'll also be waiting intently to see what Danny DeVito thinks of this iteration of the character. Let's just hope he doesn't have to break out his own Cobblepot persona to pay Farrell that visit.
The Batman is scheduled to hit theaters on October 1, 2021.
Covering superheroes, sci-fi, comedy, and almost anything else in film and TV. I eat more pizza than the Teenage Mutant Ninja Turtles.
Your Daily Blend of Entertainment News
Thank you for signing up to CinemaBlend. You will receive a verification email shortly.
There was a problem. Please refresh the page and try again.