Bryan Cranston: What To Watch On Streaming If You Like The Breaking Bad Star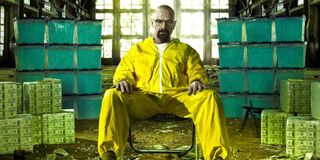 CinemaBlend participates in affiliate programs with various companies. We may earn a commission when you click on or make purchases via links.
Through decades of adaptable performances, Bryan Cranston has proven his incredible acting talents in a variety of roles, both big and small, on screens both large and not. Through an impressively unwavering dedication to his craft and a fiery commitment to complicated characters, Cranston is a continuously dynamic performer with vigorous versatility and astonishing range. The Emmy/Tony-winning actor proved his talents once more in Disney+'s The One and Only Ivan, but the Breaking Bad actor showed his skills in several outstanding performances, many of which are currently accessible on various streaming services. Here's what you should stream if you love Bryan Cranston.
Breaking Bad (Netflix)
Diagnosed with inoperable lung cancer, a mild-mannered chemistry teacher (Bryan Cranston) manufactures methamphetamine with a former student (Aaron Paul) to provide for his family.
Why It's A Good Option for Bryan Cranston Fans: Over the course of five excellent seasons, Bryan Cranston went from being "the dad on Malcolm in the Middle" to one of our greatest working actors through his Emmy-winning work in AMC's exhilarating Breaking Bad. While credit is rightfully given to creator Vince Gilligan's brilliant vision, the incredible cast, the distinctly vivid Albuquerque backdrops, the consistently amazing writing, and the pulpy camerawork, Breaking Bad is an addictive, intentionally Shakespearean character study of how an unassuming man becomes a powerfully wicked force of destruction. It's to Cranston's immense credit that this vivid transformation is sold with gusto and greedy vengeance. It's undeniably Cranston's finest performance and one of TV's finest roles.
Stream it on Netflix here (opens in new tab).
The One And Only Ivan (Disney+)
A gorilla (Sam Rockwell) promises to help a baby elephant (Brooklynn Prince) escape captivity from an overzealous circus owner (Bryan Cranston).
Why It's A Good Option for Bryan Cranston Fans: In this cuddly and immensely sweet Disney+ exclusive, Bryan Cranston demonstrates many layers, allowing himself to be hammy and boastful when endearing a crowd, tender and caring when he's with his animal companions, but also insistent and demanding when business isn't what he wants it to be. The role could've been less dynamic with a less capable actor, but Cranston brings sincerity and sensitivity to his prominent role, particularly when he's often the only live-action actor on-screen. While it sometimes seems like the movie isn't sure how far to push the character's darker side, Cranston brings vibrant, winning humanity to this animal-centric Disney production.
Stream it on Disney+ here (opens in new tab).
Contagion (HBO Max)
A lethal, fast-spreading novel virus causes social order to collapse.
Why It's A Good Option for Bryan Cranston Fans: While it doesn't make for the most comfortable viewing experience in the midst of an ongoing worldwide pandemic, Steven Soderbergh's immersive, nerve-wracking, and unsettlingly foretelling Contagion is a tightly-wound globe-trotting thriller with precise pacing, an unflinching vision, and a smart, well-researched screenplay which gets down to the nitty-gritty of this devastating illness without sacrificing the entertainment value. Though, perhaps "entertaining" isn't the right word in a modern lens. Nevertheless, in an outstanding ensemble, including Matt Damon, Gwyneth Paltrow, Kate Winslet, Laurence Fishburne, and Jude Law, Bryan Cranston plays a dutifully formal role as a public health service rear admiral hoping to keep the nation from diving into full-blown panic. It's a buttoned-down role that Cranston handles with proper gravitas and dramatic authority.
Stream it on HBO Max here. (opens in new tab)
Malcolm In The Middle (Hulu/IMDbTV)
A gifted teenage middle child (Frankie Muniz) tries living with his dysfunctional suburban family (Bryan Cranston, Jane Kaczmarek, Christopher Masterson, Justin Berfield, Erik Per Sullivan).
Why It's A Good Option for Bryan Cranston Fans: As Hal Wilkerson, an immature, goofy father of four unruly sons, Bryan Cranston gave one of his most recognizable and memorable performances in Fox's long-running Malcolm in the Middle. As the often-bumbling, socially awkward patriarch who wants to do the right thing but is often helpless without his wife's assistance, Cranston's performance is frequently funny and not without its moments of off-kilter sweetness. He's often game for anything and filled with lighthearted giddiness, showcasing the future Emmy-winning actor's unrestrained commitment and bubbling enthusiasm. It's a sincere, highly-entertaining career-building performance that remains one of his most signature roles.
Stream it on Hulu here (opens in new tab) and IMDB TV here.
Last Flag Flying (Amazon Prime)
Reuniting with his Vietnam War buddies, Marine Sal Nealon (Bryan Cranston) and Reverend Richard Mueller (Laurence Fishburne), Former Navy Corpsman Larry "Doc" Shepherd (Steve Carell) goes on a mission to bury his solider son.
Why It's A Good Option for Bryan Cranston Fans: Though it flew under the radar upon release, Richard Linklater's Last Flag Flying is a wonderfully delicate, thoughtful, and mature character-based dramedy with the added benefit of its terrific trio of lead performances from Steve Carrell, Bryan Cranston, and Laurence Fishburne. While Carell's refrained, commendably contemplative performance is the movie's anchor, Cranston's rambunctious, outspoken persona works well as his opposite, showcasing his entertaining talents for playing broad, attention-grabbing characters. While some critics dismissed his high-energy performance, it balances the buddy dynamic between Carell's grief-filled character and Fishburne's evaluative reverend well, providing a dependably lively, engaging presence.
Stream it on Amazon Prime here.
Little Miss Sunshine (Starz)
A dysfunctional family embarks on a cross-country road trip when the youngest child (Abigail Breslin) enters the finals of a beauty pageant.
Why It's A Good Option for Bryan Cranston Fans: Little Miss Sunshine is like the Little Engine That Could, chugging along with its humble Sundance debut to become an incredible box office smash and, eventually, a Best Picture-nominated triumph. While the main ensemble, including Greg Kinnear, Toni Collette, Abigail Breslin, Paul Dano, Steve Carell, and an Oscar-winning Alan Arkin, got most of the recognition — and understandably so — Bryan Cranston also played a small-but-pivotal role as Stan Grossman, whom our patriarchal lead (Kinnear) believes will bring about his next step as a motivational speaker. It's a minor part, but Cranston plays a big part in the comedy's dramatic undercurrent.
Stream it on Starz here. (opens in new tab)
Last Chance (Tubi)
In a desert cafe, an unhappy married couple (Robin Dearden, Bryan Cranston) has their lives changed by a charming drifter (Tim Thomerson).
Why It's A Good Option for Bryan Cranston Fans: In his screenwriting and directorial debut, Bryan Cranston makes an appealingly old-fashioned, commendably character-focused drama aided by strong performances from Robin Dearden, Cranston's wife, and Tim Thomerson. Though it can be overly familiar with its well-worn narrative and subdued by its tempered pacing, Cranston's homegrown film is benefitted by its indie earnestness and its refrained storytelling, allowing the strengths of the performers to carry the low-budget production in an agreeably undemanding fashion. The results aren't especially noteworthy, but it proves that Cranston has decent chops as a director. It's a shame that the actor hasn't helmed another feature since. In any case, Last Chance was an early showcase for Cranston's multi-faceted talents.
Stream it on Tubi here.
The Lincoln Lawyer (Amazon Prime/Netflix)
A charismatic lawyer (Matthew McConaughey), who does business out of his Lincoln Continental sedan, defends a wealthy man (Ryan Phillippe), only to believe his client is guilty of more than one crime.
Why It's A Good Option for Bryan Cranston Fans: While it doesn't verge too far out of the lines of your typical procedural courtroom drama-thriller, The Lincoln Lawyer is a brisk, commendably enjoyable starring vehicle for Matthew McConaughey. While it's undoubtedly his show, the supporting ensemble is surprisingly strong, particularly with standout talents like Marisa Tomei, John Leguizamo, Michael Pena, William H. Macy, Josh Lucas, and Bryan Cranston onboard. As a detective with a strong dislike towards our Lincoln-loving criminal defense attorney, Cranston brings sharp personality to what might've been a throwaway role in less dependable hands, resulting in a commendable turn.
Stream it on Amazon Prime here and Netflix here (opens in new tab).
All The Way (HBO Max)
After President John F. Kennedy's assassination, President Lyndon B. Johnson (Bryan Cranston) spends his first year in office trying to pass the Civil Rights Act.
Why It's A Good Option for Bryan Cranston Fans: Reprising his Tony-winning portrayal of the former president, Bryan Cranston gives a thunderous performance as Lyndon B. Johnson in HBO's All The Way. Though its boisterousness can make an unsteady transition into television, the characterization still contains the magnitudes of Johnson's ferocity and tenacity, making it easy to see why it was such a triumphant Broadway success. It matches the outsized personality of his real-life inspiration, showcasing Cranston's proven talents for playing loud, bombastic characters with steering, unwavering desires to achieve greatness. It makes sense why Cranston adopted this role shortly after Breaking Bad. It's a stunning performance, outshining the film itself.
Stream it on HBO Max here (opens in new tab).
Drive (Netflix)
A Hollywood stunt driver (Ryan Gosling) moonlights as a getaway driver. But complications ensue when he falls for his neighbor (Carey Mulligan).
Why It's A Good Option for Bryan Cranston Fans: In this visceral, heavily-stylized blend of high-speed action and arthouse cinema sensibilities, Drive became one of 2011's coolest, most celebrated achievements, pushing director Nicholas Winding Refn further into cult status. With an ensemble that includes Ryan Gosling, Carey Mulligan, Christina Hendricks, Ron Perlman, Oscar Isaac, and a surprisingly terrifying Albert Brooks, Bryan Cranston doesn't get as much time to shine as he did in other projects he landed once Breaking Bad's success grew, but his auto shop owner plays an emotional part in our sullen, cold exterior lead's buried warm heart, providing Gosling's character with more motivation to seek vengeance when things go south.
Stream it on Netflix here (opens in new tab).
That Thing You Do! (HBO Max)
In 1964, a small-time band (Tom Everett Scott, Johnathon Schaech, Steve Zahn) rises up the charts with the help of their manager (Tom Hanks).
Why It's A Good Option for Bryan Cranston Fans: While it's a brief role in Tom Hanks' beloved directorial debut, Bryan Cranston's appearance as Gus Grissom, an astronaut interviewed only moments before The Wonders perform on live TV, makes for a fun surprise for fans of the actor's long-spanning work. While he isn't given too much to do, Hanks clearly enjoyed Cranston's company. The director later cast him in a more prominent role in his sophomore film, 2011's Larry Crowne, which is streaming on Peacock (opens in new tab).
Stream it on HBO Max here. (opens in new tab)
Wakefield (Netflix/SundanceNow)
A successful-but-unhappy attorney (Bryan Cranston), living on the edge of madness, decides to disassociate himself from his own life.
Why It's A Good Option for Bryan Cranston Fans: In what's considered one of his finest recent portrayals, Bryan Cranston provides a dependably committed, darkly unstable lead performance in Wakefield. Playing a man collapsing from his fraught mental stability, Cranston is given a challenging role to pursue, particularly when the character can often be unpleasant. But the award-winning actor is up for the challenge, producing an intriguingly complex, achingly human powerhouse performance which, yet again, demonstrates his towering talents.
Stream it on Netflix here (opens in new tab) and SundanceNow here.
Seinfeld (Hulu)
Four neurotic friends (Jerry Seinfeld, Julia Louis-Dreyfus, Jason Alexander, Michael Richards) deal with the minutiae of NYC daily living.
Why It's A Good Option for Bryan Cranston Fans: As Tim Whatley, Jerry Seinfeld's extremely eccentric dentist, Bryan Cranston played a recurring role in Seinfeld's extended time on TV. While this role only consisted of five episodes scattered throughout the sitcom's 172 episode run, the standout character became an early favorite for Cranston, particularly as the comedy's cultural longevity allows him to still be recognized for this scene-stealing part. Whether it's his office collection of Penthouse magazines or his switch to Judaism solely to make jokes (which offends Jerry as a comedian, but not as a Jewish man), Cranston's character provided great splashy variety to the proceedings. His involvement in some of Seinfeld's most revered episodes wasn't incidental.
Stream it on Hulu here (opens in new tab).
In addition to all these titles, it's worth noting that Trumbo is available on Netflix, The Infiltrator can be seen on Crackle, The Upside is on Showtime, Sneaky Pete is on Amazon Prime, and Cold Comes The Night is also on Crackle. What's your favorite Bryan Cranston performance? Let us know below!
Will is an entertainment writer based in Pittsburgh, PA. His writing can also be found in The Playlist, Cut Print Film, We Got This Covered, The Young Folks, Slate and other outlets. He also co-hosts the weekly film/TV podcast Cinemaholics with Jon Negroni and he likes to think he's a professional Garfield enthusiast.
Your Daily Blend of Entertainment News
Thank you for signing up to CinemaBlend. You will receive a verification email shortly.
There was a problem. Please refresh the page and try again.