One Thing Hamilton Star Anthony Ramos Has Learned To Appreciate During COVID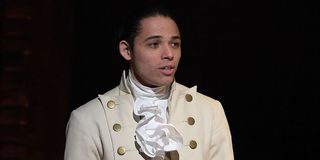 Anthony Ramos has been a busy man over the past decade. He's toured with the Broadway production of In the Heights, produced his own album and of course, had a dual role in the hit Broadway and Disney+ musical Hamilton, in which he played John Laurens and Philip Hamilton. However, during COVID, it sounds like Anthony Ramos has learned to slow down and look at things a little differently.
At one point in his career, Anthony Ramos planned to quit, but more acting jobs came his way. Now, it looks like he's at an opposite point in his life where he's been so busy he hasn't had a chance to take a breath. So now, Anthony Ramos believes COVID has given him a chance to slow down, be present, and live in the moment. Here's what he had to say:
It's easy to understand Anthony Ramos' comments to American Songwriter. Without question, the coronavirus has changed our perspectives, our behaviors, and our daily lives. For Ramos, it sounds like that sudden and abrupt change has given him time to actually enjoy his life rather than work all of the time. He's been able to focus on the present time rather than always looking to the future.
Yet despite current events and the slowdown, it doesn't sound like Anthony Ramos will be going anywhere anytime soon. The Hamilton actor landed the starring role of the movie adaptation of In the Heights, which is also written by Lin-Manuel Miranda. However, that movie's theatrical release has been has been delayed due to the coronavirus, and it's unknown when it will open. But when it does, some think it might be bigger than Hamiltonwhen it does see the light of day.
Just as it has with Anthony Ramos, COVID has forced plenty of celebrities and Hollywood actors to stop and have some perspective on their lives. A few months back, Kevin Hart gave an emotional, inspiring message on how everyone should take this time to be better. Hugh Jackman, who also seems to be working all the time, took time out of his day to get his hands dirty and help those in need.
It's good to hear Anthony Ramos has been able to soak things up a little bit and enjoy the things around him. Hopefully, when things get back to normal, he'll continue to work smarter. For more movie news, be sure to stay tuned to CinemaBlend.
Your Daily Blend of Entertainment News
Thank you for signing up to CinemaBlend. You will receive a verification email shortly.
There was a problem. Please refresh the page and try again.