X-Men Icon Hugh Jackman Is Being A Real-Life Hero With Volunteer Work During The Pandemic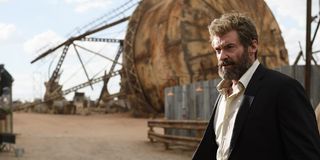 Everyone knows Hugh Jackman as the adamantium clawed Wolverine from the X-Men movies. He's been a hero on the big screen for some time, fighting and slashing his way through bad guys to save innocent people. Now he's being a real-life hero, volunteering at a New York farm that donates fresh produce to those that need it most.
Hugh Jackman recently took to social media to raise awareness about the organization Share The Harvest Farm and what the type of charity work they do for families in need. He shared a photo as well, showing him carrying a basket of vegetables while equipped with a face mask. Check it out:
It's awesome to see a celebrity like Hugh Jackman do their part during this tough time. It's also not wholly surprising that Hugh Jackman would do this; he has a reputation in Hollywood for being an all-around great guy. What a class act.
Share The Harvest Farm, which is located in East Hampton, New York, looks to be doing some powerful charitable work. Per their website, their mission is to grow fresh, nutritious food and donate thousands of pounds of it to local organizations feeding children, seniors, and disabled people in the community. And this work is all the more important during challenging times.
This seems like an especially timely service, considering the US unemployment rate has skyrocketed since businesses shut down due to the pandemic. The shutdown and rapid unemployment has affected a ton of industries, notwithstanding the movie industry, leaving a lot of people without work and the ability to pay for things like food.
As it turns out, Hugh Jackman isn't the only cast member of X-Men to step up and help provide pandemic relief. Back in March, James McAvoy, who everyone knows as X-Men: First Class's Professor Charles Xavier, donated £275,000 ($342,962) to a campaign to purchase protective equipment for National Health Service workers.
And it doesn't stop there, either. Hugh Jackman's faux nemesis Ryan Reynolds used their famous, ongoing feud to help the fight against the pandemic. Ryan Reynolds and wife Blake Lively donated $1 million to be split between Feed America and Food Banks Canada. At the end of the announcement, Ryan Reynold's encouraged everyone to reach out to some that is isolated, followed by a number tied to Hugh Jackman.
Before all this, when the world was mostly on lock down and quarantined, Hugh Jackman had been cooped up in his house like the rest of us. Back then, he spoke to James Corden and said living life in quarantine was challenging because he was a "worker," but was making the best of it by studying and practicing his numbers in the living room.
And now Hugh Jackman is putting that solid work ethic to good use at an organization that's trying to help feed the hungry. While he's not wearing claws or Wolverine's signature yellow suit, the 51 year-old actor is still displaying heroic behavior.
Your Daily Blend of Entertainment News