Kevin Hart Has A Motivational Message For Fans During Coronavirus Isolation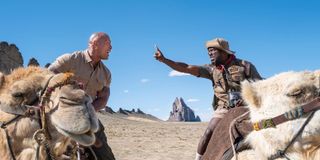 The coronavirus isolation has taken a toll on people around the world. It can be tough to look on the bright side, but that's exactly what Kevin Hart recently told his fans to do. He took to social media to give a motivational message, telling them they can turn this experience from a negative to a positive.
As part of his conversation, he mentions that quarantine is a message and we all need to take time to reassess and revaluate what's important, like our health and the ones closest to you. He encourages those following him to take time to love more and focus on themselves, also noting:
With many stuck at home, time seems to be the one thing we can use to our advantage, which Kevin Hart mentions. He encourages his fans to start being creative and to do new things they haven't done before that'll put them on better footing moving forward. This isn't the first time Hart has talked about quarantine and it's unlikely to be the last.
Kevin Hart recently starred in Jumanji: The Next Level, playing the role of Mouse alongside co-stars Dwayne Johnson, Jack Black, and Karen Gillan. For a good portion of that movie, he acted as Danny Glover's character, Milo, with comedic results.
Before the quarantine and even before Jumanji: The Next Level came out, Kevin Hart endured a serious car accident that left him injured and needing back surgery and physical therapy. This caused lots of physical and mental changes in the actor, saying the ordeal caused him to have a new appreciation and understanding on life. He shared an emotional video on the accident, saying "his world was changed forever," so it's not a surprise he's still making changes all these months later.
Kevin Hart has spent time since the accident making changes, not only on a personal and familial level, but also when it comes to physical fitness as well. So, it's no surprise that after the surgery, he took hold of the positives and got back on the horse, so to speak. He's posted a lot of his rebuilding routine on Instagram, which is also where you can find his motivational message during these times.
Moving forward in a post-coronavirus world, Kevin Hart will have a number of new movie projects in the works, including Ride Along 3. That will bring Kevin Hart and Ice Cube back together again for a third time. Whatever the project is, hopefully his fans will be positive, creative, and stronger than ever before going to see him on the big screen again.
Your Daily Blend of Entertainment News
Thank you for signing up to CinemaBlend. You will receive a verification email shortly.
There was a problem. Please refresh the page and try again.