Cameron Diaz Quit Acting And Started Producing Wine, But It Could Be Going Better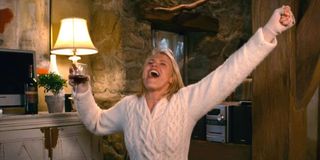 Unless you've been living under a rock, you probably already know that Cameron Diaz is basically retired from acting. She's been enjoying her life at home with new baby Raddix and, of course, her husband Benji Madden. However, she's also jumped into some new business endeavors, the highest being her high-profile new wine brand Avaline. Cute name, but it sounds like things could be going better.
Unfortunately, a recent study rated the wine at only a D rating. If that wine were a math test it would get a passing grade, but just barely. If that wine were a restaurant, it would already be closed down. But Avaline is neither a math test nor a restaurant, so read into that what you will.
Per the New York Post, a survey was undergone with 400 households looking into various celebrity wines. It wasn't just Avaline that faced scrutiny: participants also purchased (yes they bought themselves) Dave Matthews' The Dreaming Tree Chardonnay, Sting's Il Palagio Roxanne Toscana Bianco 2018, Lisa Vanderpump's 2018 Vanderpump Chardonnay, Zac Brown's Z. Alexander Brown Uncaged Chardonnay 2017 and Diaz's Avaline White Blend. Of the five wines, Diaz's had the lowest rating.
All of the wines tested in this case were whites and the tasting came as part of author Mark Oldman's "Celebrity White Wine Showdown." So obviously, the D that Avaline earned was from a small sample size of people (around 400) and the way the wines were tested was not by the most scientific method. Still the D comes on the heels of not the best reviews ever for the wine brand.
Branding and knowing your audience is often as important as actual wine quality. For example, the people buying Beringer wine at the grocery aren't the same people buying Cameron Diaz's "clean wine" who aren't the same people listening to Wine Spectator call Château Léoville-Barton St.-Julien 2016 [the wine of the year,](https://wineindustryadvisor.com/2019/11/15/classic-bordeaux-named-1-wine-of-the-year#:~:text=New%20York%2C%20NY%20(November%2015,2019%20Wine%20of%20the%20Year.) and so on and so forth. If she really believes in her brand and its audience, a simple survey shouldn't stop her. Still, I'm sure sparkling reviews would be preferable to these rather still ones.
Celebrities getting into alcohol has been a bit of a trend lately. Dwayne Johnson has a tequila brand. Ryan Reynolds owned and then sold his Aviation Gin. It's worth noting that Johnson's Teremana Tequila has pretty solid reviews and he's consistently pushing it, similar to Cameron Diaz. Aviation Gin has also found a fanbase, which is likely why Reynolds was able to sell for such a solid price.
Cameron Diaz has Avaline wine, a brand she named after looking through a baby name website. Everything about the wine really fits her brand; we knew previously, in fact, that she was a lover of wine and getting into "clean wine" sort of fits that organic California lifestyle. Unfortunately, even that latter part has been challenged, as SF Chronicle has a particularly notable review of the product that mentions it doesn't meet guidelines and a lot of people on the Internet are calling "clean wine" a "scam."
Cameron Diaz's wine currently sells for $24 bucks a bottle, so you won't find it in the discount aisle at the grocery store. But people are aware of the brand and her attitude toward "clean wine," something she discussed in an intimate new interview with her Goop pal Gwyneth Paltrow. It may be enough for Avaline to find its footing as it makes its way into a crowded market, but we'll have to wait and see as her brand continues to roll out new products.
Your Daily Blend of Entertainment News
Reality TV fan with a pinch of Disney fairy dust thrown in. Theme park junkie. If you've created a rom-com I've probably watched it.
Your Daily Blend of Entertainment News
Thank you for signing up to CinemaBlend. You will receive a verification email shortly.
There was a problem. Please refresh the page and try again.