Ryan Reynolds Has The Perfect 'Apology' To Blake Lively After Selling Aviation Gin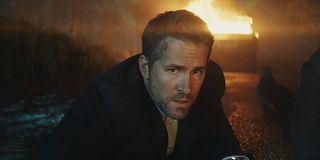 Ryan Reynolds is synonymous with his role as the merc with the mouth in Deadpool. But the famed (and often sarcastic) actor is also a stakeholder in Aviation Gin, a distillery based out of Portland, Oregon. But recently he sold the business off to Diageo and in true Ryan Reynold's fashion, offered a perfect "apology" to Blake Lively, among many others.
According to People, Ryan Reynolds sold Aviation Gin for an estimated $610 million to Diageo. After the sale, Ryan Reynolds wrote an out-of-office message on his Aviation Gin email addressing the sale, but also "apologizing" to the people he may have offended due to how he might have acted when seeing how much money the company sold for. Here's what he said:
Obviously, Ryan Reynolds is joking. And it's not the first time he's trolled his own wife, Blake Lively. A few years back, he used a Deadpool 2 trailer to make fun of her movie Sisterhood of the Traveling Pants, calling it "pure pornography." And that's one of the many reasons why Reynolds has such a strong social media presence.
Since becoming co-owner and creative director of Aviation Gin, Ryan Reynolds has used his comedic and trolling skills to promote the brand. He's produced a number of ads over the years to help market the company's gin. Perhaps the most notable Aviation Gin ad he produced was with Peloton actress Monica Ruiz. After the Peloton ad controversy, Ryan Reynolds decided it would be great to have Monica Ruiz be in an Aviation Gin ad in response to the Peloton ad backlash, which was a pretty genius way to ride a wave, promote his Aviation Gin brand, and help out an actress in the process.
But very few have gone un-trolled. A year ago, he released an Aviation Gin ad trolling Justice League's mustachegate, a controversy surrounding Henry Cavill's fake mustache in Justice League. He also used his feud with Hugh Jackman to release an ad to help bartenders in need. What a class act.
Despite now selling Aviation Gin, it sounds like Ryan Reynolds will still have a stake in the company. So, it wouldn't be altogether surprising if Ryan Reynolds releases another hilarious ad trolling someone.
Your Daily Blend of Entertainment News