Mulan Director Explains Mushu's Absence From The Disney+ Movie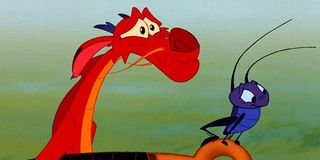 Warning: Mild spoilers ahead for some of Mulan**'s key plot points.**
Disney's adaptation of Mulan is different from its recent live-action counterparts in a few key ways. Though it follows the basic premise of the 1998 animated feature, it does away with some of the characters and songs that made the original Mulan a beloved Disney classic. That includes Mushu, the lovable talking dragon -- but, Mulan's director says there was an important reason for excluding him from the new film.
When fans first learned that Mushu wouldn't make an appearance in the live-action Mulan, they weren't happy. However, the film's director, Niki Caro, told USA Today (opens in new tab) that while she acknowledges the role Mushu played in the original film, the new adaptation required some big narrative changes:
Now that Mulan has hit Disney+, fans have been able to see how some of the changes Niki Caro made play out on screen. While there is no Mushu, Mulan does encounter a mystical entity that helps guide her journey: a phoenix -- albeit, one that doesn't talk.
Niki Caro is right, in that the live-action Mulan leans much more heavily into the realistic elements of the titular heroine's story. It follows her character's evolution more closely, and with greater detail. It would have been hard for them to incorporate a talking dragon and still keep the narrative tone that the director tries to strike throughout the film. However, it is still a Disney movie, and that means there are some elements of magic.
Throughout the film, Mulan encounters the magical bird when she is in need of encouragement. We first see it, in statue form, early in the film when the future warrior is still a child. Later on, it comes to life and serves as a symbol of her strength and perseverance. While it doesn't exactly provide the comical banter that Mushu injected into the original Mulan, it is one part of the film that rides the line between realism and fantasy.
It's too early to tell whether the world will embrace the narrative changes in Mulan. On Rotten Tomatoes, critics have had generally positive things to say about the new film, while fan feedback has been a bit more mixed. CinemaBlend's own Sarah El-Mahmoud gave Mulan a four-star review and praised the film for striking a "graceful balance" between the original animated film's beloved elements and its own unique take on the story.
Have you watched Mulan yet? What did you think about the absence of Mushu and the inclusion of the phoenix? Let us know in the comments!
Your Daily Blend of Entertainment News