Michael Rooker Fought Good Battles Against COVID-19 And 'Won The War'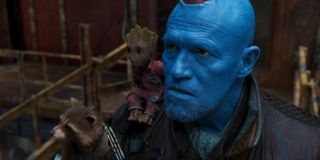 The battle against COVID-19 continues to wage across the US. With cases rising, more celebrities reportedly have become infected with the virus, including the likes of Dwayne Johnson and (reportedly) Robert Pattinson. Now, it looks like Guardians of the Galaxy's Michael Rooker has waged his own fight against the virus and won the war.
The coronavirus has wreaked havoc across the world, and while it can be deadly for anyone infected, it especially puts people advanced in years or who have weakened immune systems at risk. Since Michael Rooker is 65 years old, that could put him in a more delicate spot. However, he recently shared on his Instagram page that he's all right and had a hard-fought battle against COVID-19. Here's what he had to say:
Symptoms for COVID-19 have reportedly been varied from one person to the other, but seem to include fever, shortness of breath, body aches, and even losing your sense of smell. However, some have said they didn't have any symptoms at all.
For Michael Rooker, it sounds like he had an up and down fight, feeling bad one day and better the next. Thankfully, as he said, his battle against COVID-19 has come to an end. He later said,
This is all around great news. While Michael Rooker, Tom Hanks, and Dwayne Johnson have all come out on the other side of a COVID-19 diagnosis, other actors, sadly, have not, including That Thing You Do's Adam Schlesinger and Blue Blood's actor Nick Cordero. It doesn't have to be said, but it's a very dangerous and deadly disease.
Though Michael Rooker has been acting since the 80s, he's grown quite a fanbase for his role as Merle Dixon in AMC's The Walking Dead and then Yondu in Guardians of the Galaxy. While it's highly unlikely he's coming back as Yondu, Michael Rooker fans are excited that he's re-teaming with James Gunn for The Suicide Squad, playing the character Savant (the blockbuster completed production last year and is currently in the editing stage preparing for its 2021 release date). For more movie news, be sure to stay tuned to CinemaBlend.
Your Daily Blend of Entertainment News