No Time To Die: 5 Questions We Have After The Latest Trailer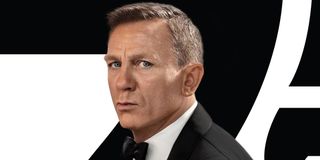 Trailers are basically made to get audiences to question what exactly they're about to see when they head to a theater near them. Those odds, and the questions that surround them, only increase when something like our latest look at No Time To Die starts to heat up the anticipation surrounding the release of the 25th James Bond adventure. For sure, it's a trailer that continues to stoke the fires of anticipation for Daniel Craig's big bow out of the series, but there are some more questions that have come out of the fast paced action that the latest trailer has shown us.
Are James Bond And The CIA Still On The Outs?
When we last saw James Bond and the CIA shaking hands, it was a 30 second conversation between James and his brother from Langley, Felix Leiter (Jeffrey Wright). While his bosses weren't exactly the biggest fans of Bond's antics, Felix is obviously still in his corner for their big reunion in No Time To Die. But is this meeting above the boards, or is Mr. Leiter going behind his bosses' backs?
With Felix making remarks about how it's "harder to tell the good from bad, heroes from villains these days," things already feel pretty tense. It only gets more interesting when you remember that Billy Magnussen's mysterious character, Logan Ash, is supposed to be a CIA agent himself, with what seems like orders to find James Bond. Is this another case of 007 chasing a baddie that might be supported by another intelligence agency, much like Dominic Green?
Is Felix Leiter Going To Get Out Alive?
Not only is what Felix Leiter had to say in the No Time To Die trailer very concerning, but his urgency for James Bond to meet with Paloma (Ana de Armas) feels like more than just a rushed line read in a trailer. If the CIA is indeed curious about making sure Safin's operations are uninterrupted, they more than likely already know that Felix is about to blow the whistle. Which makes Felix a loose end, and we all know what happens to loose ends in the world of spies.
No Time To Die is already promising a lot of changes and some rumored turns that exceed even the wildest dreams of a Bond fan. At this point in the story of 007's journey to becoming the hardened super spy he's always been known to be, losing a trusted friend feels like quite the possible twist. With the Craig era being marked by loss and vengeance, Felix's potential death could be a fitting capstone to an iconic friendship.
Was Part Of Safin's Plan To Draw Bond Out Of Retirement This Whole Time?
With what little information we've heard about Rami Malek's ultimate baddie Safin, it feels like we're about to see Daniel Craig's Bond tangle with his first classic style villain. That's not to say Blofeld (Christoph Waltz) isn't still 007's greatest adversary, but his aims in the new canon have always been to fulfill the criminal needs of the world. Safin, on the other hand, has a global scale plot in his hands in No Time To Die. And his exacting mind may have set his current plans up in such a way that James Bond couldn't help but look into Dr. Valdo Obruchev's disappearance.
As this is the plot point that is supposed to prompt Felix to turn to Bond, the initial mission sounds like it's going to see James Bond trying to rescue this missing genius. But if Nomi's jump kick takedown of the good doctor is any indication, it looks like Dr. Obruchev might be in on the plan, and merely a decoy to get James onto the board. Has Safin always wanted Bond to come out and play? Safin's also got some sort of dirt on Dr. Madeleine Swann (Lea Seydoux) and her supposedly deadly secret, so could his plan this whole time have been to bring 007 out of retirement?
Could Nomi Become A New Recurring Character?
James Bond is always going to need some friends in his corner to help him navigate whatever new villains arise and the plots they're looking to engage in. Traditionally, 007 has always had a strong support system at MI6, with M (Ralph Fiennes), Tanner (Rory Kinnear), Moneypenny (Naomie Harris) and Q (Ben Whishaw) all helping out with valuable intel and gadgets in the field. But now, it looks like there could be another addition to the spy family, as No Time To Die has introduced young hotshot Nomi (Lashana Lynch) into the picture.
A 00 agent who came up in the ranks since Bond's post-Spectre retirement, Nomi's addition doesn't seem like a standard move that fills out the cast. Rather, anything from a spinoff to a recurring role in the future of the James Bond franchise feel like they could spur from Nomi bursting onto the scene. Which is a question that, in turn, leads to one pretty big ask when it comes to what exactly No Time To Die represents.
Will The Bond Franchise Keep Continuity After Daniel Craig's Departure?
Here's the $1 billion question that No Time To Die will have to answer by time the credits roll this fall: what will happen to the James Bond series once Daniel Craig leaves? More specifically, what will the approach to storytelling be after five serialized entries that chronicle the early days of Bond's 00 service? Traditionally, the franchise has seen James getting into trouble in new and exciting ways, with little to no connection between adventures. That changed pretty quickly, as Casino Royale kicked off a campaign to unmask Quantum, Spectre and whatever evil revealed itself as connected to the forces that killed Bond's first love. Now, with this latest trailer for No Time To Die, this particular gauntlet has been dropped:
Could there be room to continue the story once Craig turns in his gun and Aston Martin? Again, with the previous approach of having unconnected 007 stories in the mix, there was no need to pay too much attention to how his face continued to change. Can the James Bond series still continue this dynamic story that's been started over the past 14 years, with new actors continuing to fill the role?
There's no shortage of questions in the James Bond series, as an important era of its modern history is about to close. How it's going to conclude, as well as where the road to the future leads, will both be concerns Bond fans old and new face, as No Time To Die continues to count down to its big debut. The film opens for domestic audiences on November 20, and you can count on CinemaBlend keeping up with what happens between now and then. Because, as always, James Bond will return.
CinemaBlend's James Bond (expert). Also versed in Large Scale Aggressors, time travel, and Guillermo del Toro. He fights for The User.
Your Daily Blend of Entertainment News
Thank you for signing up to CinemaBlend. You will receive a verification email shortly.
There was a problem. Please refresh the page and try again.