No Time To Die: An Updated Cast List For Daniel Craig's Last 007 Movie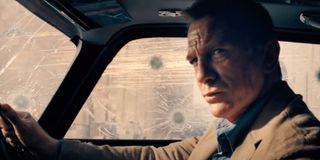 It's hard to believe it has been four years since Spectre came out in theaters and it will be five years before No Time To Die comes out. For a short while we were on a fairly steady diet of Daniel Craig movies, with Skyfall and Spectre coming out three years apart and Casino Royale and Quantum of Solace coming out two years apart.
However, there was a four-year gap between Quantum of Solace and Skyfall, so I suppose we shouldn't fret too much about No Time To Die and how long it is taking to come together. On that note, casting is finally a reality for the new movie, which will bring Daniel Craig back, presumably for the last time.
If you are as pumped as we are for the film we previously had to call Bond 25, be sure to check out our updated cast list below and check back for new add-ons to the cast and more.
Daniel Craig as James Bond
Yes, Daniel Craig is game for at least one more round as the famous British agent 007. The actor was confirmed to be returning in July of 2017 and has been allegedly working out like a fiend since then in order to whip himself into shape for his final hurrah. No Time To Die does indeed mark the final return of Daniel Craig in the James Bond franchise, with an opportunity the actor feels lucky to be participating in.
Rami Malek as Safin
Following his star-making turn as Freddie Mercury, the Mr. Robot actor will be joining the Bond franchise as Safin, a mysterious villain who is apparently playing God in a rather dangerous way. The No Time To Die role was one that the studio was hot on casting him into, and as such, Malek actually got to help shape wherever it is Safin's character is going in the new film.
Due to the fact the movie will be filming in Jamaica like Dr. No, some have speculated that Safin will be somehow related to that character or flick, but this has currently in no way, shape or form been confirmed. Considering the shell game the 007 brass played surrounding Christoph Waltz's Ernst Stavro Blofeld, we wouldn't throw this possibility out just yet.
Jeffrey Wright as Felix Leiter
That's "Wright," the fan-favorite Westworld actor is returning to the Bond fold to play Felix Leiter in No Time To Die. Like Rami Malek, this had been speculated for a while. James Bond's friend is mentioned in Spectre and he'll be back in this next film, bringing the supposedly retired 007 out of seclusion to retrieve a missing scientist.
Ralph Fiennes as M
Taking over for the former M played by Judi Dench, this M's full name is Lieutenant Colonel Gareth Mallory. We know this because he was originally introduced in Skyfall as the head of the Intelligence and Security Committee. He'll be back in No Time To Die, although he previously said he still didn't have any details on the movie. That has more than likely changed by now, but good luck getting those details out of Fiennes, even with the film being pushed to a November release date. Ultimately, M won't be the only MI6 character to be returning, either.
Naomie Harris as Moneypenny
Miss Moneypenny is an iconic Bond character. In Daniel Craig's version, she's been given the first name Eve, and has been played by Naomie Harris since 2012's Skyfall. Her version was given some backstory in which she was once a field agent.
She messes up royally in Skyfall during a mission in Istanbul and later is given desk work, but has occasionally taken on field work since. When last we saw her she was back in the office, so we'll have to wait and see where No Time To Die goes. Though Naomie Harris has promised that Moneypenny has grown up somewhat in the years between Spectre and this new Bond film.
Lea Seydoux as Dr. Madeleine Swann
Madeleine Swann, or rather Dr. Madeleine Swann, is the daughter of Mr. White, a member of SPECTRE. She had grown up resenting her father for his criminal dealings and it was those dealings that led James Bond to her.
She first pops up in – you likely guessed it – Spectre, and although she shares some "moments" with Bond, she has said in interviews that she doesn't really feel like a stereotypical Bond girl. This is likely one of the reasons she'll be back for another round, and why the newer films have dumped the previous nomenclature for the more modern "Bond Woman."
Ben Whishaw as Q
Q and Daniel Craig's Bond meeting for the first time is a highlight of Skyfall as the older British Agent realizes he will be dealing with a veritable youngster as his new quartermaster. These days, Whishaw is nearing 40 (!) and is very much a major part of the Bond franchise popping in to confirm pieces of information and more. He'll be a welcome face when he comes back for No Time To Die.
Rory Kinnear as Bill Tanner
Rory Kinnear's big claim to fame in this franchise is playing the youngest version of Bill Tanner to exist. Previously played by actor Michael Kitchen during the Pierce Brosnan run of films, the character's first introduction as M's chief of staff took place in 1974's The Man with the Golden Gun. These days, Bill Tanner is a regular fixture in Bond films, ever since Kinnear's version first popped up in 2008's Quantum of Solace. With his return in No Time To Die, Rory Kinnear 's Tanner has had the most consistent appearances, over the longest span of time, in the history of the Bond films.
Dali Benssalah
A French actor known for the Nox miniseries and Interrail, Dali Benssalah was initially announced as joining the franchise during the big press event in Jamaica that kicked off No Time To Die's production. We now know that he'll be playing a character named Primo. We currently do not have details on who exactly Primo is working for in No Time To Die, but looking at his official poster photo, we can tell he's someone we wouldn't want to be on the bad side of.
Ana De Armas as Paloma
Like Dali Benssalah, Ana De Armas will be a newcomer in the Bond universe. The Cuban actress has been an actress for the past decade, previously appearing in Hollywood movie projects like Blade Runner 2049 and War Dogs. One of her most recent claims to fame was starring alongside her No Time To Die costar Daniel Craig in the Rian Johnson comedy whodunnit Knives Out.
In No Time To Die, De Armas plays CIA agent Paloma, despite her initial reservations on taking the role. Handling her fair share of weapons in advanced marketing for the film, Paloma looks like she'll be another trailblazer in the modern age of Bond Women.
Lashana Lynch as Nomi
Captain Marvel's Lashana Lynch is also joining No Time To Die, and she just might be playing the next 007 if the rumors are true. What we know for sure at this point is she'll be playing an MI6 operative named Nomi, who's been climbing the ranks and fighting the good fight in the wake of James Bond's absence from her majesty's secret service.
Looks like jumping from Marvel to Bond is not a bad franchise hop, and there's always the potential that her new character could be the one that finally lands their own spinoff from the 007 series.
Billy Magnussen as Logan Ash
Game Night's Billy Magnussen hops genres and projects all the time. He's done comedy, as evidenced. He's also played princes in the likes of Into The Woods and the upcoming Aladdin and he's been involved in plenty of TV projects from Black Mirror to Tell Me A Story. Now, he'll be joining No Time To Die as another CIA agent, named Logan Ash. Based on the recent rumors pertaining to his character, it looks like he'll definitely be an adversary of some sort to James Bond, as he's allegedly set to pursue him during the film's course of events.
David Dencik as Valdo Obruchev
Another crucial entry into No Time To Die's cast is David Dencik, a Swedish character actor known for roles in films like Tinker Tailor Soldier Spy and The Snowman, as well as TV projects such as Rig 45 and Quicksand.
He'll be joining No Time To Die as Valdo Obruchev, the character who seems most likely to be that kidnapped scientist James Bond was brought to find in the first place. Whether it's against his will, or as a true believer, Valdo is probably a crucial piece to Safin's evil plans.
Christoph Waltz as Ernst Stavro Blofeld
The ultimate nemesis to James Bond throughout his long and storied history, No Time To Die will indeed see the return of Christoph Waltz's Ernst Stavro Blofeld. Previously the head of SPECTRE, his villainous enterprise was disbanded in his initial appearance, and he is currently in captivity, courtesy of the fine folks at MI6.
Though, as past history has told us, sometimes a comfy jail cell is exactly where the villain wants to be. It was previously uncertain if Waltz would return to his Bond franchise role, but all it took was one trailer to confirm that his taunts towards his adopted brother are far from over.
As for rumors about No Time To Die's story, there have been some suggestions the movie will be making some major revelations that will help to wrap up this era of 007. We'll be sure to confirm these suspicions as soon as Barbara Broccoli and the studio release any more information, as well as on the November 20th release date that No Time To Die has been currently settled into.
Your Daily Blend of Entertainment News
Reality TV fan with a pinch of Disney fairy dust thrown in. Theme park junkie. If you've created a rom-com I've probably watched it.