James Bond: 7 Questions We Still Have About No Time To Die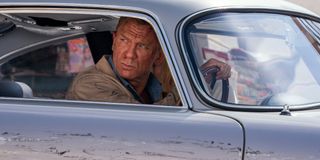 If the intended timeline for 2020's release market stuck to its originally scheduled programming, No Time To Die would have debuted a couple of weeks ago, with the world presumably still in the grips of James Bond mania at this very moment. Alas, the world had different plans, and Daniel Craig's last ride as 007 was pushed to the more traditional release slot of November.
But with this delay comes even more time to ponder over some of the questions we're still looking for answers to, regarding No Time To Die as a whole. Not just questions pertaining to the potential plot mind you, but legitimate questions about what this film is intending to do with some of its business oriented angles.
Here now are seven questions we still have about No Time To Die, as we count down the days until the 25th James Bond adventure debuts to the public.
Will No Time To Die Really Debut In Its New November Date?
Let's discuss the James Bond equivalent of the elephant in the room: are we really going to see No Time To Die in theaters this November? When the decision was made in March to postpone the film into a fall 2020 release date, the decision seemed sound, as it gave a huge margin of time for world events to shake out for the better.
However, with more and more films shifting into 2021 release dates, and the uncertainty of when theaters will reopen, and how safe movie fans will feel going back in those early phases, this is a subject that has to be addressed. It may seem like a weird metric, but if Germany can cancel this year's Oktoberfest celebration, who's to say No Time To Die, and the remaining films on this year's calendar, won't just skip into the next year, for safety's sake.
Who In The World Is Billy Magnussen Playing In A James Bond Movie?
The cast announced for No Time To Die is something so eclectic and amazing that the very subject could be written on at length. With newcomers Rami Malek and Lashawna Lynch mixed in with stalwarts like Naomie Harris, Lea Seydoux, and Ralph Fiennes, Daniel Craig has a hell of a cast to work with in his final film.
But out of everyone named as coming to the table in No Time To Die, we have to admit, we're most curious about who Game Night and Aladdin actor Billy Magnussen is playing in the gradual scheme of things. All we know for sure is that his character is named "Logan Ash", which could go either way to be honest. But still, the man we most recently saw in hugely comic roles could take a more serious turn in this James Bond installment. If that's the case, consider our curiosity doubled.
How Will No Time To Die "Change Everything" In The 007 Franchise?
If you've seen the commercials that were advertising No Time To Die, there's a promise that "The 25th film will change everything". That's a pretty big assumption, considering this is the 25th James Bond adventure overall, and the fifth in the Daniel Craig era that rebooted the 007 series for a modern audience.
With a lot of things already changed in the franchise that paved the way for No Time To Die, just what does this movie have up its sleeve to upend almost 60 years of tradition even more than it already has? Not to mention, what does changing "everything" entail? Are we talking the entire history, or just this modern run? Damn you, Blofeld!
How Is Safin "Playing God" In No Time To Die?
As Daniel Craig's James Bond and Rami Malek's Safin have their heart to heart in the Not Time To Die trailer, Bond spurns his rival's worldview by stating that "History isn't kind to men who play God." As far as Bond villains go, playing God isn't all that new or different; but in the modern era of 007, that's a pretty big state. The concept itself is something that a new Bond adventure could play around with in a new and different way too.
While the past has seen villains trying to unleash biological warfare and eugenics upon the world, a brand new threat will be needed in order to up the stakes in No Time To Die. Though it wouldn't be surprising if that last threat resurfaces, as Safin mentioned his "skills" would survive, even in death.
What's Madeleine Swann's Big Secret?
Rami Malek's baddie isn't the only one that's posing some pretty big questions in No Time To Die. With the return of Christoph Waltz's Blofeld, who is currently in MI6 custody after being apprehended in Spectre, things were bound to get more complicated. The trailer for the film confirmed that, as the former head of Spectre knows something so massive, it could cause a lot of trouble for James, Madeleine, and quite possibly the world.
So Bond's nemesis promising his girlfriend, Dr. Madeline Swann (Lea Seydoux) has a secret so massive its existence would be the death of him, that's a pretty massive thing to hide from the world. What is it about Dr. Swann's life, and her potential connection to Safin, that could be so deadly? Whatever it is, it was not only enough to split the two of them apart, but it could somehow be tied to Safin and his evil schemes.
Is Blofeld Going To Break Out Of Prison?
Speaking of Blofeld, the man has always been known as a criminal mastermind who has connections to even the darkest of corners. Spectre confirmed as much, when we saw just how tied into the events of Daniel Craig's James Bond movies he was. Which only has us asking whether or not Christoph Waltz's baddie will be breaking out of government custody?
Even worse, there's a possibility that it might be James Bond that helps him get out, considering there's a very sneaky commercial that has Blofeld admitting that not only is Safin not a Spectre agent, he's quite possibly even more of a threat than Blofeld himself. Guess the enemy of Safin's enemy could be Bond's friend in this case.
Will We Get An Explanation For Felix Leiter's Absence From The Past Two Films?
Unquestionably a friend of James Bond, CIA agent Felix Leiter (Jeffrey Wright) finally makes his return to the espionage battlefield in No Time To Die. Out of action since 2008's Quantum of Solace, Leiter's resurfacing is another appropriate touch for Daniel Craig's final outing. Of course, the bigger question is, will we find out what Felix has been up to in the years since we've last seen him?
While the life of a spy is irregular and unpredictable, James and Felix felt pretty inseparable in the beginning of their time as spy bros. But with no mention in Skyfall and a brief invocation of his name in Spectre, there surely has to be a good reason that the two agents haven't reunited since taking down Dominic Greene; especially when Leiter prefaces his meeting with Bond in No Time To Die with such dire importance.
There's plenty of other questions that could be asked when it comes to what's headed our way in No Time To Die. As it stands though, these are the most important questions that are waiting to be answered this fall. With more time to ponder these queries, the answers are bound to become only more detailed, with the potential to lead to even more questions in their place.
Even without concrete answers, this final outing for Daniel Craig's James Bond is poised to be an explosive finale that'll mark the end of the tenure of the longest running actor to hold the part. Which means that whomever comes next in the line of James Bonds on screen will have a lot to live up to, and even bigger questions to answer.
No Time To Die heads to theaters on November 25, 2020; but you can watch most of the classic James Bond films on Prime Video, as well as Daniel Craig's Casino Royale and Quantum of Solace, both of which are available on HBO's digital platforms.
Your Daily Blend of Entertainment News
Senior Movies Contributor
CinemaBlend's James Bond (expert). Also versed in Large Scale Aggressors, time travel, and Guillermo del Toro. He fights for The User.
Your Daily Blend of Entertainment News
Thank you for signing up to CinemaBlend. You will receive a verification email shortly.
There was a problem. Please refresh the page and try again.