What The New James Bond Trailer Tells Us About Rami Malek's No Time To Die Villain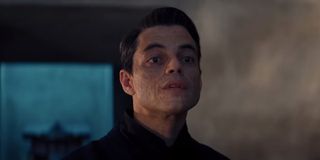 This morning, No Time To Die gave the world one hell of a wakeup call with its latest trailer. Teased throughout the week, the 25th film in the storied James Bond franchise showed the world a little more about what Daniel Craig's final adventure will be all about. Furthermore, it also gave us some more details about Rami Malek's villain in the movie, the mysterious Safin, and what his evil plot may be trying to carry out.
While there's no confirmation or denial about some of those Dr. No rumors, what we've seen in the new trailer is enough to start piecing together the following points of order.
Part Of Safin's Plot Is Revenge Against Dr. Madeleine Swann
As with any good Bond villain, there's something that James Bond's temporary nemesis has to be seeking in the world. Part of what Safin wants in No Time To Die is apparently some good old fashioned revenge, with Dr. Madeleine Swann (Lea Seydoux) taking her place in his crosshairs. Hammering home this point is an interesting revision of the moment where Dr. Swann receives that broken mask that hints to her own shadowy past, as Safin is apparently revealed to be in the room when she opens it up.
So Safin's going to get pretty close to Madeleine with his plot of vengeance, and the possibilities for why this grudge exists are far and wide in potential. Anything from his grudge with Dr. Swann reaching back to a particular event in her childhood, to something she may have done pre-Spectre as a practicing psychologist, are up for grabs. Whatever it is, it's really personal, and Safin isn't afraid to take his rage out on the world at large in No Time To Die.
Safin Has No Qualms About Committing Genocide
Rami Malek's Safin has been shown as a cold hearted killer who likes to think of himself as someone similarly aligned with James Bond's philosophies in life. However, No Time To Die had to throw in some major differences, and the one that separates the villain from the hero is a classic motivation: selective genocide. That's something that even Ernst Stavro Blofeld (Christoph Waltz) wouldn't even dream of, as he's declared Safin a mutual enemy between himself and his adopted stepbrother. This is even more clearly drawn when Safin drops the following line in the latest trailer:
As if his grudge against Dr. Madeleine Swann wasn't enough to put him on the wrong side of James' trigger finger, those god-like aspirations will definitely keep No Time To Die in some very interesting waters. As Bond himself previously pointed out, "History isn't kind to men who play God," and 007 is pretty good at making his competition history. Though Safin does look like he's testing his weapon out in the field in this trailer, as a quick glimpse at that nightclub scene with Bond and Ana de Armas' Paloma shows people falling down in the presence of some mysterious smoke. Maybe that's why they both had to quickly down some sort of shot later on in the trailer.
Whatever Technology Safin Has On His Hands, It's Seriously Bad News
We still don't know what mysterious technology Safin has stolen, which prompts James Bond's un-retirement in No Time To Die. But there are still a lot of clues as to what this weapon is and what it can do. As we've seen in both the previous trailer and this new batch of footage, some sort of material is being harvested in Safin's lair and lab; something that yields a bunch of red vials that, thanks to Nomi's reaction, signaling that "he's going to kill millions" should it ever get out. Again, the scene with people appearing to drop dead in a club of some sort hints towards this being some sort of biological agent that's dispersed through aerosols.
And then there's Daniel Craig's pretty huge line which he says towards the end of the trailer: "If we don't do this, there'll be nothing left to save." Whatever Safin is using is a huge enough threat that 007 even sounds concerned in No Time To Die. Depending on the yield of the red vials, the fact that there are tons of them could indicate that you need a lot of whatever weapon this is to take down millions of people in one go. Which could explain those rockets fired from that mysterious ship at sea, though, as always, there's room for interpretation and surprise.
Safin Is The First Bond Villain In The Craig Run To Act Like A Classic Baddie
We may finally know why No Time To Die is being touted as the Bond film that will "change everything." Up until now, Daniel Craig's variant of James Bond has dealt with nothing but criminals grounded in reality, financial terrorists and heinous power players. While the threats have escalated and the scope of those operations along with them, Safin looks like he's about to push the modern Bond franchise into some new, yet familiar territory.
World domination just became part of the Bond villain menu once again, as Rami Malek's character not only invokes some seriously strong Dr. No vibes in his costuming, but the production design of his lair is very much a throwback as well. With huge aspirations for global cleansing, and a hidden laboratory/living space to launch those plans from, the classic playbook of 007 villains looks to have been dusted off and revised for today's modern adversary.
A huge cloud of mystery still surrounds Rami Malek and the figure known as Safin, even after piecing together the further details that have come out of this new look at No Time To Die. That's not necessarily a bad thing, as to give away all the secrets now would be a horrific crime, especially with a little over two months to go until showtime. At the very least, we now have even more of an indication that Safin is a potential hall of fame villain, as his mean streak is only outdone by the aspirations he may or may not have been revealed to be carrying out.
No Time To Die still has its secrets to keep, and we'll have to wait until November 20th before we find out what they really are. From what we're seeing on this end, that wait is definitely going to be worth it, and you'll want to keep up with us in the interim, as we'll be running coverage and analysis on the franchise that will celebrate its 25th entry. As always, James Bond will return to CinemaBlend.
Your Daily Blend of Entertainment News
Senior Movies Contributor
CinemaBlend's James Bond (expert). Also versed in Large Scale Aggressors, time travel, and Guillermo del Toro. He fights for The User.
Your Daily Blend of Entertainment News
Thank you for signing up to CinemaBlend. You will receive a verification email shortly.
There was a problem. Please refresh the page and try again.