One Big Change Mulan's Team Made To The Script As It Was Coming Together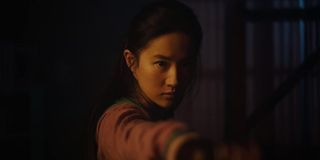 As many already know, movie scripts aren't static things and are often changed throughout the filmmaking process. The new Disney live-action film Mulan was no exception, with earlier reported reshoots being done to rework the battle scenes, among many other changes. Now, we've discovered another big alteration the team made to the script later on.
CinemaBlend's own Sarah El-Mahmoud recently spoke with Tzi Ma, who plays Mulan's father, Hua Zhou, about the latest live-action remake and his role in it. When asked why his character narrates and if that was always in the script, he gave a surprising answer:
The relationship between Mulan and her father is vital to both the animated movie and the live-action remake. That connection seems even more important in the latter, so it makes sense why they would make this change later as a way to show that deep connection.
Of course, 1998's animated Mulan didn't have Mulan's father do the narration at the start of the movie. As you may recall, it kicks off right away at the Great Wall of China, showing the invasion led by Hun chieftain Shan Yu.
It's no secret the live-action remake diverts significantly from the animated original. On top of removing Mushu as Mulan's helper, they also remove the musical numbers, change the main villain to Jason Lee's Bori Khan and add another villain in Gong Li's Xian Lang. They also removed Mulan's love interest and divided that character into two characters, one being a mentor and another being a friend.
Despite the radical changes to the script, the live-action Mulan has been generally well-received by critics, with some arguing there are things it does better than the animated movie. For what it's worth, it still does a good job pointing back to the original now and again.
Mulan is available now on Disney+ for an additional $30, or if you want to wait it out, you can see it as a regular Disney+ subscriber without the extra cost on December 4. For more movie news, be sure to stay tuned to CinemaBlend.
Your Daily Blend of Entertainment News
Thank you for signing up to CinemaBlend. You will receive a verification email shortly.
There was a problem. Please refresh the page and try again.