Why Denis Villeneuve's Dune Trailer Won Me Over As A Newcomer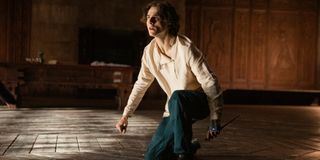 When I was a kid, I was raised on the sci-fi classics anyone can call out, with Back to the Future and Star Wars being the huge notables. But even in a household practicing the ways of the geek, there's bound to be knowledge gaps. Much as I wasn't familiar with Bill & Ted's Excellent Adventure in my childhood, Frank Herbert's Dune saga escaped me. Even with one of my parents' best friends being a professed lover of the David Lynch adaptation, I had never dove into the story of Paul Atreides until seeing that very film, once, as an adult.
Now, with the release of the first trailer to Denis Villeneuve's sweeping Dune remake/reboot, I'm impressed by what I've seen. I'll go a step further: wow, has he won me over for some very important reasons.
Seeing The Dune Cast In Action Really Hammers Home Their Brilliance
For months now, we've heard the Dune cast talking about what an experience their time on this film was. Even before the trailer officially dropped, Stephen Colbert got reactions and information from stars like Timothee Challamet, Oscar Isaac, Sharon Duncan-Brewster, Jason Momoa and Zendaya; all of whom talked about their connection to the material. And then Dune's first look played out and reminded me why these people make up such an impressive cast.
A stacked cast isn't always going to get you the best results in a movie, as you still need to know how all of the pieces fit together. Denis Villeneuve and his casting directors understand this point, and as if his work on Blade Runner 2049 didn't signify that, Dune hammers the point home. These actors already look like they work beautifully together, which is only going to help hook audiences into the story of House Atreides.
Dune's Universe Looks Like An Easy One To Get Lost In
As if casting a murderer's row of talent like Stellan Skarsgard, Javier Bardem and Rebecca Ferguson wasn't enough of a draw into the world of Dune, the lore and the look of its universe is absolutely appealing. Seeing costumes like Stillsuits and worlds like Arrakis coming to life in a brand new, more modern concept are visual delights. This is especially true when talking about a visual spectacle in a year that's had a much lighter turnout for grandeur at the movies.
But visuals only makes up half of the puzzle, as the overall story that's starting to take shape with Dune's initial entry, from a huge canon waiting to potentially be adapted, has been drawing me in with each watch. Paul's obviously got the whole "chosen one" thing going for him, but rather than playing to the sort of lighthearted solemnity that Star Wars did, there's a pall cast over the world and its prophecy for our hero's fate. A darker take on the classic Hero's Journey trope is always welcome; and, oh man, does that Pink Floyd cover tie the room together.
There's A Message To Dune, But It's Not A Preachy One
From what's been shown in the Dune trailer, Frank Herbert's original novel, and by extension the story that Denis Villeneuve, Jon Spaights and Eric Roth have all contributed to, is a deep epic full of meaning. Even in the pre-trailer release talk moderated by Stephen Colbert, the question of why it was the best time to see a Dune movie was asked, and Villeneuve himself had perhaps the most poignant answer:
That sort of answer doesn't feel slapped onto the images that followed in the Dune trailer, as this really does look like a movie that audiences will still be able to have fun with. If Jason Momoa's Duncan Idaho isn't enough to show you that this isn't just going to be a slog through the very real messages that Dune is trying to put into the world, then frankly, I don't know what is.
Somehow, This Is Only The First Half Of Dune's Source Novel
Dune is a world so dense, it has to be approached with the right method of adaptation. The world learned this most notably when the David Lynch film in 1984 tried to push the entirety of the first novel into one package. It was a package so dense, they literally needed to hand out a glossary at the box office when it was released into theaters. And yet, with only one half of Dune promised in the film this very trailer represents, it already feels like the right path was taken.
Naturally, there's the fear that if not enough moviegoers show up for Dune, we'll never get the second half of this first installment. Though it's been promised that this movie stands alone on its own two feet, and feels like a total experience, it's encouraging that with only one portion of Dune's literary source, there's as huge and as full of a picture as the one that's being teased in this first trailer. If that's the first half, what the hell does the second part hold in the future?
Blade Runner 2049 Looks Like A Warmup Compared To Dune
It's not hard to get hyped about a movie, nor is it that difficult to be distracted by a film. Cinema is an ultimate distraction, and the more you're immersed in the product, the more you're sucked in. Out of the movies I've seen in recent years, one of the only other times I could count myself so immersed in a world that I forgot the outside for its length has to be Blade Runner 2049. Seeing the trailer for Dune today, and still being spiced as hell about what I've just seen, I think that was merely a warmup.
Whether it's something you could sell the masses on easily is something that could be discussed at another time. But the fact still remains that when Denis Villeneuve is trusted to bring something like Dune to life, every ounce of care and energy looks like it's up on that screen. He's proven it before with the long awaited sequel to Blade Runner, and now it's a strongly hinted possibility that Monsieur Villeneuve is about to deliver on that sort of promise yet again.
It's an exciting time to be a sci-fi fan, a Villeneuve fan and a movie fan, and much like Paul Atreides himself, Dune looks like it could be the savior for those who want to go back to the movies. We'll see if this anticipation is rewarded in full when Dune lands in theaters, as the film is planning on a December 18 release at this moment. Should that change, in the midst of any other Dune happenings that are on the horizon, we here at CinemaBlend will be sure to break those updates as they happen; so stick with us!
Your Daily Blend of Entertainment News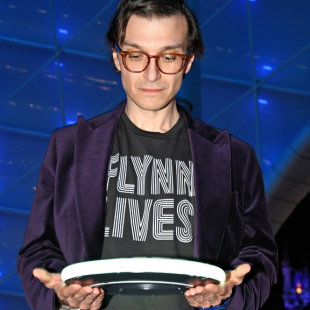 Senior Movies Contributor
CinemaBlend's James Bond (expert). Also versed in Large Scale Aggressors, time travel, and Guillermo del Toro. He fights for The User.