Jeff Goldblum Explains Which Thor: Ragnarok Star Made Him 'Deeply Starstruck'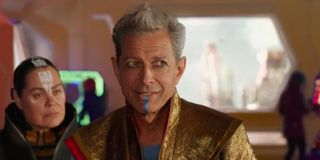 Jeff Goldblum is the kind of celebrity that any fan would be nervous to meet. Having starred in notable films like The Fly, Jurassic Park and Independence Day, the veteran actor is revered by many. However, even a performer of Goldblum's status can be intimidated by a fellow actor, and this was exactly this case when he found himself starstruck by one of his Thor: Ragnarok co-stars.
Taika Waititi assembled a phenomenal cast for Thor: Ragnarok, which was led by the charismatic Chris Hemsworth. But it wasn't the God of Thunder that left Jeff Goldblum a bit shaken. It was the woman behind playing the film's main antagonist:
I think most of us would agree with the sentiments Jeff Goldblum conveyed to PeopleTV's Couch Surfing. Cate Blanchett is one of the most talented actors in Hollywood today, and her body of work certainly speaks for itself. Let's be honest, just about anyone would be nervous if they were in the presence of the two-time Academy Award winner.
Blanchett definitely put her skills to use while playing the character of Hela in Thor: Ragnarok. While the argument could be made that she was somewhat underutilized, she shined in every one of her scenes and brought just the right amount of evil and fun to the Goddess of Death. The performance was great enough to watch on screen, but actually getting to watch her perform from behind the camera must've been a truly memorable experience.
This may be hard to believe, but it's actually quite common for actors to become overwhelmed when working with fellow celebrities. For instance, Perry Mason star Matthew Rhys admitted to being starstruck while working with Tom Hanks on A Beautiful Day in the Neighborhood.
Such a thing is especially common when working within the superhero genre. Jeff Goldblum's fellow Marvel actor, Paul Rudd, found himself starstruck when he arrived on the set of Captain America: Civil War and got to shoot with the likes of Chris Evans and Robert Downey Jr. And in the DC universe, even an A-list celebrity like Will Smith quickly transformed into a fanboy when he saw Ben Affleck's Batman using the Batmobile on the set of Suicide Squad. Needless to say, audience members aren't the only ones who turn into wide-eyed children when meeting big stars.
Jeff Goldblum's sincere thoughts on Cate Blanchett are just one of the many reasons he's so adored by the public. And with his admiration for fellow stars, one has to wonder if he's experiencing anything similar as he films Jurassic World: Dominion.
If you'd like to revisit both Jeff Goldblum and Cate Blanchett's performances in Thor: Ragnarok, you can stream the film on Disney+.
Covering superheroes, sci-fi, comedy, and almost anything else in film and TV. I eat more pizza than the Teenage Mutant Ninja Turtles.