Thor: Ragnarok: 10 Behind-The-Scenes Facts You Might Not Have Known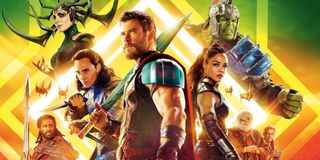 For many folks, Thor: Ragnarok is not merely the best Thor movie we've gotten to date but one of the best installments of the MCU thus far. That's a pretty impressive feat for a franchise that's 20-plus movies deep at this point. Directed by Academy Award-winning Taika Waititi, who'll return to make Thor: Love and Thunder, Thor: Ragnarok is a vibrant, entertaining and refreshing sequel that proved that there was more to Thor's character than some filmgoers expected. For those who love this 2017 Marvel movie, here are 10 behind-the-scenes facts that you should know about the blockbuster film.
Skurge's Shake Weight Actually Belongs To Taika Waititi
As a director, Taika Waititi is often known for his sight gags. The comedy-friendly director likes to incorporate odd and humorous images into his films, and Thor: Ragnarok is certainly no exception. One such example is the scene where Skurge, played by Karl Urban, is seen holding a shake weight with menacing intensity. While one would think that this is simply any old shake weight, it is apparently the one owned by the director himself. At least, if you take him at his word. As he admitted in the commentary track, Waititi bought a shake weight while working on 2011's ill-fated Green Lantern and kept it throughout the years, apparently. When it came time in incorporate the device into the movie, Waititi went into his own collection and included it in the movie. Of course, it's possible Waititi is being tongue-in-cheek. It'd certainly be fitting. But we want to believe it is the truth. Plus, why wouldn't it be?
Taika Waititi Claims 80 Percent Of The Dialogue In Thor: Ragnarok Is Improvised
Comedy is often at its most fruitful when it's organic. A lot of comedies today, for instance, rely on improv and on-the-spot lines and directions to bring the laughs in a major way. Sure enough, Thor: Ragnarok is no exception. Even though it's a multi-million dollar Marvel production where a lot was riding on its success, Waititi often felt emboldened to disregard the script and improvise the dialogue. So much so that, by Waititi's admission, a whopping 80 percent of the movie's dialogue came off-the-cuff. Certainly, that's impressive. And risky. Though the comedic filmmaker tends to have a good idea of what's funny and what works. Also, it should be noted that Thor: Ragnarok wasn't the only Marvel film to rely heavily on improvisation. As Jeff Bridges noted, for instance, the first Iron Man movie relied heavily on improv, including the famous ending line. Some folks live in the moment.
Thor's Line About Hulk Being "A Friend From Work" Came From A Child Visiting The Set
Inspiration can come from a variety of different places. With a set that liberally invited improvisation, as we just noted above, seemingly anyone could come up with a killer line that would make it into the final product. And, as it turns out, one of the movie's funniest lines came from a surprising source. As Chris Hemsworth noted in an interview, it was a Make-A-Wish kid who visited the set of Thor: Ragnarok who came up with the line "We know each other! He's a friend from work!" The line was so good, it won over the cast and crew, and it was funny enough that it made it into the film's first teaser. Indeed, filmmaking is a collaborative process, and when you get a bunch of clever and talented people in a room together, you can get great material.
Taiki Waititi and Chris Hemsworth's Wives Make Cameos In One Scene
Some of the best Easter eggs you can find in a movie come from the cameos. It's always fun to find out that this person and that person was someone famous and/or related or married to someone involved with the project. Sure enough, when it comes to a scene in the middle of Ragnarok where Thor is nursed back to health after a devastating defeat in battle with Hulk, we see a few nurses but we don't see their faces. As it turns out, two of these briefly-seen nurses were played by Chelsea Winstanley and Elsa Pataky, i.e. the real-life wives of both Taika Waititi and Chris Hemsworth, respectively. This information is yet another detail provided by Waititi himself in the movie's commentary track, and it's a detail many people weren't likely to notice.
Much Of The Art Seen During The Hulk Parade Was Made By Interns From The Local Aboriginal Community
Another detail that Taika Waititi revealed in his director commentary track is that a lot of the artwork and banners seen during the Hulk parade scene in the middle of the movie was provided by interns from the local Aboriginal community who helped with the movie. Through this opportunity, Waititi was looking to offer them an opportunity to both experience a film set (and certainly a big one at that) and find inspiration along the way. As we noted, there are lots of talented folks that go into making a movie. Everyone's involvement plays a part in making the final produce become what it is for audiences.
Thor: Ragnarok Almost Didn't Feature Odin
In Thor: Ragnarok, Anthony Hopkins reprises his role of Odin for what appears to be the final time in the MCU. The Oscar-winning actor was seen in the previous two Thor movies, although there was a point where Hopkins wasn't looking to play this character again in this new movie. He admitted around the time Thor: The Dark World was set to come out that he was ready to retire the character. The actor even admitted that he "forgot" about the movie shortly after completing it, suggesting that he wasn't too happy with how the sequel turned out. Reportedly, though, when Hopkins heard the story and heard about Taika Waititi's involvement, he changed his tune and decided to give the role another go. Ultimately, it's a good thing that Hopkins did too, because Ragnarok was a more fitting farewell — though Odin's death was redone because the previous death was deemed too sad by test audiences.
Taika Waititi Did The Motion-Capture For Surtur
As you likely know, Taika Waititi not only directs Thor: Ragnarok but he also plays one of the movies' scene-stealing supporting characters as the dryly hilarious Korg. But that's not the only role that the filmmaker plays in the movie. In addition to his role, Waititi did the motion-capture for Surtur, the fiery character we're introduced to at the beginning of the movie. While Clancy Blown provided the voice, it was Waititi who opted to do the motion-capture performance, as he noted in the movie's commentary track. Additionally, Waititi was the third head on the three-headed alien called Haju. As fans of the director's work likely know, Taika Waititi is seen in front of the camera in the movies he directs. And even a big film like Thor: Ragnarok is no exception.
Marvel Didn't Ask Taika Waititi To Tone It Down On Set, Surprisingly
One of the main reasons why Thor: Ragnarok felt so fresh and vibrant to moviegoers is because director Taika Waititi was allowed to be more loose and goofy with his blockbuster. He's best known for his dry, absurd sense of humor, notably in shows like Flight of the Conchords and movies like What We Do In The Shadows. But with the director working inside the Marvel machine, you'd expect a studio head —or five — to keep him sticking to the notes.
Surprisingly, though, Taika Waititi claimed in an interview with Business Insider that he wasn't ever asked to "tone it down" while riffing and playing around on set. It got silly enough that Mark Ruffalo, at one point, pulled the director off to the side and said that he would be "surprised" if they were asked to come back on Monday. Ruffalo thought they were bending the rules so much on set that the producers would get "rid" of them before they finished shooting. Alas, that day never came. As he has noted before, Waititi wanted to include scenes that weren't seen in superhero films previously.
Jaimie Alexander Doesn't Appear In Thor: Ragnarok Due To Her Commitments to NBC's Blindspot
If you were wondering why Jaimie Alexander's Sif doesn't show up in Thor: Ragnarok, there's a good reason. While the actress played a key role in both 2011's Thor and 2013's Thor: The Dark World, her commitments to NBC drama series Blindspot prevented her from appearing in this Thor sequel. It was decided that the character would be written out rather than recast. The explanation given was Sif was off on a mission elsewhere during the film. During an interview with Collider, producer Kevin Feige suggested that it might play to Sif's advantage that she wasn't around as she lives another day.
Taika Waititi Wanted To Include John C. Reilly In Thor: Ragnarok, But It Didn't Work Out
The Marvel Cinematic Universe prides itself on featuring characters crossing over from a variety of in-house movies within the expansive landscape. As it turns out, Waititi wanted to make a point of including John C. Reilly's Corpsman Dey from 2014's Guardians of the Galaxy. During a Reddit AMA, as it was reported by Slashfilm, Waititi said Guardians of the Galaxy was his favorite MCU movie leading up to his own, and Waititi wanted to include Reilly in his own movie but he ultimately found no way to include him, unfortunately. It's a shame because we're sure Reilly and Waititi would work wonders together. Oh well. Maybe in another movie down the road, perhaps? One can only hope. But when it comes to Thor: Ragnarok, it didn't pan out, sadly.
Do you know some other fun facts about the making of Thor: Ragnarok? Be sure to share them in the comment section below!
Will is an entertainment writer based in Pittsburgh, PA. His writing can also be found in The Playlist, Cut Print Film, We Got This Covered, The Young Folks, Slate and other outlets. He also co-hosts the weekly film/TV podcast Cinemaholics with Jon Negroni and he likes to think he's a professional Garfield enthusiast.
Your Daily Blend of Entertainment News
Thank you for signing up to CinemaBlend. You will receive a verification email shortly.
There was a problem. Please refresh the page and try again.