Why Fantastic Beasts 3's Eddie Redmayne Says The COVID-19 Shutdown Has Actually 'Been Helpful' For The Film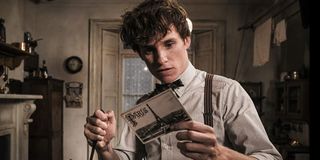 For months, many big movie productions had shut down due to COVID-19, including the sequel Fantastic Beasts 3. That production, which will return to the world full of witchcraft and wizardry, only just got the green light last year and reportedly had a brief run into filming this year before taking a hiatus. While these breaks sound like they're costing a lot, according to Eddie Redmayne, they've been helpful for Fantastic Beasts 3.
No one wants to see their work get halted, but that's exactly what happened to Fantastic Beasts 3 back in March along with plenty of other movies. That might sound like bad news, but as the saying goes, every cloud has a silver lining. While speaking with CinemaBlend's Sean O'Connell about his upcoming film The Trial of the Chicago 7, Eddie Redmayne said the Fantastic Beasts 3 shutdown has allowed them to use that time in different ways:
The pandemic put countless productions in a tight spot this year, forcing many to roll with the punches and look for a bright side. Fantastic Beasts 3 looks to be no exception to that, as it sounds like director David Yates, Eddie Redmayne, and the rest of the crew tried to adapt the best they could under the circumstances.
Fantastic Beasts 3 only just started filming again under the new safety protocols that have been put in place. Eddie Redmayne said they're two weeks into the process and that it's created a new normal on the film set. Yet despite being a different process, he said everyone is still working at the top of their game.
Fantastic Beasts: The Crimes of Grindelwald had the lowest opening in the Harry Potter universe and received overall poor reviews from critics and fans, but Warner Bros. seems to have continued faith in it to bring it back for another sequel. It sounds like the filmmakers want to make Fantastic Beasts 3 bigger and better and reportedly, to make up for the Crimes of Grindelwald's poor reception, J.K. Rowling has been re-working the Fantastic Beasts 3 script.
Fantastic Beasts 3 is scheduled to hit theaters on November 12, 2021. For more movie news, be sure to stay tuned to CinemaBlend.
Your Daily Blend of Entertainment News