That Time IT's Bill Skarsgard Made His Devil All The Time Co-Star Cry Over Pennywise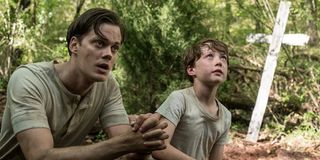 Bill Skarsgard made a terrifying impression as Stephen King's villainous clown in IT, also known as Pennywise. His performance was truly maniacal and horrific. Well, as it turns out, this went deep into the fears of one of his co-stars on the set of The Devil All The Time, so much so that he made said costar cry.
The Devil All The Time is a dark Southern Gothic movie, bordering on horror. As such, young child actor Michael Banks Repeta and his mother made it clear to director Anthony Campos that he's "mature for his age" and could handle whatever was in the scene, but that he's also afraid of Pennywise the clown. Well, unfortunately for Michael Banks Repeta, he was set to do a scene with Bill Skarsgard. According to director Anthony Campos in Interview Magazine, things may have taken an unexpected turn when he found that out:
If you didn't think The Devil All The Time could get any darker, all Bill Skarsgard had to do was terrify a little kid with Stephen King's infamous demon clown to take it there. Hopefully Michael Banks Repeta won't be emotionally scarred for the rest of his life.
Of course, this wasn't the first time Bill Skarsgard worked with younger kids on set with Pennywise in the equation. On the IT set, he dawned the full makeup and suit while working with Finn Wolfhard, Chosen Jacobs, Wyatt Oleff and the rest of the young cast, which at times would get pretty surreal for those kids.
On top of that, Bill Skarsgard's made some very interesting parenting choices by putting Pennywise clown dolls in his infant daughter's nursery. He apparently has gotten a lot of free Pennywise dolls over the years and decided to put them there of all places.
It seems to me like Bill Skarsgard has a bit of a dark side and revels in playing Pennywise. While it looked like his days as the scary clown were over, apparently there's been talk about doing IT: Chapter 3, which could mean giving him even more kids to terrify. For more movie news, stay tuned to CinemaBlend.
Your Daily Blend of Entertainment News