Universal Studios' Jurassic World: VelociCoaster Is Finally Coming, And The Internet Has Thoughts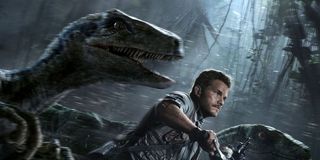 It's more than a little difficult to keep new theme park concepts secret. They usually require large buildings or outdoor structures that you can't exactly just cover with a tarp. This is why new projects usually get announced by the folks at Walt Disney Imagineering or Universal Studios years before they ever open. Once construction starts, everybody knows that something new is coming. And yet, until now, Universal Studios Orlando was playing coy about the coaster that was just announced, the new Jurassic World themed Velocicoaster.
The track itself was basically complete, if you were wandering through the park, it was hard to miss, and yet, for months now Universal has just pretended like the thing wasn't there. However, that all changed yesterday with the first official announcement of the Jurassic World Velocicoaster. With the utter lack of official announcements before now, it was anybody's guess what this ride would be like, and while we'll have to wait until next summer to know for sure, the teaser video is sure to have a lot of people very excited. Check it out.
Sure all the images of the actual attraction are conceptual renderings, but even so, it's hard to not look at the Velocicoaster and not be excited by what you see if you're a roller coaster or a theme park fan. This looks awesome.
Most of the rumors about what the ride would be, including the name, Velocicoaster, have now finally been confirmed to be true. In fact, it turns out that those following construction knew so much about what was coming it makes the whole situation where nothing was being said that much more bizarre. Social media is having a laugh, as the park almost certainly knew would happen, of people pretending to be shocked by all the new reveals that ended up revealing very little.
Of course, even for those that knew this was coming, the official announcement is still pretty awesome. If you're a roller coaster fan than you're always looking for the next big thrill, and the Velocicoaster certainly looks like it will fit the bill. Universal Studios seems to be moving hard into the roller coaster game as this is the second new coaster being added to the park in the last few years. Hagrid's Magical Motorbike Adventure has had some issues when it has come to the ride's downtime, but the ride itself got strong marks by those that rode it. The Velocicoaster looks to be upping the thrill elements even more, which has a lot of people more than a little excited.
Of course, some fans aren't happy unless they're not happy, and that's the case with the Velocicoaster as well. The issue for some themes to be theming. The Jurassic Park land found at Universal Orlando's Islands of Adventure theme park is themed to be an actual Jurassic Park. Guests are supported to feel like they're actually in the theme park designed to exist in the films, and so there are some that feel the coaster doesn't fit. Although, there's a pretty simple argument for that it would seem.
Rumors have persisted that the new attraction will be part of a larger re-theme of the land itself, but that has yet to be confirmed. If it does happen, we'll have to wait and see how long into the redesign the redesign gets announced. Universal seems to have enjoyed the whole "keeping it secret" thing.
The Jurassic World Velocicoaster will include Chris Pratt and other elements from the recent film franchise and is currently set to open in the summer of 2021, and hopefully, by then we'll all be free to go enjoy it.
Content Producer/Theme Park Beat
CinemaBlend's resident theme park junkie and amateur Disney historian. Armchair Imagineer. Epcot Stan. Future Club 33 Member.