Universal Studios' Orlando's Epic Universe Theme Park Is Dead, Even If It Still Happens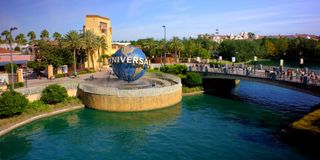 2020 has been hell for any activity that requires groups of people to come together. Movie theaters are still largely closed. Sporting events are either happening without fans or not happening at all, and theme parks spent several months closed; many of them still are. Not only did the closures keep a lot of people away from their favorite rides and attractions, but it also delayed construction on all the new experiences theme parks fans have been looking forward to in the future. This means everything from new restaurants at Epcot to new theme park lands at Disney California Adventure are delayed. But biggest of all, new theme parks like Universal Orlando Resort's Epic Universe are on hold, and the future is really unclear.
Originally, Epic Universe was expected to open in 2023, and while some degree of delay was certainly anticipated following construction shutting down, the delay is now looking like it will end up being years, not months. Rather than resuming construction soon once Universal and parent company Comcast decide it is safe, it's been confirmed that construction has stalled indefinitely and that Universal Parks and Resorts will wait until the economy improves more broadly before resuming construction. Unfortunately, this means that while Epic Universe may still happen, the Epic Universe we were expecting probably won't.
The Uncertain Fate Of Super Nintendo World
Right now, there's only one part of Epic Universe that we know for sure is planned for the new park. Super Nintendo World was originally anticipated to be an addition to the existing Universal Studios Florida park, but then it was decided to make the highly anticipated new land part of the brand new theme park. Now, however, with the construction on Epic Universe on hold, there are rumors that the original plan, building Super Nintendo World in the existing park, might end up happening after all.
It's not too surprising. Licensing deals almost always come with a ticking clock, and Universal might lose the rights to use Nintendo properties, at least in North America, if something isn't built by a certain deadline, though when that date may be is unknown. While that deadline is likely years away, with no expectation as to when Epic Universe could restart, let alone be complete, building the land at Universal Studios might be the option that makes the most sense.
Of course, if Super Nintendo World does end up getting moved over to the existing park, it leaves a gaping wound in Epic Universe that would need to be filled, and likely by something significant. Because not including Nintendo in the new theme park is going to take away one of the big reasons that people were looking forward to it.
The Rest Of Epic Universe
While Super Nintendo World was the only part of Epic Universe that had been confirmed, the fact is that everybody interested in the new park knew exactly what was coming. Rumors have persisted that three other lands were planned for the new theme park. One was set to be dedicated to the How to Train Your Dragon franchise, one was expected to be focused on the Fantastic Beasts part of the Wizarding World, and the third would bring the classic Universal Monsters to life.
However, it seems likely that as time passes, any or all of these brands could fall out of popularity with fans, and thus become less appealing to build a theme park around. The Wizarding World is still insanely popular on the whole, and the two Harry Potter-themed lands at the existing Universal theme parks draw in huge crowds. However, the fact is that the Fantastic Beasts series has never been as successful as the main franchise. If the upcoming third movie, which is just over a year away at this point, continues the downward trend, then Universal could very easily reconsider dedicating space in the new park to it, especially if the land still hasn't even started being built by that point, which seems likely.
How to Train Your Dragon is a solid trilogy that ended strongly and has a lot of fans. If Epic Universe had opened on time, the How to Train Your Dragon land would open about four years after the most recent movie. However, it's looking like that gap is going to widen, and depending on how wide the gap gets, it could end up being too much. How to Train Your Dragon will continue to be remembered fondly, but that doesn't mean that it will be a brand that people will be excited to go and re-live close to a decade from now.
The Universal Monsters are perhaps the most likely of the three to remain simply because the creatures are truly classic, and if they work as an anchor for a theme park land now, they're just as likely to work to anchor one to 10 years from now. The recent Invisible Man movie might not have anything to do with the classic monster, but the success of that movie and others like it, assuming that happens, will only help make a Universal Monsters land a success.
Who Knows What the Future Could Bring
And beyond whatever interest, or lack thereof, that future theme park guests might have in the planned properties being used in Epic Universe, with the park's delay, it only makes sense for Universal to keep its options open. If some brand new or revitalized franchise finds remarkable success in the next few years, it would be crazy to not at least consider that brand's potential inside the theme parks. New licensing opportunities that aren't even on Universal's radar right now could become options as well.
When construction on Epic Universe might not even recommence until some time after it was supposed to be completed, it's basically crazy to believe that nothing will change for the new park. Construction was in such an early phase that Epic Universe is still basically a blank slate. There's no reason to commit to anything right now. Nearly every major theme park design goes through various changes during the creative process, and considering this one is now going to have an even longer period like that, it just means more opportunity for change.
With all the potential for change, I'll honestly be surprised if the Epic Universe that we were expecting before the pandemic is actually built just as we expect. It's more likely at least one of the themed lands will change, possibly more. That's not a bad thing on its own. Odds are that attraction concepts will still be reused, so it will only be the theming around them that changes. And in the end, we may actually get a better Epic Universe this way. While we may always wonder what any unused ideas could have looked like, sometimes changes happen for the better.
CinemaBlend's resident theme park junkie and amateur Disney historian. Armchair Imagineer. Epcot Stan. Future Club 33 Member.
Your Daily Blend of Entertainment News
Thank you for signing up to CinemaBlend. You will receive a verification email shortly.
There was a problem. Please refresh the page and try again.