Tenet's Elizabeth Debicki Responds To Criticisms About Her Character And Whether She's A'Victim'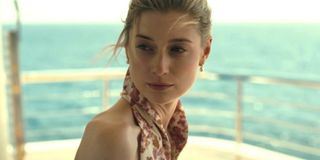 Since starring in The Great Gatsby, Elizabeth Debicki has been a rising force in Hollywood, appearing in Guardians of the Galaxy Vol. 2, Steve McQueen's underrated Widows, and now Christopher Nolan's time-bending thriller Tenet. With Tenet, a recurrent criticism has been that her character is a "damsel in distress" and "victim." Now, Elizabeth Debicki has responded to that criticism.
The damsel in distress trope is all too common in movies. Used as a plot device, it features a woman kidnapped by a villain so that a hero (or heroes) who is often male can go rescue her. To a degree, Elizabeth Debicki agrees that her character is a "victim" to a degree, according to THR, but she also argues that her character becomes much more than that throughout the movie and eventually takes charge of her own life:
Elizabeth Debicki makes a strong point. There's little doubt that her character at first comes across as a helpless victim taken captive by a menacing, violent, and angry villain. However, as the movie progresses, you start to see how she takes things into her own hands-- sometimes to violent ends. Let's break it all down.
Much of the confusion surrounding her character could also be that the narrative of Tenet doesn't follow a straight line. So it's much more difficult to navigate and determine her character's arc, because Christopher Nolan. As such, it's easy to see her character as just the victim rather than an evolving character in the story.
Of course, this hasn't been the only, or likely the last, criticism Tenet has received. From a bizarre controversy over a misunderstood "chair ban" to when Tenet should release in theaters, the movie has had its fair share of time in the limelight. For more on Tenet, be sure to stay tuned to CinemaBlend.
Your Daily Blend of Entertainment News
Your Daily Blend of Entertainment News
Thank you for signing up to CinemaBlend. You will receive a verification email shortly.
There was a problem. Please refresh the page and try again.