Should Ryan Reynolds Sign A Big, Fat Deadpool Contract With Marvel? Let's Talk This Out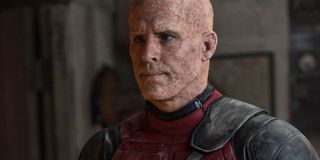 In the early days of the Marvel Cinematic Universe, one of the things that made the operations of Marvel Studios stand out compared to other budding franchises was the long-term contracts that were signed by actors. It was viewed as important from jump street for the brand to lock in stars whose repeat appearances would solidify the expansive world building plans, and so deals were negotiated that saw performers sign on to play their respective characters in not just one or two movies, but instead at least six (some, like Samuel L. Jackson and Sebastian Stan, got nine-picture deals). With individual leads like Robert Downey Jr., Chris Evans, and Chris Hemsworth respectively locked in to star in both solo trilogies and an Avengers trilogy, grand design was able to come together, and the door was left open for the MCU to become what it is today.
More than a decade later, the franchise now stands on a new but familiar precipice as it looks to the future. With the Infinity Saga completed, Marvel is now looking to establish a new era, and that work means building a new stable of stars who will be the new backbone of the brand. And this is where Ryan Reynolds' Deadpool comes in. The iteration of the comic book anti-hero is expected to be the only established hero from the X-Men universe to make his way over to the MCU following the Disney-Fox merger, and while the logistics of how that's going to happen aren't clear yet, there is great anticipation for the arrival of the fourth wall-breaking Merc With The Mouth into the world of The Avengers.
That leads us to the question at hand: assuming that it hasn't happened already in secret, should Ryan Reynolds sign a big, fat, multi-picture deal with Marvel Studios that will see his version of Deadpool returning to the big screen year after year a la Captain America or Iron Man? Like practically any situation in Hollywood, there are some big upsides, and some big downsides to consider.
To start with the positives, the big one is the sheer and remarkable popularity of the red-suited assassin. Deadpool has been a fan-favorite going back to his introduction to Marvel Comics in the early 1990s, and now, thanks to two fantastic solo films, that appeal has gone global – something that the Marvel Cinematic Universe can absolutely take advantage of. It's the role that Ryan Reynolds was born to play, and the movies have really only begun to scratch the surface of what the character can do on the big screen, particularly now that there exists the opportunity to have him interact with a full collection of other established heroes (from whom he was walled off prior to the merger).
Signing the Canadian star to a multi-picture deal that will keep him playing Deadpool until at least 2030 would lay the groundwork for creating a future that takes advantage of all that potential, and would allow the character to be put at the center of some major initiatives. For example, could his meta-awareness be the perfect tool to help audiences adjust to a whole new version of the X-Men being introduced to the Marvel Cinematic Universe? That doesn't seem totally unreasonable. And then there is also the possibility that his presence as part of the brand helps to initiate a whole new branch of the popular franchise that is more geared toward mature audiences. If Ryan Reynolds is locked in with a major contract, those kinds of machinations are a lot easier to pull off.
Unfortunately, it's a circumstance that is also not without its pitfalls. While it might seem like the smart move from the outsider perspective to see the Marvel Cinematic Universe to start broadening horizons and expand the franchise with R-rated movies, one can't forget that this is a Disney brand, and it's not clear how Deadpool might run up against the iconic family-friendly image. Given the newness of the waters, both sides committing to a massive contract may not be the way to go.
Then there is the very real concern of over-exposure. While there are most definitely dramatic stories that can be told with the character (and have been throughout his decades-long comic book history), Deadpool's big screen presence unquestionably leans towards the comedic, and in that set up it's traditional that a little goes a long way. Playing up his particular schtick too much and too often could lead to his appearances having diminishing returns in the long run.
With Marvel presently focused on launching their Phase 4 plans, which don't involve any of the X-Men characters, this question about Ryan Reynolds' future as Deadpool is certainly a long term situation – but definitely a development that we here at CinemaBlend are keeping a close eye on. Answer our poll below about the potential future for the Mercy With The Mouth in the Marvel Cinematic Universe, and stay tuned here on the site in the coming weeks, months, and years for updates on where things are headed.
This poll is no longer available.
Your Daily Blend of Entertainment News
Assistant Managing Editor
NJ native who calls LA home and lives in a Dreamatorium. A decade-plus CinemaBlend veteran who is endlessly enthusiastic about the career he's dreamt of since seventh grade.
Your Daily Blend of Entertainment News
Thank you for signing up to CinemaBlend. You will receive a verification email shortly.
There was a problem. Please refresh the page and try again.