Timothy Dalton's James Bond Movies: Which 007 Adventure Is The Best?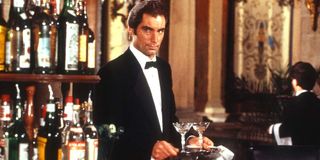 One would think that running through the catalog of Sean Connery's James Bond films would be the hardest challenge when crowning an ultimate winner. Some might even say that with the numerical supremacy Roger Moore still holds in his number of entries into the 007 series, that would be a greater feat still. Well, I'm here to tell you that those efforts are obscenely easy, because of their numbers and the legacy attached to them. If you really want to put yourself through a challenge of Bond-ian proportions, try figuring out which Timothy Dalton film is the better entry in his pristine canon.
We can't exactly rank two movies, and that's unfortunately all that Timothy Dalton's run gave James Bond fans to work with. However, those two movies are outstanding examples of how to both stick to tradition, while also modernizing with the times in getting experimental. Plus, Timothy Dalton's portrayal of the world's favorite super spy brings in a surprising element that still manages to be a pleasant surprise. As it turns out, the Dalton duology is a pair of films that work romantic subplots into their fabric with no sweat and minimal tragedy involved. There are fewer movies, but we've still sprung for a few optional extras installed into this Bond rundown, so let's talk out Timothy Dalton by the numbers before debating which film of his is the better 007 adventure.
Timothy Dalton's 007, By The Numbers
Seven movies and 12 years of Roger Moore left the James Bond role in need of a new actor to fill the tuxedo. With folks like Game of Thrones' Charles Dance, Jurassic Park's Sam Neill and Remington Steele's Pierce Brosnan having their names connected to the role, the race was on to bring Bond into the late '80s. If history ran a little differently, Brosnan would have been the man for the role, but his contract for the NBC series that made him famous didn't allow him to claim the mantle just yet. Which meant Timothy Dalton's second bit at the apple was the one that got him the job.
Approached to star as 007 in 1969's On Her Majesty's Secret Service, Timothy Dalton passed up the gig as he felt he was too green. Starting a precedent that Bond history would see revisited not too long after, 1987's The Living Daylights started his run. Sadly, legal troubles between MGM and several other parties held the James Bond franchise in limbo after License To Kill's 1989 release; and in the midst of preparing his third entry in the series, Timothy Dalton's contract expired. He would not renew his interests in the character, and another 007 film wouldn't be seen until 1995 – the longest gap of time without a Bond film, which we've seen repeated thanks to the continual delay of No Time To Die. With that history lesson out of the way, let's talk about both of the films that Dalton did get to make, both of which have left a lasting legacy.
The Living Daylights (1987)
Out of the two James Bond films that Timothy Dalton gave to the world, The Living Daylights is the more traditional one. A gadget-laden car, some good old fashioned espionage and intrigue, and a plot to plunge the world into military hell are all present and accounted for. But reeling back from the humorous approach that Roger Moore had taken before him, Timothy Dalton's first mission gave the world a more serious, less womanizing Bond to follow. Only romancing cellist Kara Milovy (Maryam D'Abo,) the girlfriend of a KGB defector he'd previously helped escape to the West, Bond is more focused on trying to stop an insane American arms dealer (Joe Don Baker) from destabilizing relations between Russia and the UK.
License To Kill (1989)
If The Living Daylights is too normal for your tastes, Timothy Dalton has you covered in that respect as well. In License To Kill, James Bond is on a hard driving quest for revenge, as vengeful drug lord Franz Sanchez (Robert Davi) launches a personal attack that pushes Bond to the edge. With the aid of CIA asset Pam Bouvier (Carey Lowell), who just happens to have an inside track to Sanchez's operation, 007 dives deep into a world of cocaine trafficking, televangelists and, of course, villains who love using sharks as personal statements of threat. With both films laid out in front of you on a basic top-down view, it's time to start the evaluation!
Which Dalton Film Has The Better Story?
I need to start by saying that no matter which film comes out on top at the end, neither Timothy Dalton Bond movie is bad. It's why I had such a hard time first trying to figure out which one was better. But through specific lenses, the truth is clear, starting with the lens of which 007 story is superior. While The Living Daylights does a lot to bring Bond back to serious ground, it's License To Kill that really runs with the harder edged tone that made movies like From Russia With Love and For Your Eyes Only stellar entries of the past. But, surprisingly, On Her Majesty's Secret Service gives License To Kill a lot of its charm as well, with the near death of Felix Leiter (David Hedison) and his new wife's murder (Priscilla Barnes) acting as a catalyst for Bond to get in the game. The Living Daylights walked so this film could run in terms of story.
Which Dalton Film Has The Better Villain?
The one aspect of The Living Daylights that kind of glares in hindsight is, in fact, its villains. Joe Don Baker's arms dealer Brad Whitaker would have been enough to suffice, with the most threatening presence in the film, the aptly named Necros (Andreas Wisniewski), acting as a fantastic secondary villain. Sadly, while Jeroen Krabbé does put in a terrific performance as the foppish 007 foil of General Georgi Koskov, he's a bit too silly of an antagonist to be effective. Meanwhile, License To Kill not only gives us the intensely threatening Sanchez, whom Robert Davi absolutely makes into a formidable presence, but he also has hired muscle that backs his vicious ways; muscle that includes an absurdly entertaining Benicio del Toro as young buck Dario. Again, License To Kill scores another cunning point by doing with two villains what its predecessor tried to do with three.
Which Dalton Film Has The Better Romance?
The final hallmark I'm going to grade the Timothy Dalton James Bond films on is that of the romantic quotient. The reason for this is, as mentioned before, Dalton's 007 gets not one, but two on-screen romances that work like a charm. Here's where License To Kill actually loses a point though, because while both Talisa Soto's Lupe and Carey Lowell's Pam both make for dynamic romantic leads that never succumb to the typical formula for this kind of role, there's a little bit of a weakness in Pam's story in particular. The subplot of her jealousy surrounding Bond's work with Lupe doesn't feel necessary, even with the charming payoff it gets at the end of the film. Meanwhile, the singular love story between James and Kara in The Living Daylights manages to draw even the most experienced 007 fan into a romance that rivals Bond and his dearly departed wife; and that's with License even making a poignantly direct nod to that very moment. Sledding on a cello beats diving into the pool of a fancy party in this case.
Which Dalton Film Is The Better James Bond Movie?
So which Timothy Dalton film is the better James Bond movie? Well, that depends on how you like your Bond. If you're a traditionalist then The Living Daylights is your bag, and License To Kill is for those who like a harder-edged 007 caper. In my evaluation, I have to go with the latter film as my personal favorite. Evoking the sorrow of On Her Majesty's Secret Service, while foreshadowing the vengeful agent that Daniel Craig would get to embody in the role with his time as James Bond, License To Kill aims for an approach of gritty realism, giving Bond an adversary he could actually consider an equal. Its plot reflected the times without getting campy, and Dalton really shines in that film's goings on.
However, the larger point that should be considered is we really lost out when the third Timothy Dalton film never happened. Pierce Brosnan's eventual debut is still the godsend the series needed in the '90s, but that was mostly because the world had changed so much by time 007 returned to screens. Had Dalton kept going, we might have seen something akin to our current run of films happen much sooner. However, that's officially in the past, and history still proves Timothy Dalton at an underrated James Bond who deserves more acclaim.
When we return to the legacy of the James Bond series, I'm afraid I have some bad news and some great news. The worse half of the equation is that, thanks to No Time To Die being pushed into an April 2021 release slot, we'll have to delay our Daniel Craig rankings originally planned for November. However, should it please the readers at home, I think there's a way we can make up for it. The great news, however, is that we get to jump into the debonair canon of one Pierce Brosnan's tenure in the tuxedo, and just in time for Goldeneye's 25th anniversary! So until next time, no matter what delays may be thrown our way, just know that James Bond will return to CinemaBlend.
This poll is no longer available.
Your Daily Blend of Entertainment News
Senior Movies Contributor
CinemaBlend's James Bond (expert). Also versed in Large Scale Aggressors, time travel, and Guillermo del Toro. He fights for The User.