12 Behind-The-Scenes Facts You Might Not Know About The James Bond Movies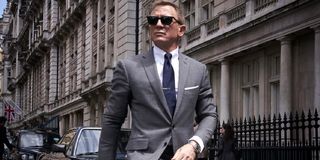 The James Bond movies have been known to make their fair share of history. It's the sort of thing that happens when your franchise spans over 50 years, and somehow keeps going with only the slightest of hitches.
The postponement of 007's latest adventure, No Time To Die, certainly qualifies as a hitch, and it's one that's gotten us to think about some of the lesser known facts of the Bond legacy itself. So while we're waiting for the 25th James Bond film to mark the end of Daniel Craig's run as the famed superspy, we're going to run through some of those facts you might not know.
Of course, if you're a die-hard 007 fan, you probably know these facts and then some. But if you're a more casual Bond fanatic, prepare to learn something new and exciting!
If You're James Bond, You Can't Wear Black Tie In Any Other Movie
James Bond, being the dashing spy that he is, is also a brand name that studios like MGM would look to protect. With such brands comes some restrictions, such as the fact that if you're playing Bond, you can't wear black tie in any other film, so as to avoid confusion.
Pierce Brosnan learned this the hard way, as his other MGM blockbuster of 1999, outside of The World Is Not Enough, was required to alter his costume in one scene to fit this restriction. Apparently all that separates Thomas Crown and James Bond is an open collar, and a white bow tie. Not much of a disguise, if you ask us.
Sean Connery Actually Swam With A Shark In Thunderball
Danger is practically 007's middle name in the James Bond movies, with torture and traps being a huge part of how his various nemeses try to end him. Most of the time, the stunt performers are the ones who are in danger, especially in scenes like Bond's big face off with some sharks in Thunderball.
However, in a scene where Sean Connery was supposed to be separated from some actual sharks by a Plexiglas divider, there was just one small problem. The film's production designer, the legendary Ken Adam, did put up said divider… but had a four-foot gap that he couldn't cover. A shark beat the odds and swam through that gap, making 007 history as Connery was in the pool with an actual shark for a brief moment.
Burt Reynolds Was Almost Cast As James Bond
Plenty of notable stars almost starred in the role of James Bond, with everyone from Cary Grant to Sam Neill being considered as 007 material at one point or another. But there's been a couple of Americans considered for the role as well, one of the most notable being comedy legend/Smokey and The Bandit star Burt Reynolds.
With his star rising in the early '70s, and Diamonds Are Forever needing a new Bond, post George Lazenby's exit, Reynolds was offered the lead in a time where the franchise was deciding where to go next. But, in a move he'd later regret, Reynolds turned down the role, and eventually Sean Connery would come back for a final official outing as James Bond.
Roger Moore Also Played Inspector Clouseau For MGM, While He Was James Bond
While Roger Moore has always been known to be the most humor driven James Bond in the series, most folks don't know the half of it. As it turns out, as part of the tradition of 007 actors helping MGM out with another title being developed in house, Moore was cast as another one of the studio's most iconic characters: Inspector Clouseau, from The Pink Panther series.
As Octopussy was filming around the same time as 1983's Curse of The Pink Panther, a plot was hatched to have Roger Moore play the famed bumbling detective in only the second film in the original Pink Panther chronology to feature another actor playing Clouseau. Though you wouldn't be faulted for forgetting this fact, as Moore was credited as "Turk Thrust II", a nod to personal friend/A Shot In The Dark actor Bryan Forbes, aka "Turk Thrust".
Sean Connery Wasn't In The James Bond Gun Barrel For Some Time
One of the staples of the James Bond franchise that's been present since the beginning has always been the opening gun barrel sequence. With Bond walking into frame, pivoting, and shooting the screen, everyone can place even a mere reference to this sequence as a true part of the 007 experience. But for the first couple of movies, Bond wasn't really Bond in the gun barrel.
From Dr. No through Goldfinger, the originally filmed gun barrel with stuntman Bob Simmons was used to open James Bond's initial adventures. But with a shift in aspect ratio for Thunderball came the opportunity to reshoot the gun barrel, this time with Connery making the kill.
Timothy Dalton Was Almost James Bond A Lot Sooner
The James Bond movies have been known, from time to time, to recruit talent that are just unable to say yes on the first offer. Luckily, those opportunities come around again for some of the most notable people to turn down the role, with Timothy Dalton undoubtedly being one of the most iconic.
Originally offered to star as Bond in On Her Majesty's Secret Service, Dalton actually didn't think he could live up to Sean Connery in the role. Also feeling he was too young for the part at 24-25 years old, the man who would eventually be James Bond would pass on the opportunity, finally accepting when he was courted for 1987's The Living Daylights.
The James Bond Novels Were Adapted Out Of Order
If you've ever tried to read the James Bond books in order, you'll realize that they don't exactly line up with the order of the films. While each of the titles in the original 14-book run of Ian Fleming's novels has been adapted into a film, the very first one up to bat was the sixth book in the series, Dr. No.
Things are even more confusing when you take into account that the fifth book, From Russia With Love, was the second film to be made; all because President John F. Kennedy was overheard saying that he loved the book. Capping off this maddening chronology is the fact that we'd never get a proper adaptation of the first book, Casino Royale, until 2006 – 53 years after it was first printed.
Tomorrow Never Dies Switched Its Theme Tune At The Last Moment
If you want to get technical, 1997's Tomorrow Never Dies actually has two James Bond themes. The traditionally acknowledged theme belongs to Sheryl Crow, as "Tomorrow Never Dies" opens the film with the proper Bond style title sequence and usage of the title's name in the lyrics. But this was after a last minute change, which saw the originally intended theme used in the film's ending credits.
Just in case you were wondering why k.d. lang's "Surrender" sounded a little too grand for a song you'd stick into the closing moments of a 007 movie, the song was supposed to be the true theme to the movie. You can still hear the melody of the original title track worked into Tomorrow Never Dies score, most notably in the track "Backseat Driver".
The First Computer Modeled Stunt Happened On A James Bond Film
For a film released in 1974, The Man with the Golden Gun has a stunt so impressive, it could have only been done with the aid of a computer. And as luck would have it, the Roger Moore starring film had just that sort of assistance, as it was the first movie to use a computer modeled stunt.
Jumping an AMC Hornet X over a broken bridge, the plan was for the car to do a jump, followed by a corkscrew in mid-air, to land back on its wheels on the other side. Thanks to the insane amount of work and calculation that went into the actual stunt it was not only executed in beautiful perfection, but it was actually nailed in one singular take.
Pierce Brosnan Was Almost James Bond Much Sooner As Well
You could say that Pierce Brosnan was another actor who was always fated to be James Bond. However, when destiny came knocking the first time, in a bid to replace Roger Moore after A View to a Kill, Brosnan couldn't answer the call. But unlike Timothy Dalton's case of personal jitters, it was contractual obligations that kept Pierce out of the game.
As Pierce Brosnan was, at the time, under contract as a star of the hit NBC show Remington Steele, he was unable to partake in playing James Bond in 1987's The Living Daylights. But, as we previously discussed, Timothy Dalton finally got to shoot his shot as Bond as a result, leaving Brosnan to finally get the role in 1995's Goldeneye, after Dalton left the series before a potential third outing.
Daniel Craig Is The Longest Running James Bond In History
Up until last month, Roger Moore had been known as the longest running actor to hold the role of James Bond. However, that title has just recently been outpaced by current actor Daniel Craig, who as of last October surpassed the 5,118 day period that saw Moore technically held the role between the dates of August 1, 1972 and August 6, 1986.
That tenure ended "officially" with Timothy Dalton's announcement as the new Bond, and as Daniel Craig has just surpassed Moore's time holding onto the role, his tenure is assuredly going to be the one to beat as his successor hasn't been announced just yet. Seeing as we'll probably hear about Craig's replacement, at the earliest, after the theatrical release of No Time To Die, there's almost an entire year added to this new record.
Roger Moore Still Has The Most James Bond Movies To His Name
As far as actual movie count goes, nobody has Roger Moore beat out just yet. With the various issues and delays that have hit the 007 series after his departure, it's been nigh impossible for anyone to surpass Moore's seven film stint in the series, starting with 1973's Live and Let Die and ending with 1985's A View to a Kill.
In descending order, Sean Connery comes closest to the record set by Moore with six films, Daniel Craig will be walking away with five installments under his belt, Pierce Brosnan went home with four, and Timothy Dalton is the least recurring Bond with two films. George Lazenby is the only James Bond in the franchise to have a singular outing, with 1969's On Her Majesty's Secret Service.
As you can see, history has been rather interesting when it comes to the James Bond movies. It's only going to get more exciting as time marches on, and both the release of No Time To Die as well as the impending 60th anniversary of the Bond franchise in 2022 are sure to bring their own quirks to the party. For now, No Time To Die will be opening in a more traditional James Bond release date, on November 25th.