Steve Buscemi: 9 Things You Might Not Know About The Boardwalk Empire Star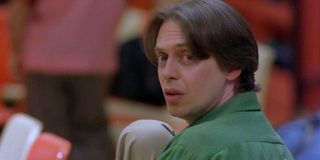 You might know him from Fargo, The Big Lebowski, Reservoir Dogs, Con Air, Ghost World, or The Death of Stalin. You might recognize him as the voice of Randall in Monsters Inc. and Monsters University, respectively. Or you might know him as the guy who carries a skateboard and asks, "How do you do, fellow kids?" However if you know actor/writer/director/Internet meme Steve Buscemi best, you've probably been acquainted with his work from a 30-plus year career.
The hard-working character actor is one of the best in the business, and he only continues to impress with his distinguished and dynamic performances. While you're likely familiar with his work, how well do you know the man himself? The performer has lived a fascinating life, resulting in a career that's equally as expansive. If you love Steve Buscemi, here's what you should know about the Boardwalk Empire star.
Steve Buscemi Used To Drive An Ice Cream Truck
Before he became an acclaimed actor, Steve Buscemi's livelihood hopped around all-over-the-place. As we'll detail more thoroughly later, Buscemi performed a variety of odd jobs, providing an eclectic resume from which he (hopefully) sprung formative ground in his extensive acting resume. One of his most interesting jobs was driving an ice cream truck, which he took on early in his life when he felt directionless and uncertain of his career path.
This experience only lasted a short while in the scheme of things, though he eternalized it with 1996's Trees Lounge. In his first feature, which he also wrote, Buscemi plays a man who drives an ice cream truck. He used these early experiences to inform this film.
He Was Hit By A Bus, Used The Settlement Money To Pay For Acting School
Steve Buscemi has faced his share of difficulties. Born on Friday the 13th, he hasn't had the best luck in life, but he has made the most of it —even in the midst of peril. Early in his life, during Buscemi's teenage years, he was struck by a passing bus and suffered a fractured skull. The incident might've claimed his life in more dire circumstances, but it was actually the event that led to stardom.
After a settlement found Buscemi $6,000 richer, he invested the money in drama school on his father's insistence. This formal training into the dramatic arts allowed the future actor to excel in his craft, and his incredible career is certainly proof of that. When life gives you lemons, make lemonade.
Steve Buscemi Was A Firefighter In The '80s And Volunteered During 9/11
Prior to his years as a hard-working actor, Steve Buscemi served as a firefighter for the FDNY. He passed his civil service test in 1976 and joined the ranks in 1980. Buscemi continued fighting fires with Engine Company No. 55 in Little Italy in New York until 1984, which is when his performance career picked up in earnest. As he expanded an actor, Buscemi didn't forget his history with the team.
On September 11, 2001, as he watched the towers fall, he instinctively grabbed his gear and ran back to his firehouse to provide his services in the midst of citywide panic. Likewise, as firehouses shut down across NYC, Buscemi served as an activist, even getting arrested in 2003. In 2014, he was appointed an FDNY honorary battalion chief.
He Was Briefly A Stand-Up Comedian
Stand-up comedy is, in essence, a form of performance and self-expression. It's a means through which one can take life's darkness or absurdities and turn it into something perceptive, observant, and reflectively humorous. It's also just a way for funny people to make people laugh (hopefully). In any case, in Steve Buscemi's early days, particularly as he etched his way into theater, Buscemi made a brief foray into stand-up comedy. Alas, his time therein didn't last long.
It's (somewhat) easy to make your way into open mics and other comedy-friendly venues. Particularly if you're performance-driven. But to withstand the hurtles that come with it, you need to be vigilant (and really funny). While Buscemi is a very funny actor, it wasn't meant to be. Nevertheless, his short stand-up tenure was detailed on The Late Show with Stephen Colbert.
During A Trip To Sicily, Steve Buscemi Discovered That He Was Mispronouncing His Name
There are few certainties in life, but most people have the small comfort of knowing who they are and how to pronounce their name. Well, that luxury wasn't afforded to Steve Buscemi. It wasn't until he was well into adulthood that he realized he'd been mispronouncing his own name.
The truth wasn't discovered until he took a trip to Sicily with his family and wife. Believing his name is pronounced boo-SEM-ee, which is how many Americans pronounce it (and how he previously pronounced it), it wasn't until he went to the motherland that he learned it's actually pronounced boo-SHEM-ee, which is quite a revelation to learn later in life. Buscemi recounted this journey on Live! with Regis and Kelly.
Steve Buscemi Directed Episodes of The Sopranos, Oz, Portlandia, 30 Rock, Nurse Jackie, And More
While Steve Buscemi is primarily known for his extensive acting resume, which includes nearly 200 film/television credits, he's also an established writer-director of the stage and screen. His filmmaking career began with 1992's short film, What Happened to Pete. He eventually followed it up with 1996's autobiographical dramedy, Trees Lounge. His other movies include Animal Factory, Lonesome Dave, and Interview, though Buscemi's directorial work on the tube is more well-known.
Most prestigiously, he directed several episodes of The Sopranos, and he worked on Portlandia, Nurse Jackie, 30 Rock, and Oz. He also called the shots for episodes of Homicide: Life on the Street, Love, Unbreakable Kimmy Schmidt, Park Bench with Steve Buscemi (a web series), and, most recently, Miracle Workers. He also directed Vampire Weekend's 2014 concert video.
Steve Buscemi Was Once John Waters' Doppelgänger On A Christmas Card
Has anyone ever said you look like a certain celebrity? Whether you take it as a compliment or insult, if you're compared to one famous face or another — accurately or otherwise —there's little you can do about it. Whether the comparison comes flattering or otherwise, most people accept it (or not) and move on. But when Steve Buscemi was compared to notorious filmmaker John Waters, he decided to make trouble.
Specifically, the actor adorned the Pink Flamingos' writer-director's signature look, including his pencil-thin mustache, and got his picture taken in the attire. Later sending the photo to Waters himself, the director liked the snapshot so much, he used it for his annual Christmas card mischief. Now, the photo is floating around, continuing to provide quick amusement. Here's how Buscemi described to Film Threat this comical Christmas card appearance:
Steve Buscemi Was Stabbed In A Bar Fight And Nearly Died
We're very lucky to have Steve Buscemi, particularly as he continues providing memorable and distinctive performances. But we're even more lucky to have him around since he almost died in 2001 following a brutal, near-fatal bar fight stabbing.
During off-hours in Wilmington, North Carolina shooting Domestic Disturbance, a forgotten crime-thriller starring John Travolta, Buscemi, Vince Vaughn, and producer Scott Rosenberg were relaxing at a bar and having fun when the night took an ugly turn. The ensuing brawl found Buscemi stabbed above the eye and in the jaw, throat, and arm. He was rushed to the hospital and the situation proved critical. Thankfully, he made it out with his life intact.
Steve Buscemi 'Hit It Off' With Adam Sandler When They Filmed Airheads
One of the most unlikely, endearing working friendships in contemporary film history is the one shared between Adam Sandler and Steve Buscemi. The actors first collaborated on 1994's Airheads, and they've kept a correspondence over-the-years. As Buscemi told The Guardian, he and Sandler hit it off when they filmed the rock 'n roll comedy, playing Lone Rangers' Rex and Pip. Since the film, Buscemi appeared in Sandler comedies like The Wedding Singer, Mr. Deeds, Big Daddy, Grown Ups 1 & 2, The Ridiculous Six, I Now Pronounce You Chuck and Larry, and most famously, Billy Madison.
But that's not all! Buscemi also lent his voice to the Hotel Transylvania movies, and he recently starred in Hubie Halloween. With nearly 20 different movies shared on their filmographies, they'll probably reunite again in whatever movies come next under Happy Madison's banner.
Do you love Steve Buscemi? Let us know below!
Your Daily Blend of Entertainment News
Will is an entertainment writer based in Pittsburgh, PA. His writing can also be found in The Playlist, Cut Print Film, We Got This Covered, The Young Folks, Slate and other outlets. He also co-hosts the weekly film/TV podcast Cinemaholics with Jon Negroni and he likes to think he's a professional Garfield enthusiast.