Christopher Nolan Has Been Going To Movie Theaters But Not To See Tenet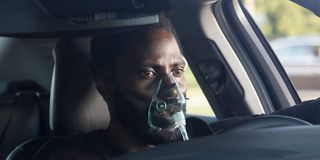 One thing most people know by now about Christopher Nolan is that he's a huge supporter of movie theaters and reportedly wanted to show an act of solidarity with them by releasing Tenet on schedule (that, of course, didn't happen and the release date was moved). And with movie theaters back open, it looks like he's back at the movie theater, too, but it's not to see Tenet.
Masked up and ready to see some films, Christopher Nolan showed up to the Regal Irvine Spectrum theater in Irvine, California on September 15th, 2020. Regal recently posted on social media a photo of the director and his wife at the theater. Check it out:
Reportedly Christopher Nolan wasn't there to see his own film, but rather went to two movies—Natalie Krinsky's The Broken Hearts Gallery and Armando Iannucci's The Personal History of David Copperfield (Via Deadline). But Tenet has a looming presence, as its posters and digital marketing can be seen above Nolan in the photo.
Christopher Nolan isn't the only celebrity to head back to theaters. Tom Cruise posted on social media that he went to see Tenet in London and said he "loved it." Hugh Jackman, who worked with Christopher Nolan on The Prestige, also went to the theater to see Tenet, saying it was "mind-blowing." There's some serious praise coming for the movie, and it saw critical success as well.
To say movie theaters have had a rough year would be an understatement. Since shutting down due to current events, they've lost quite a bit of money, have gotten into disputes with big studios over movie distribution, and have struggled to find a way to open safely. For some time there was hope in the air that Tenet could be just the right kind of big blockbuster to convince people to head back to theaters, giving theaters a kick start after a long shut down. In a surprise and unconventional release strategy, Tenet hit the international box office first before coming to the US. And, the results seem to be mixed.
At the international box office, Tenet showed surprising success in its first week, taking in $54 million. However, its box office numbers in the US has been primarily considered modest, only bringing in roughly $20 million. With these kinds of numbers, Warner Bros. has delayed Wonder Woman 1984, reportedly so it won't compete with Tenet, giving it more time at the box office.
Despite the slow opening and the apparent reluctance by the public to head back to theaters, AMC Theaters CEO Adam Aron seemed confident that people will head back to the theaters, saying, "If the pandemic has taught us anything, it's that people will do anything to get out of their house."
In Christopher Nolan's case, he seems happy to get out of the house and go see not one, but two movies at the theater. For more movie news, be sure to stay tuned to CinemaBlend.
Your Daily Blend of Entertainment News
Thank you for signing up to CinemaBlend. You will receive a verification email shortly.
There was a problem. Please refresh the page and try again.