Great Stephen King Books To Read For Every Occasion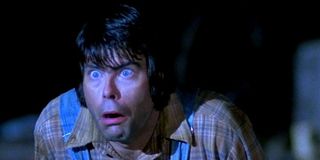 Stephen King (Or "Sai" King for all those who follow the beam) is a national treasure. It's not even hyperbolic to say that most of his work—which numbers something like 63 novels and 200 short stories— has been turned into a movie or a TV show. But this list isn't about the great movies and shows that have spawned from his work. No. It's about some of the Stephen King books that you might be interested in reading if you want to dig into the man's work.
Here's the thing. Stephen King is often known as the horror guy. But he's so much more than that, and this list will prove it. What I've compiled for you today is a list of books to read for every occasion. Whether you're a constant reader or a newbie, I think this list has something for everyone.
If You're New To Stephen King
Different Seasons is a perfect starting point since it's four stories in one. Not only that, but three of the stories—"Rita Hayworth and the Shawshank Redemption", "Apt Pupil", and "The Body"—were made into the movies The Shawshank Redemption (Duh), Apt Pupil (Duh again) and Stand by Me (Wait, really?), respectively. The only story from this collection that hasn't been made into a film yet is "The Breathing Method," and even that's set to be made into a movie at some point.
If you're kind of put off by the notion of reading a whole novel by King, then Different Seasons might be a good place to start.
If You're Not Looking To Be Terrified
As mentioned earlier, when you think of Stephen King, you probably think of him as the horror guy. Hell, even his Funko Pop features him with blood leaking down his forehead. But did you know that not all of his stories are spine-tinglers? Case in point, The Green Mile, which was also made into a film starring Tom Hanks and Michael Clarke Duncan (RIP).
Originally a serial novel told in six volumes, you can find the whole story now at any bookstore. It's about a black inmate named John Coffey (which does the whole J.C.-Jesus Christ-initials thing. Kind of like John Conner) who is convicted of murdering two white girls. The story is told from a first-person POV, and the protagonist is a death row supervisor named Paul Edgecombe. There are some supernatural elements involved, but it's not a horror story in the slightest. It's also a great novel if you just want King's fantastic storytelling but none of the chills.
If You Love A Good Ending
More proof that Stephen King can write more than just horror comes this crime novel, which is the first in a trilogy, Mr. Mercedes. The story concerns a sociopath who uses a Mercedes to kill people at a job's fair, and he gets away with it. A recently retired detective named Bill Hodges hates himself since he never caught the killer, but a note sent his way from the killer himself gets the detective back on the case again.
The whole story builds to an amazing conclusion—which Stephen King sometimes struggles with, to be honest—and it all just works. You feel good after finishing the novel, and also excited for the next book in the series. There was also a television series based off of the novel starring Brendan Gleeson, Harry Treadaway, and Kelly Lynch, which was also pretty good. You can watch it on Amazon.
If You ARE Looking To Be Terrified
Because sometimes scary is great.
Salem's Lot
I have two picks for this entry. The first is Salem's Lot, which is pretty much Stephen King's Dracula. It's about a writer named Ben Mears who returns back to his home town, Jerusalem's Lot, where he finds out that the town is actually full of vampires. The way this tale is written is what makes it so haunting, though, and it's some of King's best writing to date (and it was only his second book!). There was also an excellent movie based off of the novel, and there's going to be another one. Fingers crossed that it's as good as the first one.
Pet Sematary
The other horrifying tale from King is Pet Sematary. It's about a burial ground where pets—and people!—can be brought back to life. But you know what? "Sometimes dead is better." Again, the writing is just so creepy with this one, and I consider it King's scariest novel to date. There were two movies made about the film, but neither of them comes close to being as good as the book.
If You Think You've Read Them All
A lot of King's readers skip On Writing because they think it doesn't apply to them, but the non-fiction book is not just tips on how to write. In it, King goes deep into his method while also sharing interesting tales on some of his own stories. It's a must-read if you love Stephen King!
If One Book Won't Cut It
This one is simple. The Dark Tower series is where you should go next if you're looking for a story that spans multiple books. Comprised of 8 books, it tells the story of the last gunslinger and his quest to get to the Dark Tower. Many of King's other books (such as The Eyes of the Dragon) are connected to The Dark Tower, so if you're looking for a sprawling epic, then this is your baby. There was an abysmal movie made about it starring Idris Elba and Matthew McConaughey, but you can skip that. You have my permission.
If You're Feeling Nostalgic
Sometimes you just need to curl up with a warm (occasionally terrifying) blanket...
It
I have three this time. The first is the story of a band of kids who later become adults and battle an alien that makes itself appear as a clown named Pennywise. You've probably seen the recent movie adaptations, but the original TV miniseries starring Tim Curry is probably how you were first introduced to the story. The book's really good, too, but it's long. And crazy. Much crazier than anything you've seen in film or on TV.
The Stand
There was a miniseries for The Stand as well, and there is currently another TV show being made about it. The story's about a virus that wipes out most of the world (Eep!). There are a few survivors, with one side being good, and the other side being evil. Many consider this to be King's magnum opus. It's another long one, but it's definitely worth your time.
The Shining
Most people have seen the movie adaptation, but the book is very different. It's also well known that Stephen King detests the Stanley Kubrick classic. Read it and judge for yourself, though. This is one instance where I actually think the film is better than the book.
And that's the list. What's your favorite Stephen King book? Sound off in the comments section below.
This poll is no longer available.
Lover of Avatar (The Last Airbender, not the blue people), video games, and anything 90s, he will talk your ear off about Godzilla, so don't get him started.
Your Daily Blend of Entertainment News
Thank you for signing up to CinemaBlend. You will receive a verification email shortly.
There was a problem. Please refresh the page and try again.