The 'Cool' Way Katherine Langford Prepared For Her Deleted Avengers: Endgame Scene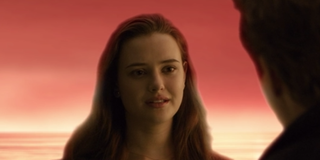 CinemaBlend participates in affiliate programs with various companies. We may earn a commission when you click on or make purchases via links.
When you're having to edit a massive film like Avengers: Endgame, there's no doubt a ton of footage will hit the cutting room floor. Butone monumental scene that got cut featured both Robert Downey Jr. and Cursed star Katherine Langford. And she recently revealed the cool way she prepared for her scene that eventually got deleted.
Right after Tony Stark's final scene in Avengers: Endgame, there was a planned scene with Tony Stark meeting his grown-up daughter Morgan Stark in an vision. Katherine Langford was cast in this role and they filmed the scene, but it didn't make the cut. Now in an interview with THR, she revealed what she and Robert Downey Jr. did to prepare:
I'd imagine it would be pretty cool to just be on the Avengers: Endgame set, not to mention have a brief opportunity to work with Robert Downey Jr. Even though her scene got cut, Katherine Langford seems grateful to just have been briefly apart of the magic. And we did eventually see the footage thanks to streaming.
For those who haven't seen it, the deleted scene, that ended up on Disney+, showed Robert Downey Jr.'s Tony Stark entering the same metaphysical station that Thanos had when he met a younger Gamora. Except, for Tony Stark, he got to meet an older Morgan Stark. In the emotional scene, Tony Stark questioned his decision, but Morgan Stark reassured him he made the right one.
Marvel fans can re-watch Avengers: Endgame and Morgan Stark's deleted scene on Disney+. You can use this link to sign up for the streaming service.
So, why did they get rid of it? Turns out, the Russo Brothers liked the idea at first, thinking it would be a nice mirror image of Thanos' scene. However, the more they thought about it and saw the scene take place, they realized the audience didn't have a relationship with Tony Stark's older daughter. They moved away from it at that point, ultimately giving it the ax.
Katherine Langford has opened up about this short-lived role in the past. Her feelings haven't changed about the experience, saying it was one of the coolest things she's been able to do and is happy just to have the memory.
Before all this was revealed, Katherine Langford's casting in Avengers: Endgame was under extreme speculation and fan theories. Some fans believed she might end up playing Kate Bishop alongside Hawkeye. Which, theoretically, since her scene was cut as Morgan Stark, she could still play a different role and few people would bat an eye. For more movie news, be sure to stay tuned to CinemaBlend.
Your Daily Blend of Entertainment News
Your Daily Blend of Entertainment News
Thank you for signing up to CinemaBlend. You will receive a verification email shortly.
There was a problem. Please refresh the page and try again.