Netflix's Cursed Is Getting Game Of Thrones Comparisons, But One Star Thinks It Has Another Major TV Influence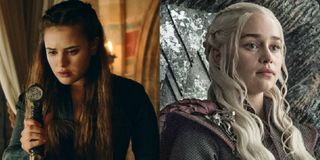 Netflix's Cursed isn't your typical tale of the would-be King Arthur. In fact, he isn't even a king in Season 1, with the Sword of Power calling to Katherine Langford's Nimue instead. As a fantasy series set in medieval times, Cursed has drawn many comparisons to HBO's Game of Thrones. However, actress Shalom Brune-Franklin has compared the Netflix series to another influential fantasy that aired years before the Thrones era.
When The Witcher debuted on Netflix last year, it drew its fair share of Game of Thrones comparisons, and Cursed has been no different. Perhaps it's the fact that the latest Netflix original is a fantasy with plenty of high-stakes battles, inter-kingdom politics, and a fight for power that draws an immediate connection with the beloved HBO series. Regardless of any parallels, however, Cursed does stand apart from Game of Thrones in many ways, right down to its character relationships. Speaking with RadioTimes, Shalom Brune-Franklin (who plays Morgana) revealed which show Cursed does actually remind her of. Here's what she said:
Comparing Cursed to Xena: Warrior Princess makes a lot of sense, especially considering the show's focus on female characters. I'd go so far as to compare Nimue and Morgana to Xena and Gabrielle, respectively. They're both warrior women who fight for what's right despite the fear of what they're up against.
The fact that Morgana isn't an antagonist at all is also quite "refreshing," as Shalom Brune-Franklin points out. The character has typically been depicted as a bad witch in the lore, but that's not at all the case on the Netflix series. The actress went on to say that she specifically looks for scripts that include strong women because she was "raised by incredibly strong black women, so I want to represent that on screen."
All that said, I don't think it's really fair to compare every new fantasy show to Game of Thrones anyway. While the HBO series is the first go-to comparison because of its more recent popularity, and the fact that the franchise will continue on the network, it doesn't exist in a bubble, and was preceded by several other fantasies, including Xena: Warrior Princess.
Speaking of Xena, there were plans for the show to be rebooted by NBC back in 2017, but it never moved forward. For now, the closest show we have to Xena: Warrior Princess is Cursed, so Shalom Brune-Franklin was right on the money in that respect.
Cursed Season 1 is currently streaming on Netflix, so stay tuned to CinemaBlend for more coverage. For more on what to watch, be sure to check out our 2020 Netflix premiere schedule, as well as our fall TV guide for all the series coming up in the next few months.
Your Daily Blend of Entertainment News