Laura Dern: 11 '80s And '90s Movies To Watch If You Like The Big Little Lies Star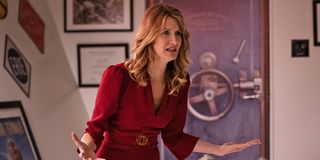 Whenever the time comes when Laura Dern is presented with a lifetime achievement award at some award ceremony years from now, chances are, one of the first projects of hers to come up will be the HBO series Big Little Lies, which netted the actress an Emmy, a Golden Globe, and Critics' Choice Award for her portrayal of Renata Klein. And while we don't really know if the hit series will ever return for a third season, there's still plenty of over performances by Dern that are worth checking out. Everyone knows about her work in Jurassic Park and Star Wars: The Last Jedi, but there's much more than that.
And yeah, it's true that Laura Dern has had one hell of a run the past couple of years with an Oscar for her performance in Marriage Story, Little Women, and Wild, but the actress' early career — specifically the 1980s and 1990s — is truly something to behold. Working with directors like David Lynch and Steven Spielberg, as well as appearing in one of the most talked-about moments in the history of American television made the daughter of Bruce Dern and Diane Ladd on of the biggest stars of her time. Here are just a few of those movies that are worth checking out.
Ladies And Gentlemen, The Fabulous Stains (1982)
Laura Dern had already appeared in a few movies prior to earning a co-starring role in 1982's Ladies and Gentlemen, The Fabulous Stains, where she appeared alongside Diane Lane and Marin Kanter as a trio of young punk rockers who start a band of their own. Although the three teenage girls lack any musical talent, their raucous behavior and attitude make the Stains a lightning rod for female activists around the country. Though still a young teenager when the movie was filmed in 1980, Dern's command of the screen is undeniable here even when playing a bassist who can't stay in rhythm. Check it out for yourself and see what I mean by streaming it on CBS All Access (opens in new tab).
Mask (1985)
The 1985 drama Mask is mostly remembered for the powerful performances by Eric Stoltz as Rocky Dennis and Cher as his mother, Rusty Dennis, both of whom received Golden Globe nominations, but one of the most heartwarming performances in the movie about a boy with craniodiaphyseal dysplasia trying to find his place in the world comes from Laura Dern. Throughout the movie, Dern plays Diana Adams, a bling girl Rocky meets at summer camp who eventually becomes his love interest. Tender in her approach to the role, Dern's Diana is one of the only bright spots in Rocky's troubled life and helps him break down the walls he's built around himself after years of torment because of his appearance.
Smooth Talk (1985)
Just a few months after the release of Mask, Laura Dern appeared in the unsettling coming-of-age drama Smooth Talk in which she plays a restless 15-year-old girl by the name of Connie Wyatt who goes through a major change after having an encounter with a mysterious and downright creepy older man by the name of Arnold Friend (Treat Williams). After being spotted by Arnold at a hamburger joint, the man appears at her house and forces him to go with him on a drive. After returning, Connie is no longer the girl she was earlier that day, though it is never explicitly revealed what happened. And despite only being a teenager at the time of production, Dern acts as if she's a seasoned pro in this traumatizing performance.
Blue Velvet (1986)
David Lynch's 1986 crime classic Blue Velvet will probably always be remembered fro one of the most frightening performances of Dennis Hopper's career in his portrayal of Frank Booth, but there's also another great performance that doesn't get talked about as much as it should: Laura Dern's Sandy Williams. Even though she gets lost in the shuffle when Jeffrey Beaumont (Kyle MacLachlan) and Dorothy Vallens (Isabella Rossellini) become involved with one another, Sandy is crucial in getting things going after Jeffrey finds a severed ear. The way that Dern plays an innocent and curious young woman that appears almost childlike in her approach is truly something to behold. That is especially true in a movie that is so dire and unrelenting.
Wild At Heart (1990)
David Lynch's Wild at Heart follows the story of two lovers — Nicolas Cage's Sailor Ripley and Laura Dern's Lulu Pace Fortune — as they run away from their home state of North Carolina for an unknown future in California. The only thing stopping them is Lulu's overbearing and psychotic mother, played by Dern's real-life mother Diane Ladd, and the gangsters she has hired to kill Sailor once and for all. Unlike previous roles, Dern plays a character that is extremely sure of herself and has a hard edge that gives off the appearance of a woman in charge of her own fate. And despite being on the receiving end of some bad luck, Lulu never gives up on herself or the man she loves.
Rambling Rose (1991)
Laura Dern continued her series of strong characters in the 1991 drama Rambling Rose, in which she plays the titular character, an orphaned teenager who is brought in to work and live with a family during the Great Depression. Attempting to turn a new leaf from her previous life as a prostitute in Birmingham, Rose can't escape her past no matter how hard she tries. Making advances on several members of the family and even attracting the eye of strange men, Rose is as dynamic as she is troubled, which is why she is able to stick around despite all her issues. A sign of roles to come later in her career, Rambling Rose afforded Dern the opportunity to play an extremely complicated character that you can't help but watch.
Jurassic Park (1993)
For people of a certain age, Jurassic Park is the first movie that comes to mind whenever Laura Dern is brought up. Playing Dr. Ellie Sattler, an expert paleobotanist, Dern is a fixture throughout Steven Spielberg's 1993 monster movie classic. And despite not going through a dynamic change like Sam Neill's Dr. Alan Grant, Dern is given her time to shine, especially during her confrontation with John Hammond about the ethics of creating such a dangerous park while the two eat ice cream and her encounter with the raptor as she attempts to get the park back online. All of this has me even more excited to see Dern take on the role once more in Jurassic World: Dominion.
A Perfect World (1993)
One of Clint Eastwood's movies (both as a director and actor) that doesn't get talked about enough is his 1993 effort A Perfect World in which Eastwood plays a Texas Ranger trying to find an escaped convict played by Kevin Costner after he kidnaps a young boy. In addition to great performances by Eastwood and Costner, the underrated drama also features a superb Laura Dern who plays criminologist Sally Gerber. Going from a mild-mannered, yet extremely intelligent researcher to a strong and confident character by the end of the movie, Dern holds her own next to some of the biggest names of the time and remains one of the best things about the movie.
Citizen Ruth (1996)
Alexander Payne's 1996 dark comedy Citizen Ruth features Laura Dern as a pregnant drug addict who is offered a reduced sentence if she gets an abortion. What follows is the battle between pro-choice and pro-life advocates willing to pay Dern's Ruth tens of thousands of dollars to do as they wish, seemingly only wanting to push their own agendas rather than thinking about the wishes or well-being of Ruth and her child. And while it's an extremely hilarious movie, Citizen Ruth brings ups a lot of issues with both groups and their major players. On top of that, Dern has called the character of Ruth Stoops her favorite movie role. Check it out on CBS All Access (opens in new tab).
Ellen "The Puppy Episode" (1997)
Ellen DeGeneres is in the news a lot lately on account of all the behind-the-scenes issues on her daytime talk show, but the comedian is no stranger to controversy throughout her career, including "The Puppy Episode" of her 1990s sitcom Ellen. For those who don't remember, this is the two-parter in which Ellen, playing Ellen Morgan, reveals that her character is gay. This major revelation in the show was the result of Ellen having feelings for Laura Dern's character, Susan. This "coming out" moment was the talk of the day and signaled the start of a major change in our culture, but still had a negative effect on DeGeneres' and Dern's careers for a short time afterward.
October Sky (1999)
Laura Dern closed out the 1990s with October Sky, Joe Johnston's 1999 biographical drama about the story of Homer H. Hickam Jr. (Jake Gyllenhaal) a high school student in West Virginia who builds a model rocket with a group of friends in hopes of getting out of his coal-mining town and work for NASA. Despite being ridiculed by everyone including his coal miner father John Hickam (Chris Cooper), Homer is encouraged by his science teacher Freida J. Riley (Laura Dern). Throughout the movie, Dern's character stands up for the aspiring rocket scientist and provides the motivation that he and his friends need to pull off the impossible. It's one of the most charming roles in Dern's career and served as a nice way of bringing one of the biggest decades of her career to a close. Check it out on Starz (opens in new tab).
Several years after the 20th Century came to an end, Laura Dern's career picked up steam and hasn't slowed down since. In the first 20 years of the 21st Century, Dern has appeared in some of the most highly-decorated films and television series with titles like The Master, Recount, and Twin Peaks all coming to mind. And it's safe to say we haven't seen the last of Laura Dern.
Your Daily Blend of Entertainment News
Philip grew up in Louisiana (not New Orleans) before moving to St. Louis after graduating from Louisiana State University-Shreveport. When he's not writing about movies or television, Philip can be found being chased by his three kids, telling his dogs to stop yelling at the mailman, or yelling about professional wrestling to his wife. If the stars properly align, he will talk about For Love Of The Game being the best baseball movie of all time.
Your Daily Blend of Entertainment News
Thank you for signing up to CinemaBlend. You will receive a verification email shortly.
There was a problem. Please refresh the page and try again.