Reese Witherspoon And Laura Dern Reveal Which Big Little Lies Characters They're Most Like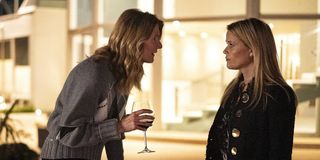 Big Little Lies Season 1 was so acclaimed and popular that HBO ordered Season 2 of the show, despite its initial promotion as a miniseries. It's been a year since the Season 2 premiere, but series stars Reese Witherspoon and Laura Dern have got us covered with Big Little Lies content by revealing which characters they're most like from the show.
Since the end of Big Little Lies Season 2, Reese Witherspoon has gone on to star in another book-to-TV adaptation, Hulu's Little Fires Everywhere. Meanwhile, Laura Dern has appeared in movies like Marriage Story and Little Women. The two actresses remain friends and reunited on Witherspoon's Hello Sunshine YouTube channel to discuss several topics. When asked which Big Little Lies characters they were most similar to, the pair made some interesting assessments. Here's what they said:
Reese Witherspoon describing herself as being like Jane and Madeline, but with a "filter sometimes," is definitely a fascinating combination. Meanwhile, Laura Dern's refusal to stray too far away from her love of Renata despite being "nothing" like her is on point. I also think Dern's love of her character comes through loud and clear in Big Little Lies.
Later on in the video, Laura Dern said that her drink of choice is wine, just "like Renata." Reese Witherspoon is shocked that Dern does not have a preferred cocktail (nor does she drink cocktails) and that she'd only recently had tequila while in quarantine. Cocktails and tequila aside, Dern's love of wine is clearly in line with Renata's drinking preferences.
What's more, both actresses expressed interest in wanting to do Big Little Lies Season 3. Reese Witherspoon made note that they're "trying to come up with the right story." That sounds pretty hopeful to me. When asked if the series would get a third season last year, HBO president Casey Bloys was definitely open to it, but there was no "obvious story" at the time. However, as of this writing, Season 3 has not been confirmed.
Both seasons of Big Little Lies are now streaming on HBO Max. For more on what to watch in the coming months, be sure to check out our summer TV premiere guide.
Your Daily Blend of Entertainment News
Thank you for signing up to CinemaBlend. You will receive a verification email shortly.
There was a problem. Please refresh the page and try again.