The Funny Story Behind How Steven Spielberg Got Aaron Sorkin Involved In Netflix's The Trial Of The Chicago 7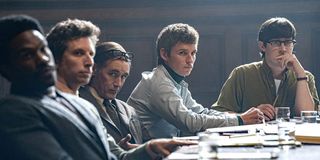 Sometimes making movies can be a funny process. All it takes is an idea and a desire to get the ball rolling, even if that means it takes a long time to reach the finish line. In Aaron Sorkin's case, Steven Spielberg was the driving force that got him involved with Netflix's The Trial of the Chicago 7, and that was a little unexpected for Sorkin.
Since Aaron Sorkin is the master at writing compelling political and courtroom dramas, you'd think he'd have the idea for The Chicago 7 locked away somewhere to write about later. But that's not how it went down. Aaron Sorkin recently interviewed on the CinemaBlend's ReelBlend podcast and told a pretty funny story about how he ended up writing The Trial of the Chicago 7:
That's a pretty amazing story. No one would blame him for agreeing to do a project just because Steven Spielberg asked him to, even if he didn't know what it was. If Steven Spielberg asks you to make a movie, you should probably just make it.
It's been common knowledge this project has been in development for an excessively long time. Aaron Sorkin didn't sit around writing the script, either. He wrote it back in 2007 with Steven Spielberg attached to direct. Unfortunately, Spielberg dropped out during the Writers Guild of America strike. Paul Greengrass hopped in the director's chair after that but left after only two months.
While that project sat on the shelf, Aaron Sorkin delivered some of the best movies of the decade, including The Social Network, Moneyball, and Steve Jobs. He also took his first directing job with Molly's Game, a movie he also wrote. Eventually, to take Chicago 7 to the finish line, he announced he would be directing it himself.
Now, by the looks of critical reviews, it looks like he's hit another home run. CinemaBlend's own Sean O'Connell in his review gave the film a perfect score, saying:
The Trial of the Chicago 7 will land on Netflix on October 16, 2020. For more movie news, be sure to stay tuned to CinemaBlend.
Your Daily Blend of Entertainment News