Netflix's The Trial Of The Chicago 7 Reviews Are In, Here's What The Critics Think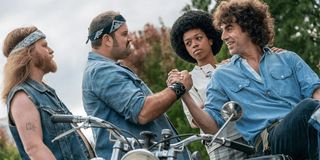 Aaron Sorkin has been a Hollywood heavy hitter on the writing front ever since A Few Good Men came out in 1992, but in 2017, he finally made his directorial debut with the Jessica Chastain-led Molly's Game… which he also wrote. Now Sorkin is soon delivering the second movie he both wrote and directed: The Trial of the Chicago 7, which will be available on Netflix.
For those unfamiliar with this movie, The Trial of the Chicago 7 is based on the real life story of seven defendants who were hit with various charges by the federal government related to anti-Vietnam War and counterculture protests that took place in Chicago during the 1968 Democratic National Convention. It boasts an all-star cast that includes Sacha Baron Cohen, Yahya Abdul-Mateen II, Joseph Gordon-Levitt, Eddie Redmayne, Michael Keaton, Frank Langella and Mark Rylance, among others.
So what's the critical consensus on The Trial of the Chicago 7? Going off the reviews that have been published so far, overall, it looks like Aaron Sorkin has another solid movie on his hands, if not necessarily ranking as one of the best on his filmography.
Starting off, CinemaBlend's own Sean O'Connell awarded The Trial of the Chicago 7 a perfect score of 5 out of 5 stars in his review, calling it Aaron Sorkin's welcome return to the "political-legal realm" that boasts an intelligent script and strongly showcases its entire ensemble, all of which adds to this being one the year's best movie's in Sean's eyes.
While Slashfilm's Chris Evangelista wasn't quite as enamored with The Trial of the Chicago 7 as Sean was, he still found it to be a generally decent viewing experience, giving it a 7.5 out of 10 score. Chris felt that the movie does boast strong performances and Aaron Sorkin does a good job with "creating the kind of punchy, snappy, rat-a-tat dialogue that good actors love to sink their teeth into," but Sorkin's directorial style leaves something to be desired.
Leah Greenblatt from Entertainment Weekly was also similarly positive towards The Trial of the Chicago 7, giving it a B grade. As a history lesson, Leah thought that Aaron Sorkin "plays more than a little fast and loose," but some of the actors, like Yahya Abdul-Mateen II and Mark Rylance, get some of the most "fiery material," and in the end, the movie is able to frame "the past not just as entertaining prologue but a living document; one we ignore at our own peril."
Collider's Matt Godberg fell into more mixed territory with The Trial of the Chicago 7, presenting it with a B- grade. Matt noted that the Netflix movie almost plays like a "rebuke" of A Few Good Men, and while the performances and cinematography are strong, and the feature as a whole is entertaining, it doesn't stick the landing when it comes to political and social commentary.
Finally, Brian Truitt from USA Today (opens in new tab) especially enjoyed The Trial of the Chicago 7, stamping it with 3.5 stars out of 4. Brian thought that there were some character development issues given how many players are involved in the story, but the movie nonetheless features some incredible acting, particularly when it came to the "courtroom and legal-eagle stuff." Brian also said that Aaron Sorkin's second directorial effort is a "more confident and well-executed affair" compared to Molly's Game.
These are just some of the reviews out now for The Trial of the Chicago 7, so feel free to browse around the interwebs to learn what other critics thought about the movie.You can judge The Trial of the Chicago 7 for yourself once it's available to the public on Netflix October 16. Feel free to pair it with another Netflix original movie that come out this week, Enola Holmes, which stars Millie Bobby Brown, Henry Cavill and Helena Bonham Carter.
As for what's supposed to be hitting theaters in the near future, you can find that information in our 2020 release schedule and 2021 release schedule.
Your Daily Blend of Entertainment News
Connoisseur of Marvel, DC, Star Wars, John Wick, MonsterVerse and Doctor Who lore. He's aware he looks like Harry Potter and Clark Kent.