Nicolas Cage Could Have Been Fantastic Four's Doctor Doom, And His Look Would Have Been Wild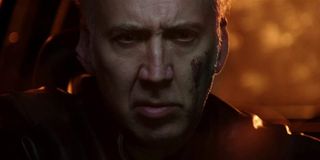 In the days before the MCU, the Fantastic Four movies were among the Marvel productions that were getting off the ground, and the filmmakers originally wanted to cast Nicolas Cage to play the villainous Doctor Doom. Of course, that never ended up happening but, if it did, his look would have been pretty wild and much different than what we got.
Reportedly, before Julian McMahon snagged the role of Doctor Victor Von Doom, the studio was considering making Fantastic Four significantly darker and had even drawn up Doctor Doom in the likeness of Marilyn Manson. That's how Nicolas Cage came into the picture for a hot second. Now, some of this concept art has landed on social media. Check it out:
Wow, that's certainly a different look. While I personally like the idea of casting Nicolas Cage to play Doctor Doom, I have mixed feelings about this concept art. It's a big departure from his well-known look in the comics and likely would have ruffled a few feathers.
Nicolas Cage himself has gone on record, revealing what supervillains he would like to play if he were ever given the opportunity. If he had to pick, he said he'd go for either DC's The Joker or Marvel's Doctor Doom. Still, he admitted that he didn't like that Doctor Doom wore the mask. Well, since Cage is for it, let's make this happen.
Though Nicolas Cage once again missed his opportunity to play Doctor Doom in Josh Trank's panned reboot, there's another possible opportunity to make his Doctor Doom a reality. Marvel has plans to introduce the First Family into the MCU at some point, and Nicolas Cage could bring a truly wild and terrifying Doctor Doom into the picture.
One slight issue that might arise from this casting is that Nicolas Cage has played another Marvel character in Ghost Rider. But that didn't stop Chris Evans from hopping over to play Captain America after playing the Human Torch. So Cage's former Marvel credits really shouldn't get in the way of this happening, especially since the Ghost Rider films weren't particularly beloved by most fans.
This isn't the first time Nicolas Cage has been attached to a superhero movie role that he lost out on, either. He had famously been in the running to play Superman in Tim Burton's Superman Lives. Of course, that movie never ended up getting made.
All things considered, the chances of Nicolas Cage being cast as Doctor Doom in the MCU Fantastic Four are pretty slim. Still, if they decided to play that kind of a wild card, it would be a pretty cool homage to 2005's Fantastic Four movie and give the heroes the truly eccentric and crazy villain they need. For more movie news, stay tuned to CinemaBlend.
Your Daily Blend of Entertainment News
Your Daily Blend of Entertainment News
Thank you for signing up to CinemaBlend. You will receive a verification email shortly.
There was a problem. Please refresh the page and try again.