Sacha Baron Cohen's Borat 2 Already Facing A Lawsuit And It's Not Even Out Yet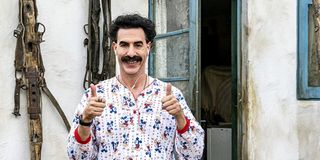 Sacha Baron Cohen surprised everyone recently with the news that not only is Borat 2 happening, but it's already been filmed and we'll be getting it very soon. Yet, in true Borat fashion, Borat 2 is already facing a lawsuit and it's not even out yet. Buckle up.
Perhaps other than being known for its wild satirical comedy, Sacha Baron Cohens Borat has become infamous for the number of lawsuits it faced in the past. Now, it looks like Borat 2 will be no different as it's already been sued. According to Forward, the daughter of a holocaust survivor is suing to have her mother's appearance in the film removed, saying that it mocks "the Holocaust and Jewish culture."
Per the lawsuit, Sacha Baron Cohen interviewed holocaust survivor Judith Dim Evans "under false pretenses with the intent of appropriating her likeness." The lawsuit also states that Judith Dim Evans was approached to interview for a documentary. Her daughter was "horrified and upset" when she learned it was for a satirical comedy. Judith Dim Evans passed away earlier this summer.
This isn't the only controversy Borat 2, which is also titled Borat Subsequent Moviefilm: Delivery of Prodigious Bribe to American Regime for Make Benefit Once Glorious Nation of Kazakstan, has already found itself in. It made headlines for a scene involving former New York City mayor Rudy Giuliani and has been the subject of speculation and scrutiny. Rudy Giuliani has since made a statement saying the video is "a complete fabrication."
Part of the wild humor of Borat is comedian Sacha Baron Cohen putting himself in some very awkward, and potentially dangerous, situations. In fact, while filming Borat 2, Sacha Baron Cohen admitted to being afraid for his life. For one scene, he went to a right-wing gun-rights rally in Washington State as a singer. He reportedly sang about anti-liberal politics, racism and science to mock the audience. Organizers stormed the stage and he ran to a nearby getaway vehicle to escape, but someone almost ripped him out of the vehicle, forcing him to use all of his body weight to slam the door shut.
While it hasn't released yet, movie critics have had the chance to screen the film. So far it seems like the overall reception of the film has been positive with Rotten Tomatoes giving it an 82% score. But, some critics have pointed out that while Borat 2 is just as wild and crazy as before, it may be coming at the wrong time.
Borat 2 has been acquired by Amazon Studios and is expected to release on their platform later this month. For more movie news, be sure to stay tuned to CinemaBlend.
Your Daily Blend of Entertainment News
Your Daily Blend of Entertainment News
Thank you for signing up to CinemaBlend. You will receive a verification email shortly.
There was a problem. Please refresh the page and try again.