Friday The 13th And 5 Other Horror Movie Franchises Stephen King Should Take Over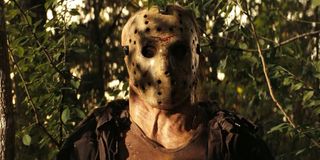 As far as I am concerned, if there's one thing that modern horror movie franchises are in dire need of these days, it's pure imagination. Just look at 2009's Friday the 13th – technically a remake of the first film, but also not – and take note of the ceaseless sex, drugs, booby traps, and other uninspired beat-for-beat slasher tropes that are shamelessly checked off one-by-one. Fortunately, there is the slightest of chances that Jason Voorhees would truly be resurrected (again) for a new audience, with horror icon Stephen King as the man to do it.
Some gorehounds may recall that the celebrated mastermind of terrifying literature revealed over Twitter in June 2020 that he had an idea for a Friday the 13th spin-off novel. For reasons I will get into soon, King's idea sounded to me like the perfect lightning bolt of originality needed to the boost that ever-popular series back to life. In fact, it is such a refreshing concept that I'm not only unusually excited for the potential of Jason Voorhees being rebooted by Stephen King, but I am also curious what other horror movie franchises could be revived by his vast influence.
Of course, an author of his prowess and experience would probably rather stick to his own stories while leaving other famous properties to their originators' control, which is something I have great respect for. However, the amount of creative potential wasted on some of the most popular spooky movie series in recent memory has been too much to bear and for too long. So if Stephen King's brain may be the key to end (or, more accurately, prolong) the madness, I'll take it. To help give the genre master some inspiration, the following includes six horror movie franchises that I believe he could bring back to their prime, starting with the one he already laid down the framework for.
Friday The 13th
Other than his dirty hockey mask, bloody machete, and serious mommy issues, Jason Voorhees is perhaps most famous for his seeming inability to die no matter how many ways Crystal Lake campers have tried stopping his murderous rampages. This often ridiculed characteristic is actually the spark for Stephen King's idea of a novel from the slasher icon's perspective that would detail his torture from undergoing repeated deathly experiences. The author added in his tweet that sharing the nearly unprecedented concept of an orphaned, immortal psychopath's existential dread (which he would call I, Jason) will probably never happen, mostly for legal reasons. But I, for one, cannot think of a better idea for a new Friday the 13th movie, especially because it would actually be something truly new for once.
A Nightmare On Elm Street
Admittedly, Jason Voorhees' rivalry with Robert Englund's burned-up boogeyman in 2003's Freddy vs. Jason was a fun, refreshing romp, but not as much as was Wes Craven's 1994 franchise return with the cleverly meta New Nightmare, which resurrected the late filmmaker's more dark, earnest intentions for Freddy Krueger. Dark and earnest storytelling is Stephen King's speciality, albeit with some notably (and sometimes unintentionally) hilarious exceptions, such as Creepshow, Maximum Overdrive and others. Though fans relishing in the Elm Street franchise's morbid humor, a child murderer invading teenagers' dreams with gross-out puns is no longer such a smooth concept. As someone who brilliantly understands how the darkest corners of our subconscious minds affect our reality, King could give us a grounded Freddy who could haunt us far beyond our nightmares, while hopefully washing the bitter taste of the 2010 remake from our mouths.
Final Destination
Speaking of, morbid humor also became the lifeblood of the more recent Final Destination franchise, in which death itself is the "slasher" that cursed youths struggle to evade, only to inevitably fall prey to increasingly inventive (and ridiculous) fatal "accidents" as the series goes on. To be honest, if Stephen King were to step in and help extend the Final Destination movies past its current total of five and counting, I am not sure if I would rather see him take it into a darker, more sophisticated direction or up the ante on its grisly black comedy because either one sounds appealing to me. (Never forget Under the Dome's woodchuck.) Perhaps if he can manage a decent balance between heart-wrenching, character-driven drama with laughably elaborate death scenes – which sounds awfully challenging to say the least – it could be best move the franchise ever made.
Hellraiser
The character-driven drama of Clive Barker's Hellraiser is often forgotten by those who associate it with Doug Bradley's flagship character Pinhead. The nail-faced sadist isn't even the 1987 original's true antagonist, but an otherwise haunting supernatural obstacle in the central plot of a collegian (Ashley Laurence) who discovers her stepmother (Clare Higgins) is going to horrifying lengths to reunite with her dead lover (Sean Chapman). While I love Pinhead, I feel his popularity led to more typical slasher schlock in subsequent installments – I will never get over Hellraiser III's ludicrous CD – instead of the unique and grimly relatable themes of the first film, for which Stephen King himself praised Barker as "the future of horror." This convinces me that, perhaps, King and Barker should team-up on a revival that would make the Cenobite leader a more mysterious and subtle presence again, paving the way for something as painfully refreshing as the original.
Paranormal Activity
While originality was never the big appeal of Oren Peli's creepy instant classic that made all kinds of money in 2009, its mostly uninspired sequels made it all too clear to me and others how tired the found footage-style haunted house movie gimmick had become. (At least the third film tried to take things in a batshit-crazy direction, for better or worse.) Of course, Stephen King is a master at making otherwise familiar ideas compelling and scary again, such as clowns in It, vampires in Salem's Lot, dogs with Cujo, and haunted houses with… well, many more of his works. As such, he might be able to do the Paranormal Activity franchise justice again if he would get invested either in the next installment or for a new project. Plus, I cannot be the only one intrigued by the idea of King making a found footage movie, can I?
The Conjuring Universe
Another revived Hollywood trend with a few creative hiccups is the shared cinematic universe concept, which is what unexpectedly happened with James Wan's fact-based haunted house flick The Conjuring. The initial film has been followed by sequels and spin-offs that, with a few debatable exceptions, only declined over time regarding believability and genuine suspense. Believe it or not, many Stephen King stories were inspired by actual people, places, and events that he morphed into horrifying fantasies, such as Colorado's Stanley Hotel that sparked the idea for The Shining, or serial killer John Wayne Gacy inspiring Pennywise's clownish appearance in It. Maybe instead of aiming to recreate the paranormal careers of Ed and Lorraine Warren, King would be able to craft wholly original horror tales that only thematically tie into real-world situations, which would potentially open up a whole new world of creative freedom for the future of the Conjuring Universe.
What do you think? Should future Conjuring spinoffs ditch the "based on a true story" gimmick for a "loosely inspired by reality" structure, or would you rather Stephen King continue to create those kinds of stories without a connection to same franchise that brought you The Curse of La Llorona? Let us know in the comments and be sure to check back for additional information and updates on the prolific author, as well as even more of our own hypothetical suggestions to improve the entertainment industry, here on CinemaBlend.
Your Daily Blend of Entertainment News
Jason has been writing since he was able to pick up a washable marker, with which he wrote his debut illustrated children's story, later transitioning to a short-lived comic book series and (very) amateur filmmaking before finally settling on pursuing a career in writing about movies in lieu of making them. Look for his name in just about any article related to Batman.
Your Daily Blend of Entertainment News
Thank you for signing up to CinemaBlend. You will receive a verification email shortly.
There was a problem. Please refresh the page and try again.