Upcoming Chris Hemsworth Movies: What's Ahead For The Thor Star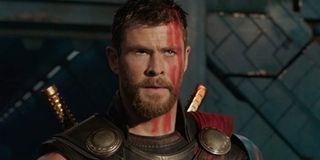 Ever since making on big-screen debut as the doomed George Kirk in the opening minutes of 2009's Star Trek, Chris Hemsworth has become one of the biggest stars and some fans' favorite Chris thanks to his work in the Marvel Cinematic Universe and beyond. It doesn't look like the Australian movie star who can hold his own when it comes to action, drama, and even comedy will be stepping away from the limelight anytime soon, especially considering all the big projects — Thor: Love and Thunder and the Mad Max: Furiosa prequel are two that come to mind — coming down the pike.
So, as we look forward to what will surely be an interesting next couple of years in terms of big movie releases in the wake of a global pandemic, let's bring some levity to the situation and take a look at some of Chris Hemsworth's upcoming movies. From Thor to Hulk Hogan and a return to the universe of a certain project produced by the Russo Brothers (no, not another Avengers), here's everywhere you'll see everyone's favorite celebrity beekeeper at a theater near you.
Thor: Love And Thunder - February 11, 2022
Everyone who wants nothing more in life than more of Chris Hemsworth taking on the role of Thor are surely in for some good news, as the Marvel star will be returning as the god of thunder when he teams up with Thor: Ragnarok director and voice of Korg, Taika Waititi in the upcoming Thor: Love and Thunder.
Not much is known about the fourth Thor solo movie at this time, but the MCU Phase Four entry will see the much-anticipated return of Natalie Portman's Jane Foster, this time taking over the Thor mantel and hopefully the son of Odin's trusty Mjölnir. The movie will also see the return of Tessa Thompson's Valkyrie, an appearance by the Guardians of the Galaxy, and the long-awaited MCU debut of Christian Bale, who is set to play the villain.
We were originally supposed to be able to see Thor: Love and Thunder on November 5, 2021, but delays in production (on account of the global pandemic) and a reshuffling of all MCU properties resulted in the fourth Thor movie being pushed back to February 11, 2022, but even that's not guaranteed. The production looks to pick up in Australia at some point in early 2021, at least according to comments shared by Natalie Portman during a July 2020 Instagram TV video. According to the Daily Mail, Natalie Portman arrived in Australia back in September, so it looks like it might actually happen this time. And if a recent post shared by Chris Hemsworth is to believed, director Taika Waititi is hard at work preparing for production.
The Mad Max Furiosa Prequel - TBD
It has already been five years since George Miller's octane-fueled thrill ride Mad Max: Fury Road blew through theaters, bringing in more than $375 million at the global box office. But unlike the 30-year delay between Fury Road and it's 1985 predecessor, Mad Max Beyond Thunderdome, it appears we won't have to wait all too long before we're brought back to Miller's wild and dusty post-apocalyptic world. This time, however, the movie will serve as a prequel for the Imperator Furiosa character first made famous by Charlize Theron in the 2015 action thriller. The Mad Max Furiosa prequel is set to feature Emma's Anya Taylor-Joy as the titular character with Chris Hemsworth and The Trial of the Chicago 7 star Yahya Abdul Mateen II being cast in unspecified roles.
The project has yet to be greenlit by Warner Bros. at this time, according to The Hollywood Reporter, but it appears that Furiosa is actually happening. That being said, it remains to be seen exactly when the latest adventure from George Miller will be released, or even enter production, especially considering how busy Chris Hemsworth will find himself with his upcoming Marvel obligations as well as some other upcoming movies that will soon be released. This shouldn't be shocking to Miller's biggest fans as they are used to waiting on the visionary director's projects, though they're often worth the wait.
Hulk Hogan Biopic - TBD
One of Chris Hemsworth's projects that has been cooking for a while now is the upcoming untitled Hulk Hogan biopic from The Hangover director Todd Phillips. Not much is known about the mysterious project besides the fact that Hemsworth is reportedly getting even more ripped than ever before in preparation for his portrayal of one of the most celebrated and controversial figures in professional wrestling. The size and scope of the movie and its main character 24-inch pythons (brother) remains unclear at this time, but there are more than a few periods of the Hulkster's life and career that would make for an amazing story. Besides Hemsworth, no other actors have been announced for the project.
There is currently no information on when the upcoming Hulk Hogan biopic will be released, but considering the fact that production has yet to get underway, we'll probably be waiting quite some time before we see Chris Hemsworth trade his iconic Thor costume for Hogan's yellow trunks and bronzed physique. If you're curious, however, you can always check out that hilarious yet freaky face swap created by wrestling writer Ryan Satin.
Spiderhead - TBD
Chris Hemsworth is no stranger when it comes to Netflix movies, especially after Extraction was named the streaming platform's most-watched original movie shortly after its release in 2020, and the Australian superstar will hopefully continue that momentum with the recently announced Spiderhead. The upcoming science-fiction thriller from Top Gun: Maverick director Joseph Kosinski is based on the George Saunders short story of the same name about a near-future society in which convicts can shorten their sentences if they become medical test subjects.
The focus of the movie will be on two of those convicts-turned-test-subjects exposed to a combination of drugs that force them confront their pasts. Starring alongside Hemsworth will be Miles Teller and Jurnee Smollett, but the specifics of each actor's role have yet to materialize.
Deadline previously reported that Spiderhead is the next the project being taken on by Joseph Kosinski, whose latest film, Top Gun: Maverick won't be released until July 2, 2021, after its previous release dates were pushed back on account of the ongoing COVID-19 pandemic. That being said, it remains to be seen when production will actually begin as there are so many variables, especially considering Chris Hemsworth's incredibly busy and altered schedule because of everything going on. The film does have one thing going for it: it will be released on Netflix and won't have to rely on the widespread reopening of theaters or a doomed release.
Extraction 2 - TBD
Anyone who has watched the Netflix original action-thriller Extraction, which judging by those Netflix figures a lot of you have, is probably not shocked that a sequel is already in the works with one-half of the team that brought us Avengers: Endgame, Joe Russo, returning to pen the script. And despite the ambiguous ending of the April 2020 action flick makes it hard to figure out if the second movie in the franchise will be a prequel or a sequel, Russo explained during a conversation with Entertainment Tonight a few months after the first's release that Chris Hemsworth will be returning to play mercenary Tyler Rake. It also remains to be seen if newcomer Rudhraksh Jaiswal will be returning for another go as Ovi Mahanjan (if it is in fact a sequel).
There is currently no release date set for the second Extraction movie, and it's safe to say that there probably won't be any new information for a least a few months as Joe Russo and his brother, Anthony, finish up and prepare for the release of their next project, Cherry. That movie, which is also headed to Netflix, stars Marvel Cinematic Universe star and your friendly neighborhood Spider-Man, Tom Holland, as a PTSD-stricken veteran who goes on a drug-fueled crime spree to feed his addictions. Be on the lookout for more information about the Extraction follow-up after that.
What If…? - 2021
Before Chris Hemsworth returns to the Marvel Cinematic Universe as Thor in 2022's Thor: Love and Thunder, he will be lending his voice to his most famous character in the Disney+ series, What If…?, which will provide for all sorts of hypothetical situations involving everyone's favorite Marvel heroes and villains similar to those found in the line of comics of the same name. It hasn't been revealed the exact story in which Chris Hemsworth's Thor will take part in the animated series, but there was an issue in the comics that focused on Jane Foster becoming Thor. Sound familiar?
According to IGN, What If…? was initially set to premiere on Disney+ in summer 2021, but that could change considering Marvel Studios has been pushing back all of its live-action releases (both film and television) in light of the ongoing COVID-19 pandemic.
There will surely be more information on each of these titles between now and their individual releases, so make sure to check back for all the latest here at CinemaBlend.
Your Daily Blend of Entertainment News
Philip grew up in Louisiana (not New Orleans) before moving to St. Louis after graduating from Louisiana State University-Shreveport. When he's not writing about movies or television, Philip can be found being chased by his three kids, telling his dogs to stop yelling at the mailman, or yelling about professional wrestling to his wife. If the stars properly align, he will talk about For Love Of The Game being the best baseball movie of all time.
Your Daily Blend of Entertainment News
Thank you for signing up to CinemaBlend. You will receive a verification email shortly.
There was a problem. Please refresh the page and try again.